BLOWING ROCK — Tuesday night's regular meeting of the Blowing Rock town council included a lot of business accomplished, but among the more dramatic revelations occurred during a statistics laden report by Blowing Rock Police Chief Aaron Miller about speed enforcement along Valley Boulevard.
Two numbers stood out: that over a 2.8 million vehicles traveled down the U.S. 321 Bypass, AKA Valley Boulevard, in 2019, and an estimated 2,200 vehicles exceed the posted speed limit on the thoroughfare every day, on average. This is in spite of the fact that the 7 radar-certified officers have issued 1,893 speeding citations so far in 2021.
"That is a huge number," said Miller, "especially with only 7 officers certified to run radar. "We are on track to hit roughly the same number as last year with our (low) staffing levels. We hope to get more, but to get more that would mean being full staffed with all officers radar certified. That is the only way we get that number up. And we rarely get through a 12-month period with a full staff.
Miller said that with that much traffic, many people in violation of the posted speed limit, and with only a small police department, writing traffic citations alone is unlikely to solve the speeding problem.
The longtime police officer also pointed out some logistical problems beyond the department's control, reporting that just this past week one of the newer officers was supposed to receive radar training, which Miller said is very difficult to get, but the training session was canceled at the last minute because of a paperwork glitch at the community college.
He reported that the town was installing a digital radar sign at each end of U.S. 321 near the entrance to town, showing a vehicles speed as well as the posted speed limit. Installation of the signs, Miller said, is somewhat dependent on working with Blue Ridge Electric.
"Hopefully, these signs will remind motorists that it is a 35 miles per hours speed limit," Miller said.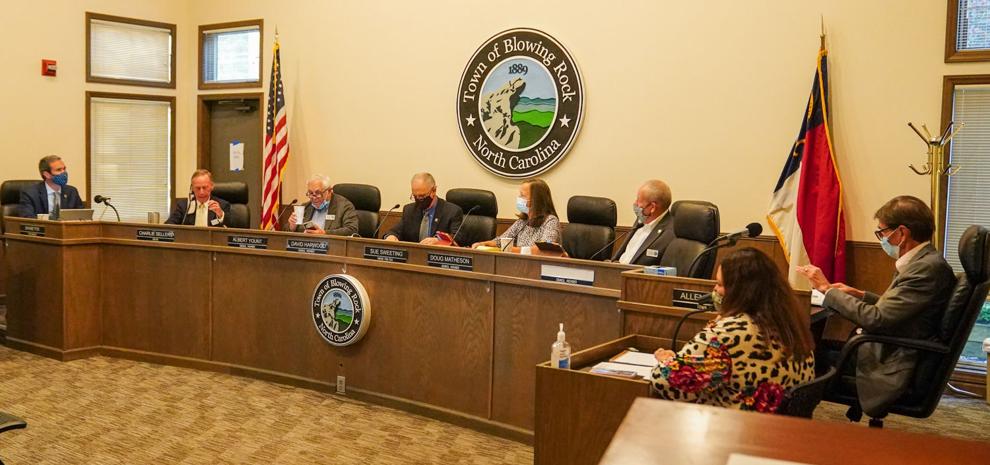 The police chief also explained some of the considerations that come into play in allocating the department's scarce resources in terms of radar-certified officers, only some of which are on duty at any given time. He provided samples of traffic analysis gleaned from a radar sign that monitors every vehicle passing by it. Although the posted speed limit is 35 mph, Miller said that there are a large number of vehicles that are recorded as "low risk," or running above 35 mph between 36 and 45 mph.
"That includes a large number of vehicles that might be going 36-39," said Miller.

He indicated that where the officers tend to concentrate are those motorists going between 45 and 55 mph, which they classify as "medium risk." He stated that it is rare to find vehicles exceeding 55 mph, which would put them in the "high risk" classification.
Miller also reported that so far in 2021, there have been 28 crashes along the U.S. 321 corridor, 5 of which were near the Speedway convenience store by the Tanger Outlets and speed was a factor in just 5 of the 28. Three crashes resulted in a patient being transported to the hospital, but there were zero instances of a life-threatening injury.
During the earlier public comments portion of the meeting, Lorry Mulhern, a manager of the Green Park Inn, submitted a petition signed by residents demanding that the town increase its efforts to reduce noise and speeding along Valley Boulevard, especially near the intersection with Green Hill Road.
In response to a question from Commissioner Sue Sweeting asking what else the department can do to help alleviate not only speeding, but also noise, Miller said that "traffic safety" is the No. 1 priority and he hoped to have a proposal to bring before the town council at the January retreat.
"The noise issue is much, much tougher. I don't think the noise issue will be solved by law enforcement intervention. We have reached out to the state highway patrol about motor carrier enforcement. One of my questions of them was, 'How do you regulate truck noise?' The answer from the North Carolina Highway Patrol was, 'We don't.'"
Miller added that he asked the Highway Patrol supervisor if there was anything that could be done about truck noise that the Blowing Rock Police Department was currently not doing, and his answer was, "No."
In answer to a question by Commissioner David Harwood, who suggested that noise from speeding itself is probably not the source of most noise but things peculiar to individual vehicles, such as modified muffler systems and jake braking by trucks, Miller said, "That is fairly accurate. Where we have the most noise complaints is from people living near the intersection of U.S. 321 and Rock Road and Green Hill Road, and Gideon Ridge, especially about trucks. From a public safety standpoint, I think it would be a mistake for us to ask trucks to turn off their j-brakes because of that area's history of traffic fatalities involving trucks. And as you get past that intersection, below Gideon Ridge, you are beyond the Blowing Rock town limits and into Caldwell County."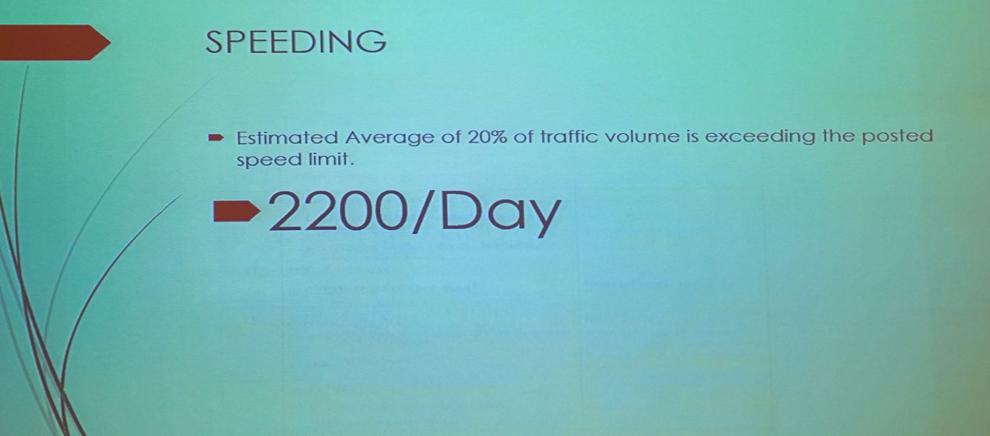 Miller said that there is a state law on the books that requires passenger vehicles to keep their exhaust systems to the manufacturers' standards, not modified, and that if they witness those that are modified, they can write a citation. As far as the trucks to, however, there are also federal, interstate commerce rules that apply.
"We have stopped cars and cited them for modified exhaust or muffler systems," said Miller.
Counting the Q&A portion, Chief Miller's report consumed almost the first hour of the town council meeting's time. It included his descriptions of how radar works, and some of the shortcomings or challenges in heavy traffic where an officer may have difficulty distinguishing which vehicle is actually speeding vs. one that is going slower, among other subjects.
In other town council business:
The board of commissioners passed, 4-0, a motion authorizing town engineer McGill & Associates to design new bathroom facilities for Memorial Park and solicit bids.
The board of commissioners passed, 4-0, a motion authorizing the repair of a severely deteriorated culvert near Tanger Outlets and the town wastewater plant.
Heard the official report of Ramey Kemp Associates on the Green Hill Road Traffic Study earlier in the summer.
The board of commissioners passed, 4-0, a motion to replace a pressure reducing valve (PRV) near the intersection of U.S. 221 and Green Street. The council also heard a report by McGill & Associates about the critical need for replacing PRVs at four other locations, including 322 Dogwood Lane, Laurel Park at Dogwood, Hill Street, and Possum Hollow.
The council went into closed session at approximately 8:39 p.m. to deliberate on an acquisition of property. When they came out of closed session, they voted, 4-0, to approve the purchase of a 2.2 acre parcel near the fire station on Valley Boulevard from Barry Buxton. The terms are subject to review and approval by the Local Government Commission, a unit of the North Carolina Treasurer's Office. The proposed terms are a purchase price of $1 million at zero percent interest, self-financed by Buxton and repaid in five equal installments of $200,000 per year.
Town manager Shane Fox reported that the use of the property will be discussed at the town council's January retreat.