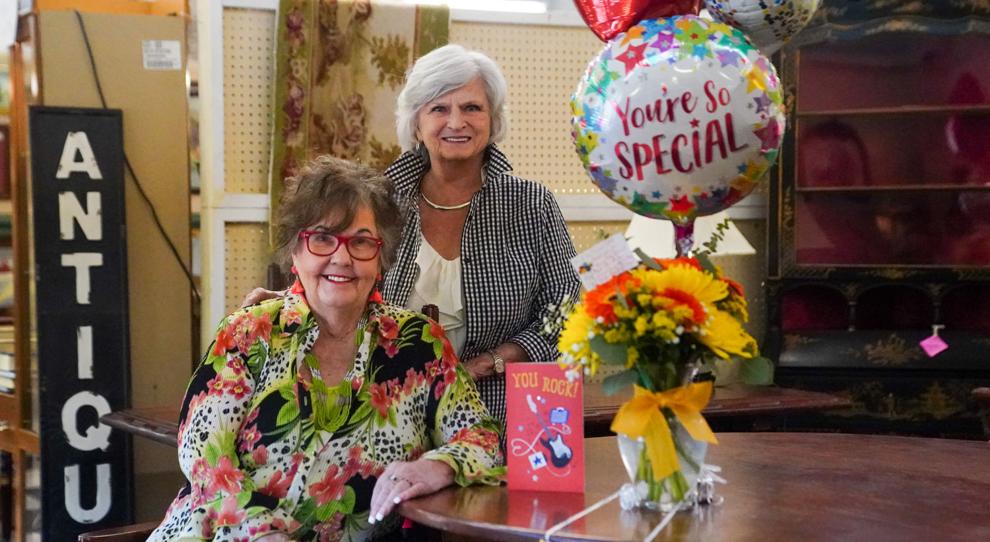 BLOWING ROCK — Every job that Pat Sumner has had she worked a minimum of 10 years. Then again, she admits to working only one job: in-house sales associate for Blowing Rock Antique Center.
"I stopped by here 10 years ago as a customer, to look at antiques. After talking with Suzanne Miller, the owner, she asked if I would like to work here," said Sumner. "Although I was somewhat reticent, not ever having had a job before, I agreed to give it a try. It turned out to be a good decision."
Sumner recently arrived at the store, ready to get another day started, only to find a card, gift certificate, flowers, and balloons to celebrate her 10-year anniversary with the company.
"I was totally surprised. Several of the dealers we showcase here also called to congratulate me on the anniversary," said Sumner.
What explains her longevity as a sales associate of Blowing Rock Antique Center?
"Well, I was born in the South, in a small town called Hartsville, S.C. We always have had certain guidelines and morals that we live by. That has followed me through: getting close to the dealers and understanding their different personalities, as well as their discounts in the shop. You might call it success, but I call it a lot of gratitude because Suzanne trained me," said Sumner.
"I came in one day to shop and Suzanne and I got to talking. Then she asked if I would like to work one day a week. Well, I really didn't know because during 51 years of marriage I never had a job like that. But that was 10 years ago and we just got to be very good friends," Sumner said. "I didn't have any background at all in antiques. I had three children. One played tennis, one played football, and one was in the band. So that was my experience coming into this!"
She started out just working one day a week, but said that at times she has worked as many as five days a week. Suzanne brought me into a new chapter in my life," said Sumner.
Miller's antique center is now 32 years old.
When the North Carolina Department of Transportation widened Valley Boulevard to four lanes, Sumner said it did not affect the business at all.
The center has two different kinds of customers: the dealers who display their wares for sale and the folks who come off the street to buy.
"The dealers love Pat," said Miller. "She learns and she listens so well to each one. She has an uncanny knack for building close business relationships."
Of the retail customers, Sumner said that there are a number of repeat customers, people coming by regularly to see what is new in the store, as well as people building houses and wanting something special, as well as furnishing vacation homes. "We try to spend a lot of time with folks, trying to explain the difference between a mahogany chest and a pine chest!" she said.
"You know Pat Sumner is special when a lot of those repeat retail customers call ahead to find out when she is working," said Miller. "They only want to work with her."
Fun question: What is the oldest piece of furniture that you have sold in these 10 years?
"I sold a piece from 1810, that one of our dealers had on display," Sumner said.