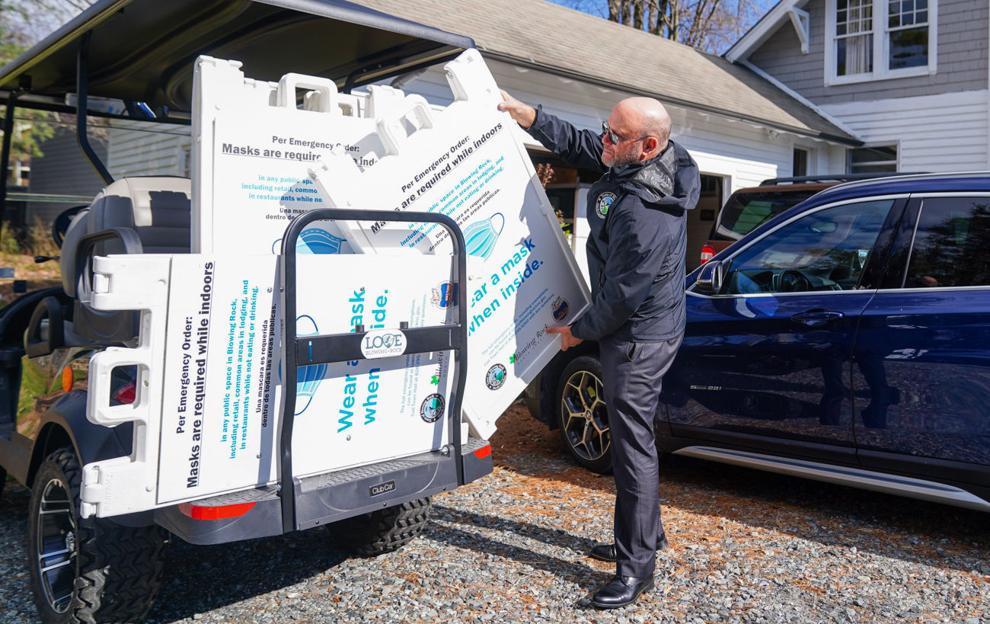 BLOWING ROCK — In a special called meeting on Nov. 17, Blowing Rock's town council voted, 3-2, to end the state of emergency due to COVID-19 and lifted the mask mandate within the town limits.
The commissioners were split 2-2 on the measure and mayor Charlie Sellers cast the deciding vote. In articulating the reason for his tie-breaking vote, Sellers said at this point it should be a matter of choice whether or not to wear a mask; that the mandate was not being enforced and was challenging to enforce to begin with; the state and county do not have such a mandate; and that only four towns or counties in North Carolina currently have a mask mandate.
The motion by Albert Yount (seconded by Doug Matheson) to lift the state of emergency and mandate included a condition: if the 7-day moving average of the percent of positive tests is over 5 percent for seven consecutive days, then the town council will reconvene and consider reinstating the COVID-19 restrictions. David Harwood and Sue Sweeting voted to keep the state of emergency and mask mandate in place.
As retrieved by The Blowing Rocket after the special meeting from the national Centers for Disease Control website, the 7-day moving average of total cases in Watauga County is 70, producing a statistical "case rate" of 124.61 cases per 100,000 people. The percentage change in the 7-day moving average of total cases is -20.45 percent. The website shows no deaths
The percent of positive test results in Watauga County, according to the CDC website is 3.99 percent.
Data retrieved from the AppHealthCare website's COVID-19 dashboard indicated that there were 59 active cases in Watauga County, which is 11 below the CDC's Nov. 16 reported 7-day moving average of 70.
It should be noted that a newly comprised town council will take office at the regular meeting on Dec. 14. Holdover commissioners include Yount, Matheson and Harwood, to be joined by newly elected Pete Gherini and Melissa Pickett. Commissioners serve 4-year terms. Charlie Sellers won re-election as mayor for another 2-year term.