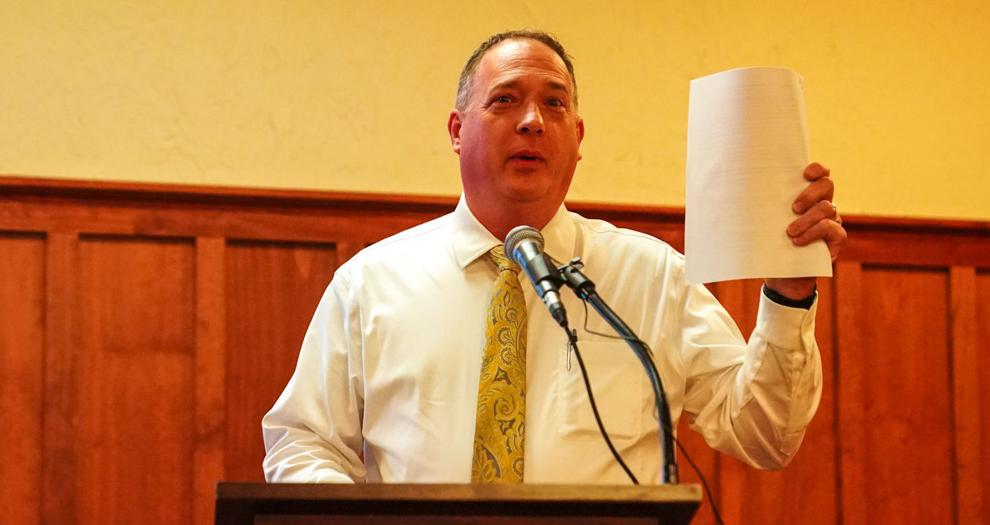 BLOWING ROCK — A governor's signature made for a big celebration at Blowing Rock's "State of the Town" event at the American Legion Building on Nov. 18. That's because included in the North Carolina state budget signed into law by Governor Roy Cooper on Thursday is an important line item: $4.8 million to help with the cost to repair and replace water and sewer line infrastructure on Main Street.
Blowing Rock resident Ray Pickett (R) is the region's representative in the North Carolina legislature and helped push for the funding. He was on hand Thursday night to announce the news. State Senator Deanna Ballard (R) was also instrumental in the line item's inclusion.

A short while later in the program, town manager Shane Fox provided some detail for what the state funding allocation really means.
"It is actually more than $4.8 million," he said. "When you consider that we were planning to borrow the $4.8 million over 40 years, with interest it would have cost closer to $6 million."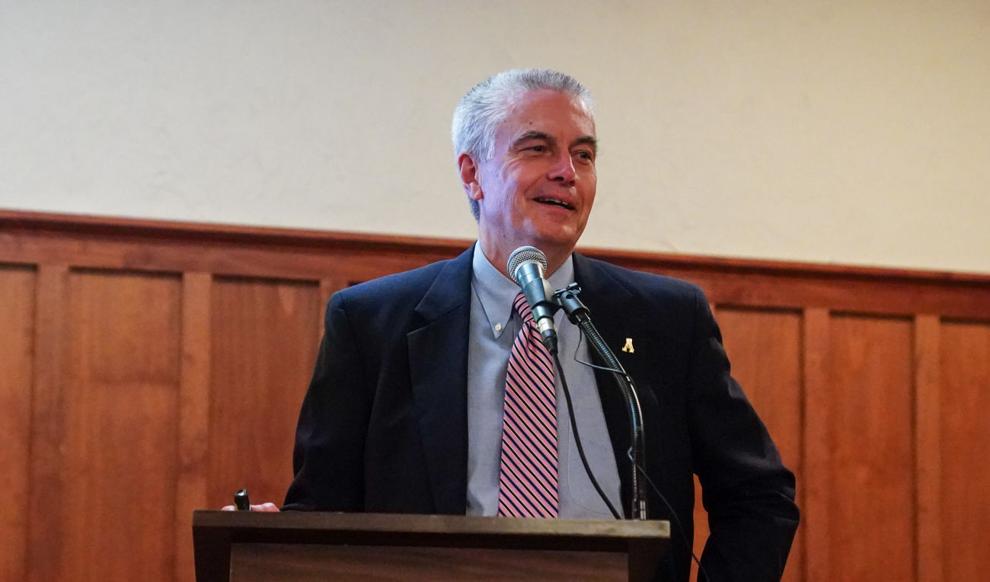 During his portion of the evening's program, Fox noted that some of the town's water and sewer lines date back to their installation in 1910 and an even larger percentage are more than 50 years old. He showed images of cast iron lines that had been dug up for repairs that are riddled with holes.
"You touch one of those lines with a shovel and they just fall apart. So many are only being held together by the dirt around them," said Fox.
Fox reported that the $4.8 million in state funding will be allocated $3.7 million for the repair and replacement of 9,200 linear feet of 8-inch water lines and install new fire hydrant as well as provide for new services and meters. Roughly $800,000 will be allocated to provide 1,150 linear feet of 8-inch sewer lines, new manholes, and new service connections.
Other key highlights from the State of the Union event: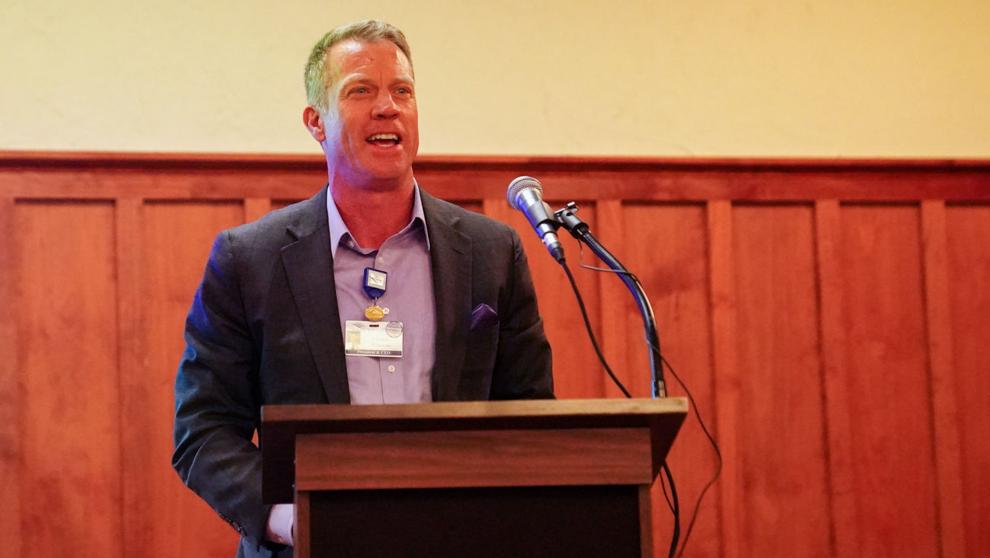 Blowing Rock Chamber of Commerce has 528 members, including 35 new members, and has a 97 percent member retention site.
Art in Park shows ran at 75 percent capacity
Symphony by the Lake sold out its approximately 2,500 admission tickets. Chamber CEO Charles Hardin said that the smaller admission format will be the norm going forward.
The Chamber provided seven scholarships for Blowing Rock STEM students to attend summer programs at the North Carolina School of Science and Mathematics.
Among the Chamber's 2022 perceived opportunities:
Address workforce shortages
Explore solutions for affordable housing
Energize "young professionals" and recruit people willing to work remotely
Business education for members
Establish an undergrounding utilities task force
Work with the Town of Blowing Rock and TDA re: parking solutions
The Village Foundation has funded 55 grants totaling $786,000 since its formation in 2012
Town manager Shane Fox pointed out that the town's General Fund has roughly doubled in the 10 years since 2010, to $10.5 million, while the Water and Sewer Fund has risen from $1.4 million to $2.25 million.
The property taxes collected in FY2020-21 amounted to $4.75 million.
Fox said that the mix of property tax revenue, sales taxes, occupancy taxes, and other miscellaneous revenue, combined with relatively high property values, has allowed Blowing Rock to keep taxes relatively low compared to other High Country jurisdictions. When combined with the property tax rates of their respective counties, Beech Mountain has an total tax burden of $1.21; Banner Elk, $1.04; West Jefferson, $0.93; Seven Devils, $0.91; Boone, $0.84; and Blowing Rock, $0.83 (Blowing Rock, $0.43 + Watauga County, $0.40).
Fox noted that it had been 8 years since Watauga County had revalued property and suggested that because property values had generally increased, property tax rates might well decline.
Fox reported that the sidewalk to Bass Lake should be almost fully completed on Nov. 24, the day before Thanksgiving.
Fox said that the street repaving project approved by town council in March 2020 is more than 90 percent complete.
Fox noted that the recent Chestnut Street and Morris Street stormwater drainage project was the largest of its kind, involved 14 curb inlets with grates and 10 junction boxes with manholes
Both the paving and stormwater projects have been completed on time and within budget.
The town completed a $225,000 replacement and upgrade project at the water treatment plant and its chemical tanks. The project was completed on time and on budget.
Despite being the highest scoring project in the state, Blowing Rock was not awarded a grant from the state's parks and recreation fund, but hopeful for funding in 2022.
A study conducted by the town revealed that 34,000 people used the Memorial Park restrooms in October 2021, supporting the need for expansion and upgrading.
Fox thanked the TDA for its 100% funding of the landscaping improvements at the entrances of Sunset Drive. It included 395 tons of rock, 340 tons of dirt, 20 yards of mulch, and 400 perennials, shrubs and trees, and that the fire station No. 1 is next.
24 pressure relieve valves will be replaced over the next five years at a cost of roughly $1.2 million. The ones being replaced date back to the 1960s and 1970s.
TDA executive director Tracy Brown reported that $1.51 million in occupancy taxes were collected in the most recent fiscal year and that translated to more than $25 million in lodging sales and an estimated $75.5 million in visitor spending.
Brown stated that the impact of visitor spending and tourism related taxes results in approximately $463 million in tax savings that would otherwise have to be paid by residents.
Brown added that the entire High Country region, including Watauga, Allegheny, Ashe, Avery, and Mitchell counties totaled $632 million in visitor spending.
Besides the mountains, the common thread connecting the five High Country counties is the Blue Ridge Parkway, which annually attracts more visitors than the national parks of Yosemite, the Grand Canyon and Yellowstone combined.
Appalachian Regional Healthcare System CEO Chuck Mantooth reported that ARHS has recently added a third hospital to the system, the Appalachian Regional Behavioral Health Hospital, adjacent to Cannon Memorial Hospital in Linville.
ARHS is the second largest employer in the High Country with an annual budget of $226 million.
The hospital system contributes almost $30 million annually in charity care and uncompensated care.
Of the $12 million target for the ARHS "Higher Elevation" capital campaign, approximately $9 million has already been raised.