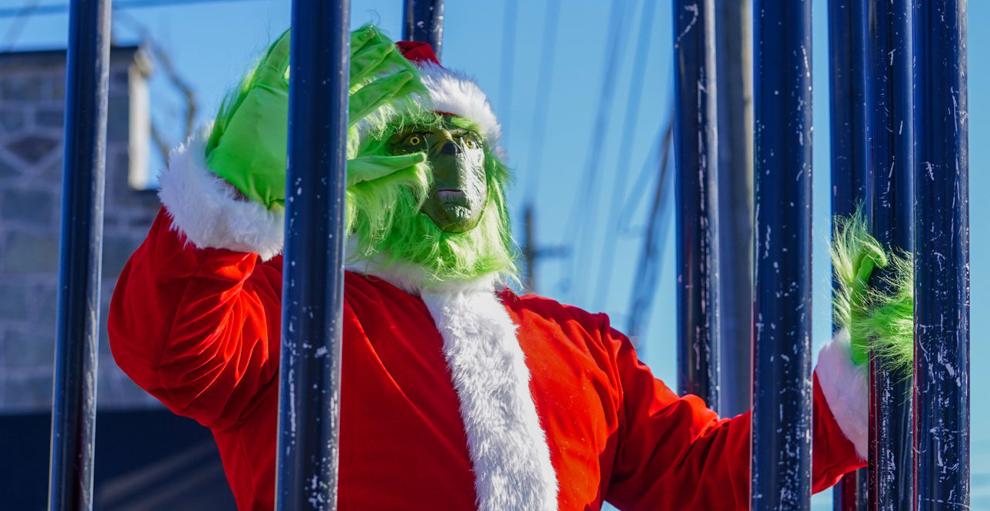 BLOWING ROCK — Circumstances often dictate the public's perception of a moment in time and that was the case on Nov. 27. A fitting, even climactic end to the annual Blowing Rock Christmas Parade down Main Street, Santa Claus looked especially regal sitting atop the fire truck at the end of the procession.
A big smile crossed the face of jolly ol' St. Nick as he looked at the parade entry just ahead. The Blowing Rock Police Department had The Grinch behind bars. Earlier that same morning, the BRPD apprehended America's favorite character to despise, in the wee hours.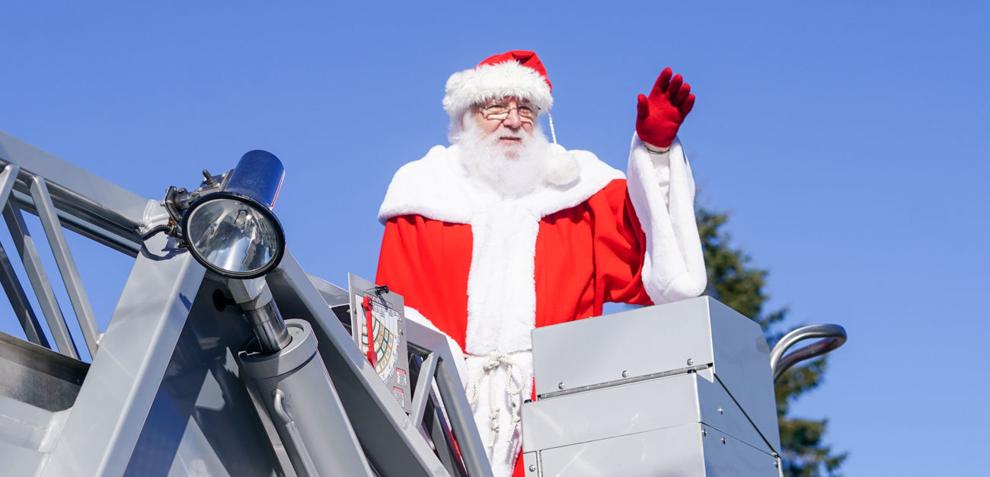 Thanks to the work of an undercover team from BRPD working in concert with community members and tips from several citizens, all of the The Grinch's days and weeks of planning to steal Christmas from Blowing Rock were for naught.
"We don't normally like to circumvent Watauga County's judicial system," said Blowing Rock police chief Aaron Miller, "but with Christmas only a month away, we had to act fast to prevent the perpetrator in this crime from carrying out his plans and completing his mission of stealing Christmas. Given the circumstances, he and his accomplices had to be brought to justice before the actual crime was committed."
The angst of getting caught was clearly visible on the disgusting face of The Grinch as he stood behind the bars of a makeshift jail in the back of a specially-equipped police department pickup truck. From time to time, The Grinch would shake the bars violently and howl in angry protest as he was paraded down Main Street in front of a triumphant Santa Claus.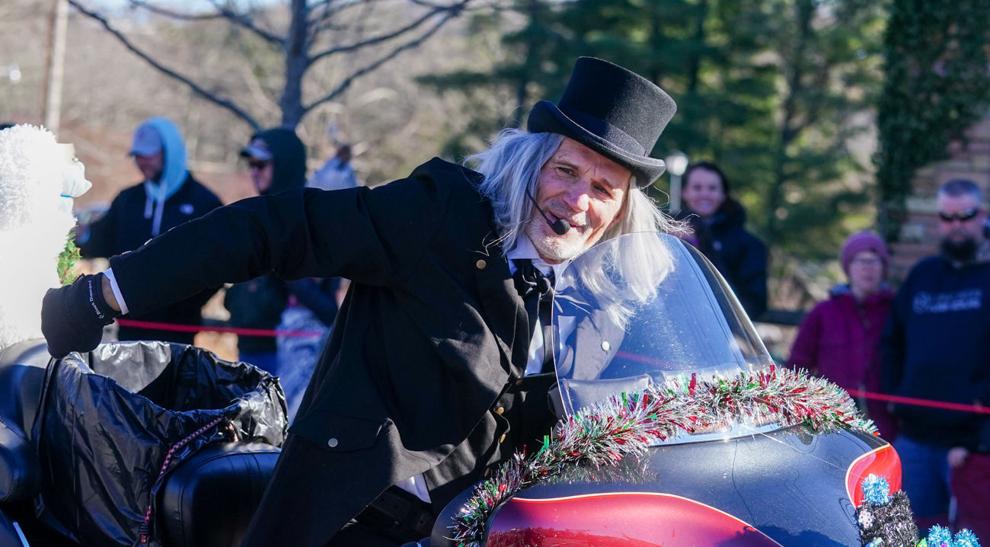 The teeming throng lining the street and sidewalks of Main Street, estimated at 5,000 strong, hurled derisive jeers at The Grinch even while raising shouts of jubilation at his capture. The only person on Blowing Rock's main thoroughfare who seemed remotely sympathetic to The Grinch's plight was the Harley Davidson-riding Ebenezer Scrooge a few parade entries ahead. He snarled through a microphone to anyone that would listen, "Bah! Humbug! Go home!"
Asked how The Grinch's capture came about, Miller said that he couldn't divulge all of the tactics deployed by his department, but offered a few details leading to the ne'er-do-well's apprehension.
"Luck always plays a part in uncovering this kind of sinister plot," said Miller. "In this case, we received separate tips from two prominent members of our community. I would like to personally thank the town's building inspector, John Warren, and local real estate agent, Tim Gentry, for contacting us after they overheard troublesome conversations as they were eating breakfast at Sunny Rock restaurant. Those tips alerted us that there might be trouble afoot."
Miller added that other community members reported their concerns, too, and it all began to add up.
"Dr. Bunky Davant frequently walks the carriage trails out at the Cone Estate, above Bass Lake. A few days ago, he reported strange sounds coming from one spot, fairly deep in the woods. A day later, he was walking later than usual as darkness was falling on the estate. He heard the noises again and decided to investigate," said Miller.
"I am not sure it is the smartest thing to do for a civilian to put himself in harm's way like that, but he left the trail to get a closer look," said Miller." It was maybe 100 yards off the trail that he got behind some rhododendrons and, looking out between the thick branches saw four grisly men and a battle-ax old crone of a woman with The Grinch. They were sitting, standing and sort of crawling around a makeshift campfire, which of course is against the law on the Cone Estate so Dr. Davant knew they were up to no good.
"Now Dr. Davant is an expert in the occult," said Miller, "and he thought at first they were doing a séance with one of those Ouiji boards, but then realized that they kept pointing to a piece of paper laid out on a plywood panel. The woman would cackle from time to time, shrieking unintelligible words that might have been from a foreign voodoo language. The men, recalled Davant, would rub their hands together like greedy pirates and howl in delight as The Grinch laid out his plot to steal Christmas on the paper. Dr. Davant said that once he understood their intentions, he backtracked pretty quickly and came straight to us."
Miller said that Davant's discovery, along with Warren's and Gentry's testimonies, were enough for the department to jumpstart an immediate investigation.
"Once we learned of the seriousness of this crime, time was of the essence. Why, they were even going to give hallucinogenic drugs to Rudolph, Dancer and Blitzen to disorient the reindeer and pull them off course! One depraved individual and his henchmen were going to deprive hundreds of boys and girls in Blowing Rock and its surrounding areas of having their stockings stuffed with goodies and left with no presents under the tree. We couldn't let that happen," said Miller.
A special, undercover police unit was enlisted, said Miller. Acting like vacationers stumbling about the woods after a night on the town, on Saturday morning, Nov. 27, they "happened" to come across The Grinch's lair.
"The Grinch was surprised at our intrusion and trying to conceal his identity, wearing a hooded trench coat and all, but of course we had a pretty good idea who we were dealing with. Still pretending to be a tourist with a hangover, I distracted him with questions about whether Blowing Rock was a good place to live. Meanwhile, I had enlisted a couple of guys who were very familiar with the area. Kent Graham and Tracy Brown know the Cone Estate like the back of their hands, so they quietly snuck up behind The Grinch and ripped off the hood of his coat to reveal his true identity. As soon as I pointed my service revolver at him while my deputies corralled the henchmen, that Grinch knew the jig was up."
Upon learning of The Grinch's arrest, town manager Shane Fox heaped praise on the community.
"This experience just reinforces what I have said many times before about Blowing Rock," said Fox. "The collaboration that we witness almost daily in this community is exceptional, even unparalleled. It is one of the reasons I love Blowing Rock."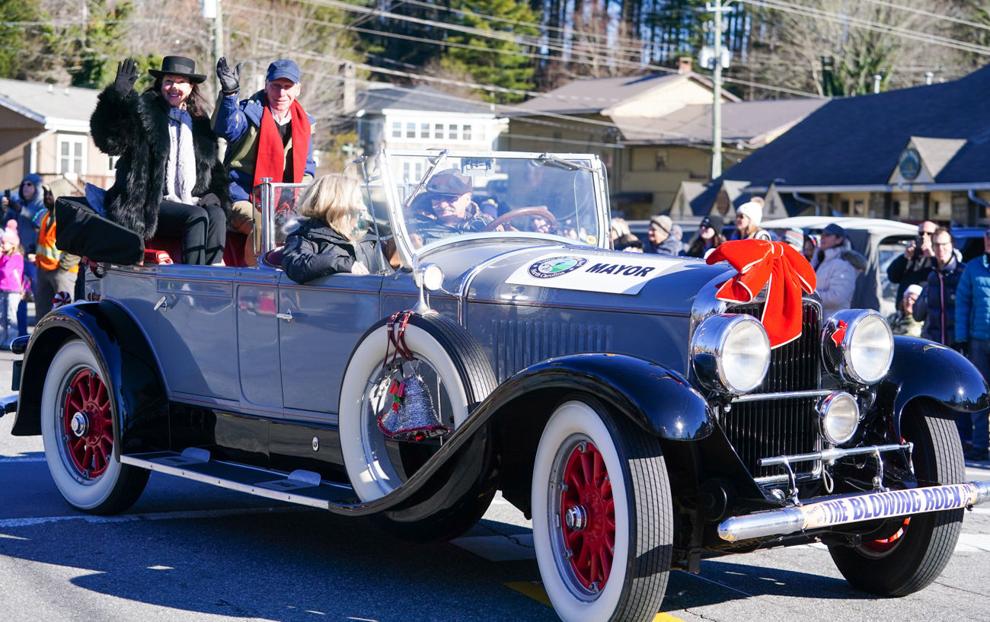 Mayor Charlie Sellers and wife Deatra were riding at the front of the parade and did not learn of The Grinch's apprehension until almost an hour after the parade.
"This is incredible news, to be sure. Our police department saved Christmas for all of Blowing Rock and we are certainly indebted to them for their service. But when you think of the contributions from our citizens, people like Mr. Warren, Mr. Gentry, Mr. Brown, and Mr. Graham, well that just puts an exclamation point on my campaign motto, 'We all make up one Blowing Rock,'" said Sellers.
Reached after the conclusion of the parade, Chief Miller said, "Words cannot express how much I appreciate the hard work and dedication of the investigative unit that solved this crime before it was an actual crime, although even thinking about stealing Christmas from Blowing Rock is a crime in itself. Thankfully, The Grinch was captured and we are throwing away the key to his cell. Before going back to the North Pole, Santa assured me that he holds a special place in his heart for Blowing Rock now and the boys and girls here are at the top of his list for deliveries come Christmas Eve."
Editor's Note: John Warren, Tim Gentry, Kent Graham, Dr. Bunky Davant and Tracy Brown asked not to have their photos taken and published in the event they might want to take on future undercover assignments for BRPD.