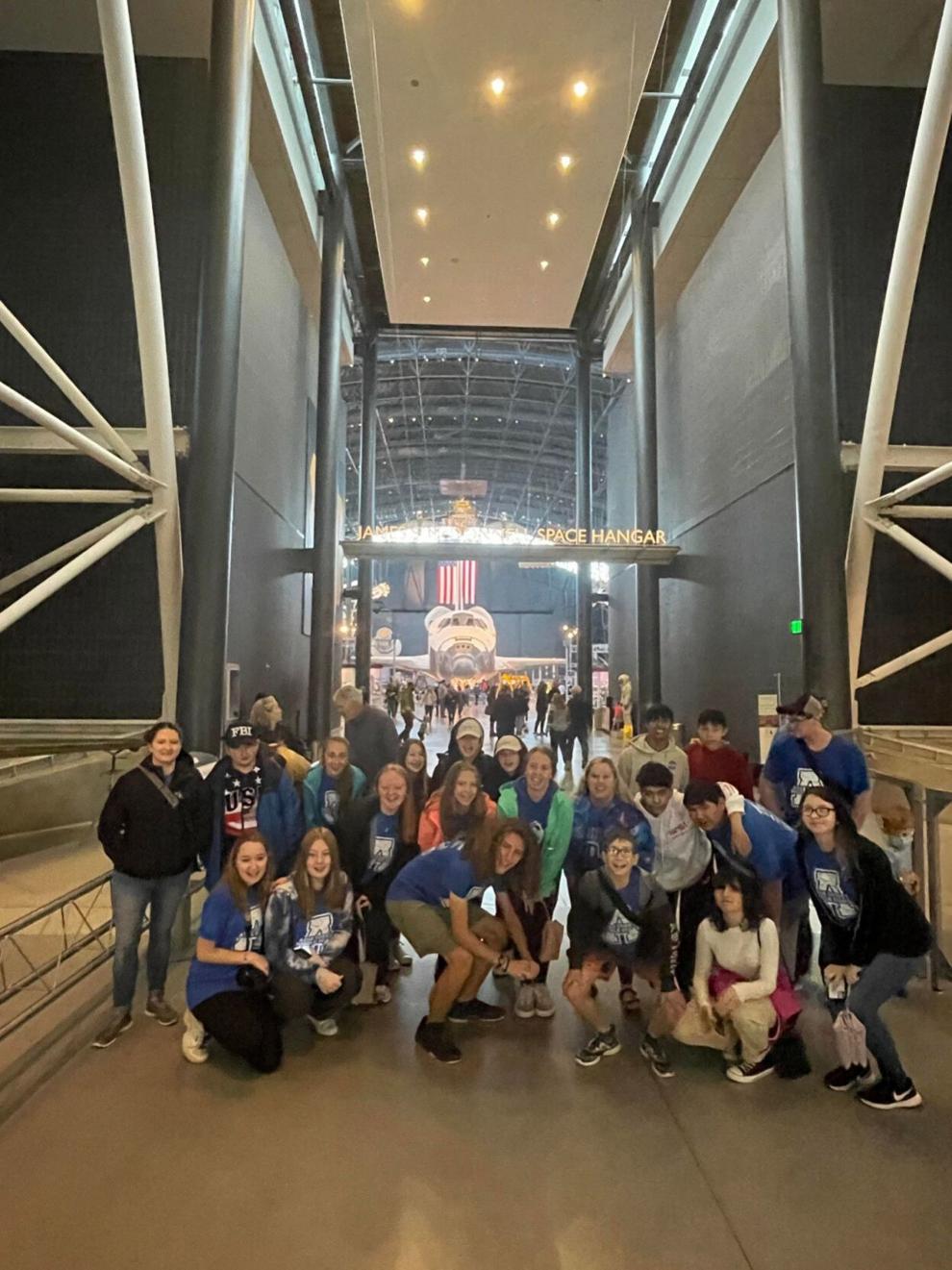 GREENBELT, Md. — When Ashe County Middle School science teacher Charlene Horton got the news that she would have the opportunity to take 19 students to the NASA Goddard Space Flight Center in Maryland, she knew that this would be the opportunity of a lifetime.
"Last year, when we had our SpaceX Zoom experience, the kids were able to get some inspiration and feedback on the rockets they were building," said Horton. "It was an amazing and intimate time with these astronauts. It really showed the students the awesomeness of learning. Last year was such a hard year with COVID-19 and my students worked so hard. I wanted a way to make learning come alive with them.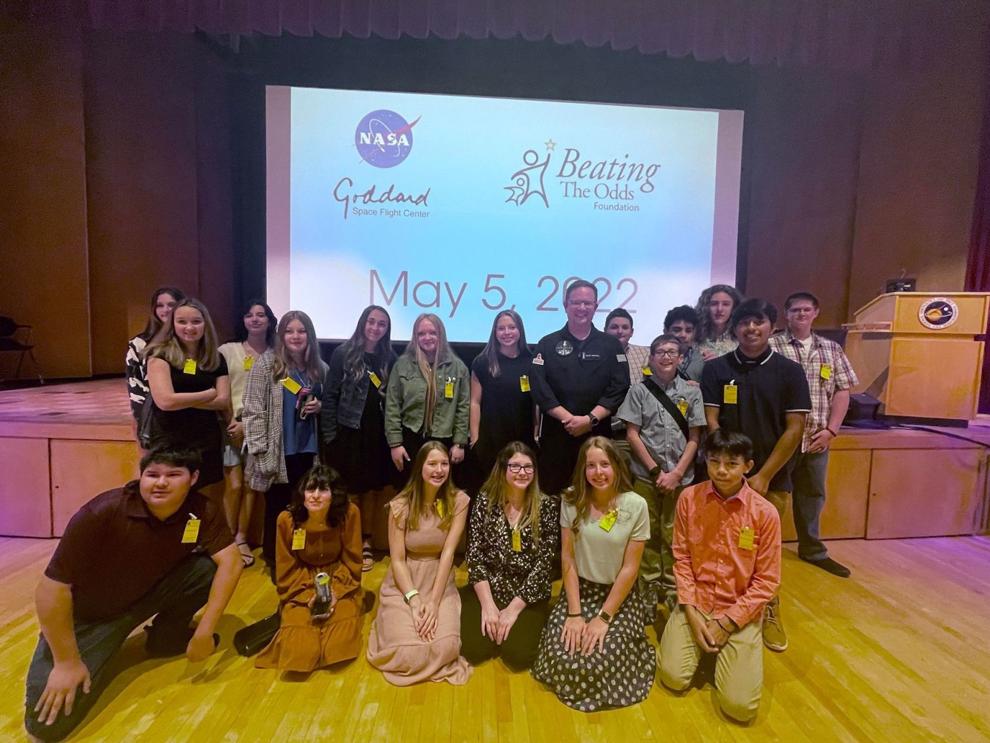 "I've always been that teacher who inspires their students to dream big. I believe that a lot of learning comes from outside of the classroom. I got a phone call in February of this year and NASA invited our school to participate in a research challenge at the NASA Goddard Space Flight Center. Nineteen students had to research what was called a 'Quarterback of Life.' A Quarterback of Life is someone who has been a game-changer, who has been a mover and a shaker."
After the students chose which person they would focus on for their presentation, Astronaut Chris Sembroski, they geared up and loaded up on the bus on May 4.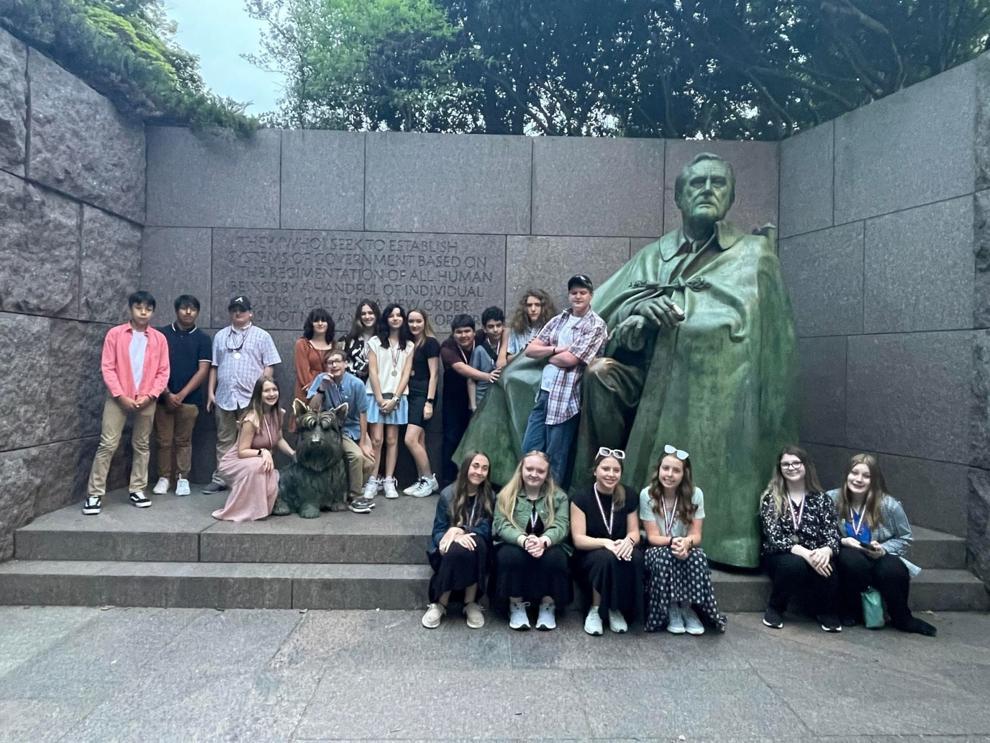 From Wednesday to Saturday, the students embarked on a journey throughout the Maryland and Washington D.C. areas, visiting the NASA Goddard Space Flight Center on Thursday where they gave their presentation. Their full presentation can be found at watch.screencastify.com/v/3AHXJBB8yIbJFMDvZ8pT.
After being recognized in their presentation, the students went to visit national monuments including the Pentagon Memorial, the Air Force Memorial, the White House, the WWII, Lincoln, Vietnam and Korea Memorials, the Library of Congress, the US Capitol, the Supreme Court, a few Smithsonian museums, the MLK, FDR and Jefferson memorials, the Arlington Cemetery and the Iwo Jima Memorial.
"This really was a beautiful presentation," Horton said. "I'm very proud of them for being so vulnerable. They even got to meet Chris Sembroski after their presentation. They also got a private tour of the flight center. It really is the opportunity of a lifetime."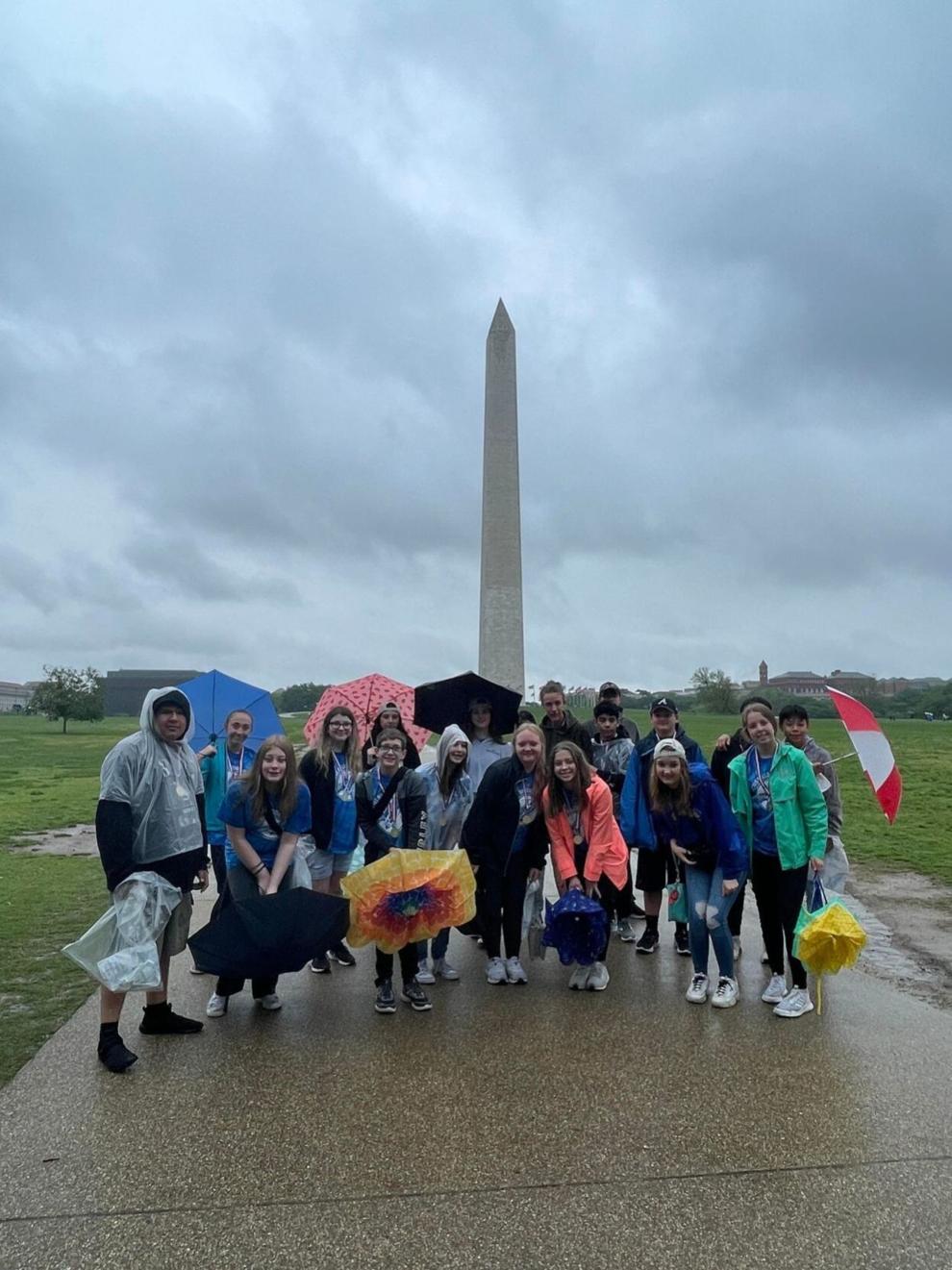 Horton said she chose the students through a survey to see who was interested in the topics without telling them what it was for. They let NASA and the Beating the Odds Foundation choose the 19 students. Those students were Hayden Donaldson, Addison Dollar, Philip Griffith, Jonathan Perez-Denza, Izabelle Reber, Kirsten Shumate, Sawyer Greene, Justin Matkins, Natalie Iglesias, Thomas Cruz, Katrina Harless, Angel Padilla, Sawyer Eller, Pablo Aguilar-Barcenas, Savannah Blevins, Leigha Lewis, Khris Huestess, Laci Lambert and Anna Koontz.
After the trip, the students answered three questions on their experience:
1) What was your favorite experience during this trip?
2) How has your perspective shifted on space exploration?
3) After going on the trip, how will you use what you've learned in your future? or how do you think this trip will effect your future?
1) Seeing Chris Sembroski and presenting for NASA.
2) It has changed because I realize the safety precautions on the flight there and back, thus making it more calming to do space exploration.
3) It will hopefully help me get into NASA. I would love to work as a mechanical engineer for NASA so hopefully it will help me in applying for the job.
1) The museums, learned a lot from them.
2) I have learned that it is a lot more complicated, even though I already perceived it as extremely complicated.
3) This has taught me a lot about jobs for space, which could influence my love for science more.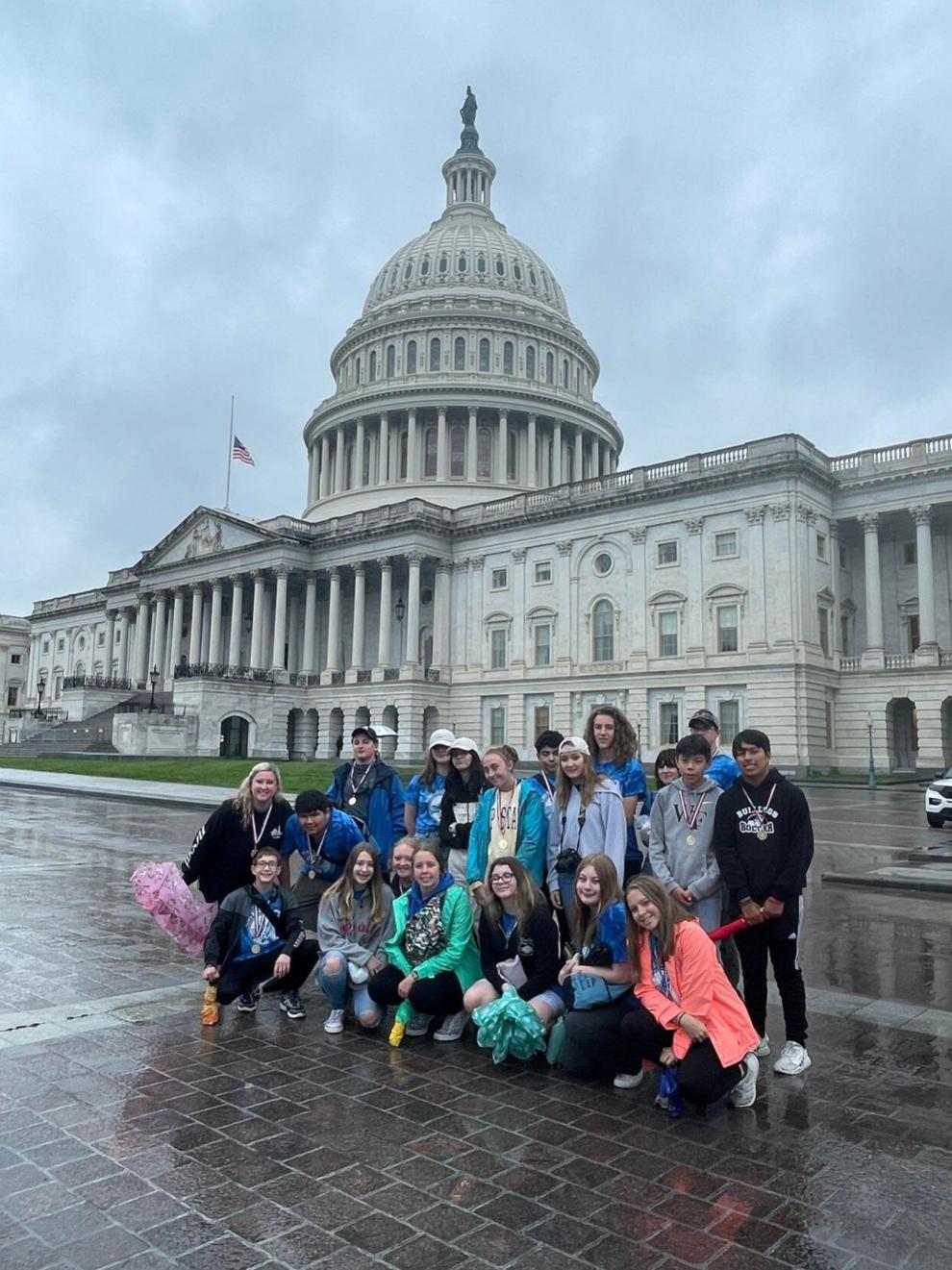 1) Being able to walk really close to the capitol. Or maybe Chris riding our bus.
2) I really want to go into space exploration after this trip. I've learned about new space crafts that went into space that I never knew about.
3) I think this trip has given me more motivation to explore space and things like that because I now find that stuff way more interesting. Also after this trip I'm really thinking about moving to D.C or Maryland. I love exploring new places and I never really get to because of lack of money so this was amazing for me.
1) My favorite experience during this trip was the experience it gave me talking to a crowd of important people. I really enjoyed being able to see behind the scenes and the brains to most of satellites that have been sent out into orbit.
2) When learning about the needs on Earth and how space exploration has solved problems and still working out little errors just to improve the humanity of Earth and its people.
3) I will take what I have learned from this trip and use it as a stepping stone and my guide to future choices and life lessons. This trip will help me in the future with communication skills and preparing for a life changing event.
1) Meeting Chris Sembroski.
2) I realized how much preparation it truly takes.
3) It will most likely affect my future by me possibly pursuing a career in something with aerodynamics.
1) My favorite park of the NASA / Washington DC trip was getting to meet Chris Sembroski in real life! We got to ride on the charter bus with him and even talk to him! I also enjoyed going to the National Museum of American History to look at all the pretty first ladies dresses. I loved this trip because I got to make new friends, travel, and have a good time. And the amazing ride at the Air & Space Museum which was a cool and exciting place to get to spend our last day at.
2) During this trip, I learned that work does not always come easy, you will learn you need to work hard for what you earn. I also learned to be grateful for what I have in my life. During my research I found out Chris and his team used many of their different skills to work as a whole and become a team. Without their amazing team work/support inspiration would never be a thing.
3) I might honestly be working in the science field, I believe this trip really got my hopes up because I learned NASA isn't just one type of scientist. There are many different types of workers and fields to work for at NASA. Who knows what the future holds for me though.
1) Going to the Smithsonian museums.
2) I now realize how much work is put into going into space.
3) I will feel more confident in presenting in the future.
1) My favorite part was experiencing a once in a lifetime opportunity. Even though I was nervous as soon as we as a team hit that stage I wasn't as nervous.
2) I think that I want to look into astronomy more, the way they talked about stars and galaxies really intrigued me.
3) I think that the trip helped my social anxiety, I wasn't nervous about presenting in front of people, I was just afraid of failure.
1) Seeing all of the things at the Goddard space facility.
2) I still think that is really cool and worth supporting. I have found out that there are more launches going on than I know about.
3) I think I might use this to get a job in the space exploration field.
1) Getting to be in NASA.
2) Space is now more intriguing than before.
3) I now want to learn more about space and possibly get a job for someone like NASA or from NASA themselves.
1) My favorite experience during the trip was when we went to the Smithsonian National Air and Space Museum on a jet simulator.
2) My perspective on space exploration has changed to having more curiosity of what's out there in space. But I still have the idea that we could use more focus on our own planet than another.
3) I will use the information from the people there on how they become what they are. They gave us details of their education and what kind of courses you need.
1) I loved being able to see the different way people worked behind the scenes of nasa. Turns out it's not all science and math!
2) I always loved the idea of space, but hearing Chris Sembroski talk about the experience made me want to go to space myself.
3) There was a part of the nasa tour I really liked, we went into a room. The place where the animations were made. I personally love art, and would love to make it a career. Being able to see their workspace and see that it was much like my drawing set up at home really encouraged me. I definitely think I would love to do that in the future.