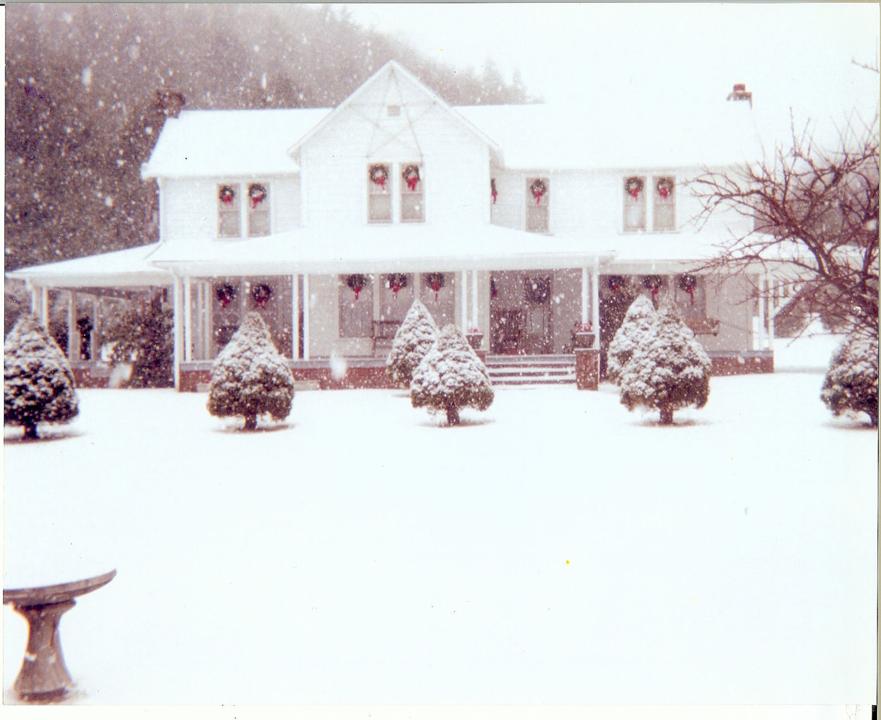 BLOWING ROCK — While a lot of Blowing Rock events and activities were curtailed by the global pandemic, there were nonetheless a number of impactful headlines. Here, we take a look back at the year that was through the "lens" of The Blowing Rocket.
JANUARY
A global pandemic was not yet on anyone's radar. Fresh off of a banner year in tourism, civic and government officials were optimistic about the year ahead, but growing cautious about the impact of tourism's growth affecting not just visitors, but also both full-time and seasonal residents.
Expectations were running high that the sidewalk to Bass Lake from Main Street would be completed after being put out to bid. Another pedestrian and cycling project, the Middle Fork Greenway section from the Blowing Rock trailhead near the intersection of Valley Blvd. and N. Main St., was expected to start construction during 2020.
A house built in 1908, across from Tweetsie Railroad along U.S. 321 was demolished. In its place would be a new Quality Plus gas station.
The Blowing Rock Town Council retreat on Jan. 6-7 saw multiple presentations from various department heads. Discussion included a wide range of topics, including about the parks and recreation master plan finished in 2018, the importance of Memorial Park and the need to replace playground equipment, restructuring water rates, a potential new amphitheater between Broyhill Lake and the American Legion building presented by the Village Foundation, closing a presumed loophole in short-term rental rules, concerns about Broyhill Dam and Laurel Lane, landscaping plans and alternatives for the Sunset Dr. and North Main entrances to downtown, updating the 2014 Comprehensive Plan, the potential construction of new pickleball courts, a potential merit system for compensating town employees by 2020-21, paid parking downtown, parade changes, and other topics.
Seven Girl Scouts from Blowing Rock Troop 02738 traveled to the U.S. Space and Rocket Center in Huntsville, Ala., for a 3-day Space Camp Pathfinder program.
More than 130 athletes from North Carolina, Virginia, and South Carolina participated in the Special Olympics Winter Games at App Ski Mtn.
Jewell Moody celebrated her 99th birthday.
Local native Luke Winkelmann, 19, who grew up in skiing and snowboarding at App Ski Mtn, announced plans to participate in the Winter X Games in Aspen, Colo. Winkelmann is a member of the U.S snowboarding team.
At the Boone and Blowing Rock chambers of commerce-hosted Economic Kickoff Breakfast, hosted by App Ski Mtn, local economist and Appalachian State University professor Harry Davis was optimistic that the nation's 11 years of economic expansion would turn into 12, with no widespread recession seen in his forecast.
Blowing Rock's Winterfest saw more than 50 events, from Winterfeast to WinterPaws, including Polar Plunge, a K9 Keg Pull, Chili Cookoff, Silent Auction and Raffle, and more.
Jesse Pope, executive director of the Grandfather Stewardship Foundation, spoke about the life and photography of the late Hugh Morton during a special "Scholars and Scones" program at the Blowing Rock Art & History Museum.
McCoy Minerals, a jewelry retailer, cutting and appraiser, opened at 537 N. Main Street.
FEBRUARY
Both Blowing Rock boys and girls teams captured their respective championships in the Watauga County Middle School Basketball Tournament.
Tweetsie Railroad hired entertainment veteran Kimball Keller as the theme park's new general manager.
Eleven countries were represented among the 20 students participating in the Blowing Rock-hosted regional Rotary Exchange ski weekend at App Ski Mtn.
Harriet Davant, longtime Blowing Rock resident, healthcare and community leader passed away at age 96.
Town Council green-lighted Village Foundation plans for handicap accessible walkways between American Legion building, Broyhill Park, and the adjoining parking deck. The Village Foundation also received approval to move forward with fundraising plans for an amphitheater between the Legion building and Broyhill Lake.
Town Council approved changes to the Fourth of July and Christmas parades, including a 10 a.m. start time, and banning cars parked along Main Street. The changes came after a survey of Main Street Businesses was distributed and evaluated.
Blowing Rock's occupancy taxes collected in 2019 grew by 9.56 percent, to 1.15 million.
The Nantahala-Pisgah Forest draft plan was released by the U.S. Forest Service for public comment.
Blowing Rock Parks & Recreation hosted its annual Sweetheart Soiree Senior Dance at the American Legion Building.
Watauga Medical Center receives five-star federal rating.
Short-term rental violations were upheld by the Blowing Rock Board of Adjustment.
ZAP Endurance sends eight marathon athletes to the U.S. Olympic Trials in Atlanta.
Town of Boone sues Watauga County over sales tax distribution, claiming side agreements with Blowing Rock, Beech Mountain, Seven Devils.
MARCH
North Carolina House District 93 Representative Ray Russell defeated challenger Turner Doolittle in the Democratic primary. Russell will face Republican primary winner, Blowing Rock's Ray Pickett. In the newly redistricted Fifth Congressional District, U.S. Representative Virginia Foxx will face Gaston County-based Democratic primary winner, David Wilson Brown.
The Blowing Rocket
received two first-place award from the North Carolina Press Association, for "Special Section" and for an advertising contest in Apparel, Jewelry and Accessories.
The Gideon Ridge occupancy tax trial is set for 2021, likely in April.
Appalachian Ski Mtn. celebrates first responders in 'Heroes on the Mountain' event.
Town Council approves new Memorial Park playground. Cost projected to be $600,000.
Chamber of Commerce reported that Winterfest raised more than $26,500 for local nonprofits.
Blowing Rock Historical Society unveils historical markers for Blowing Rock High School (demolished in 1965).
Due to health concerns related to COVID-19, Blowing Rock cancels all town-sponsored events and town meetings through April 13.
Watauga County school closures extended to May 15 due to the COVID-19 coronavirus concerns.
Three COVID-19 cases confirmed in Watauga County.
Tweetsie Railroad postpones opening day for the attraction.
APRIL
Watauga County closes all playgrounds, picnic shelters, and courts "until further notice."
Area food pantries facing increases in demand for services.
Governor Roy Cooper orders North Carolina residents: "Stay at home."
Seven Watauga-based COVID-19 cases confirmed.
Downtown Blowing Rock, normally full of tourists and locals, now a "ghost town."
Blowing Rock rallies around young community member with "William's Parade," after death of Regina Greene Pelsmaeker.
Burn ban issued for Watauga County with forecast of dry weather in Western NC.
Blowing Rock Chamber of Commerce and Village Foundation launch relief fund for local businesses, the Rock United Relief Fund.
Town Council approves Remote Meeting Policy.
U.S. Forest Service is investigating the cause of a 15-acre fire in the Sampson area.
Nearly $64,000 raised in the first two weeks of Rock United Relief Fund campaign.
BRAHM, Merlefest among organizations adapting to COVID-19 with virtual tours and entertainment.
Watauga County schools to remain closed for the rest of academic year.
MAY
Blowing Rock Recreation Center and Memorial Park playground projects nearing completion.
Blowing Rock Police seeking help in solving construction site larcenies.
Governor Cooper signs executive order to move into Phase 1 of easing COVID-19 restrictions.
Town Council considers separate action on COVID-19 restrictions; Memorial Park restrooms to reopen; Speckled Trout deck expansion approved.
Stores, malls prepare to reopen with special provisions.
Town embarks on "third and final" round of road repaving in Blowing Rock.
American Legion to host virtual Memorial Day event while other local in-person events canceled.
Blowing Rock Tour of Homes canceled, but donations encouraged.
Boone, Blowing Rock enter into 911 contract, Blowing Rock terminates Watauga County contract.
Town Council votes to cancel July 4 events, summer camp.
Symphony by the Lake postponed until Aug. 22.
JUNE
335 students graduate from Watauga High School, Watauga Innovation Academy in drive-through ceremony.
Town Council adopts more than $10 million budget for FY2020-21.
North Carolina reported at June 6 was the highest one day number of lab-confirmed COVID-19 cases at 1,370.
Artists in Residence program at Edgewood Cottage canceled for 2020
App HealthCare awards $10,000 to Blue Ridge Conservancy.
Willard Cline Watson III named to William C. Friday Fellowship for Human Relations.
Local school officials seeking parent input on plans for school return
Vehicle pursuit that started in Blowing Rock ends in Ashe County after weaving through Watauga, as well as Johnson County, Tenn.
Blowing Rock Market employee tests positive for COVID-19.
JULY
Robbins Pool reopens with altered operations.
Blowing Rock Community Foundation names four scholarship recipients: Brooke Byrd, Ashlyn Edmisten, Catie Holder, Tessa Trate.
Governor extends Phase 2, mandates masks statewide.
Summer Camp offers online activities, field trips for summer 2020
"Blue Ridge Brutal" bike ride canceled.
Governor Cooper announces hybrid school reopening plan.
No spectators, but Blowing Rock Charity Horse Show kicks off July 21.
Two found dead of gunshot wounds in Deep Gap.
Chamber hosts first Art in the Park event of season.
ARHS donates 800 masks to local law enforcement.
Tweetsie ordered to close by NCDHSS.
Curfew set for alcohol sales
Back-to-School Festival morphs int.o drive-through event.
AUGUST
Watauga County Schools reopen, but remote for at least nine weeks.
Blowing Rock "State of the Town," Aug. 13.
Blowing Rock Plein Air Festival scheduled for Aug. 19.
Meningitis booster vaccine required for high school seniors.
NC COVID-19 deaths near 2,200.
Town Council discusses Chestnut Dr. stormwater drainage, approves Art in the Park application through 2025.
Joyce Blackwell Williams Martin reflects on her family's in Farm House Inn, V-J Day (Victory Japan).
Students attend first day of school, virtually.
Famous Toastery to reopen at intersection of Sunset Dr. and Ransom St.
Blowing Rock Civic Association advocating for ambulance station.
High Country artist Jeremy Sams' "Blue Ridge Harmony" wins first place in professional category of the Wet Paint Art Show & Sale in Blowing Rock, part of Plein Air Festival.
During COVID, Town offering facilities with WiFi access to students.
SEPTEMBER
Gathering limits increased in NC Phase 2.5.
Blowing Rock School teacher Allyson McFalls receives $3,000 grant from Society for Science & the Public.
U.S. Dept. of Agriculture extends fund allowing Watauga schools to serve free meals to all children.
New Memorial Park playground opens.
Greg Hampton, vice president of Hampton Funeral Home, dies in car crash.
Town Council hears Middle Fork Greenway update; speeding on Valley Boulevard., proposal for 24/7 ambulance service heard in public comments.
Town Council tables Chetola Resort request for help with lake dredging.
David T. Goodman honored as first recipient of The Paul H. Broyhill Award presented by Blowing Rock Civic Association.
Virtual Tour of Homes raises more than $60,000 for area nonprofits.
Samaritan's Purse responds to West Coast wildfires.
BRAHM reopens to in-person visitors.
Governor Cooper announces $40 million small business relief program, attendance expanded for large outdoor venues.
Supreme Court Justice Ruth Bader Ginsburg dies at 87.
OCTOBER
App State student dies of COVID-19 complications.
Appalachian Ski Education Foundation receives grant to grow winter sports.
Town Council looking at proposals to increase pedestrian safety downtown.
Tweetsie Christmas to return in November.
Samaritan's Purse calls for volunteers as hurricane responses escalate.
BRAHM takes steps toward accreditation.
Samaritan's Purse goes to Bahamas in COVID-19 relief effort.
Neaco sells "fun and funky" face masks designed by Chapel Hill dentist to benefit High Country charities.
BRAHM holds presentation about local ghost and regional folklore.
Cooper: Three more weeks in Phase 3.
NOVEMBER
Democrats sweep Watauga board seats, Pickett wins NC House race.
Blowing Rock Chamber of Commerce wins second "Outstanding Chamber of the Year Award."
David Rogers takes helm of The Blowing Rocket as new editor.
Joe Biden elected 46th U.S. president.
Blowing Rock Tourism Development Authority advancing "sustainable tourism" initiative, Arizona firm Brooks International selected to assist in plan development.
State looks to slow spread of COVID, lowers indoor gathering limit to 10
Tweetsie Christmas brings holiday joy.
Blowing Rock, Seven Devils added as parties to Boone lawsuit.
Blowing Rock School volleyball lifts past Green Valley, 2-0.
Spencer Robbins, 93, passes away leaving rich High Country tourism and real estate development legacy.
STREETWISE column debuts, features Mebane financial advisor and lead singer for band.
Blowing Rock School volleyball defeats Mabel, 2-0.
Pages in Time: Blowing Rock's Steve Sudderth pens new history book about town and area, 1400 to 1900.
Blowing Rock Chamber of Commerce receives actual trophy for "Chamber of the Yea."
STREETWISE: A 'Hallmark' Thanksgiving.
DECEMBER
Not 'Black', but Fun Friday in Blowing Rock with playground fun, Santa visit.
Hot, Hot, Hot: Bolick & Traditions Pottery kiln opening a hit with regulars, newbies.
STREETWISE: Miami family relishes "Christmas Spirit" in Blowing Rock.
STREETWISE, TOO: A park for grandkids, for sure.
Appalachian Ski Mtn. investing in the future even while dealing with COVID-19.
Blowing Rock ABC store awards grants, reports audit results.
Blowing Rock Police add weekend foot patrols to remind people of COVID-19 mandates.
Gaines Kiker active converting red maples debris from Memorial Park into art, woodworking collectibles.
Blowing Rock Community Foundation expanding scholarship program — again.
Town Council considers Village Foundation and Historical Society proposal for history walk, seeds Tree City USA membership, establishes Park Advisory Committee, rejects Thirtle Building CUP amendment.
STREETWISE: A great day trip.
Chamber hosts "Christmas Cheer" contest.
Public art initiative focuses on buying award-winning sculpture for Blowing Rock.
McBurney newest Blowing Rock Police officer.
STREETWISE: "Shhh!...Don't tell his parents!"
One on One with Blowing Rock's Oval Jaynes, college athletics' "Mr. Fix It," now retired.