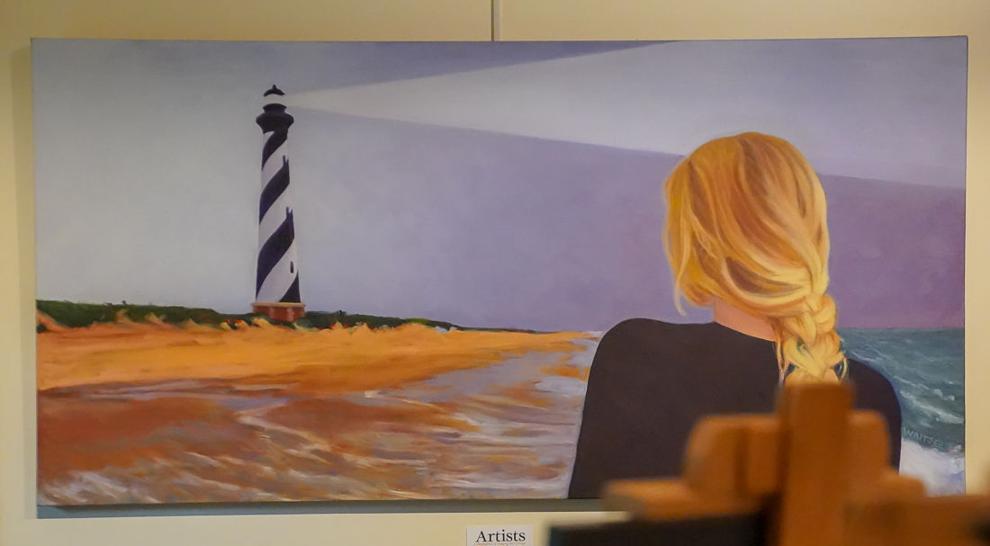 BLOWING ROCK — Almost two dozen artists and artisans met earlier in May at Edgewood Cottage for an orientation session about their upcoming participation in the popular Artists in Residence Series. Produced and hosted by the Blowing Rock Historical Society, in 2021 the weekly series saw more than 5,000 visitors from 30 U.S. states, Historical Society president Tom O'Brien told The Blowing Rocket. Art sales in 2021 vs. 2020 advanced more than 70 percent, he said.
"This year's lineup of artists include some very creative people," said Sharon Smoski, a series organizer. "It runs continuously from May 28 to September 11, again with each week featuring a different artist. You name the art medium, from photography to oils, watercolor to fibre, woodworking to acrylics, pottery to leather, glass, and murals, we have a wide and rich range for the public to see and even buy."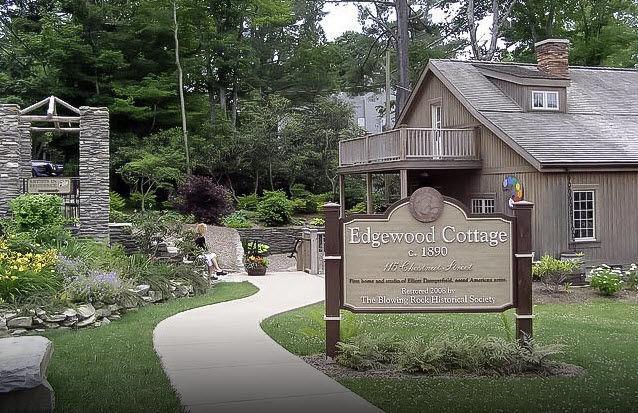 O'Brien emphasized that these are free art shows, open to the public.
"There is a new artist every Monday and he or she stays through the end of the week," said O'Brien. "Edgewood Cottage is open every day from 10 a.m. to 5 p.m. There is art for every interest and budget. The Cottage is easy to find, located right next door to the Blowing Rock Art and History Museum, right across the street from Rumple Memorial Presbyterian Church, at the intersection of Main Street and Ginny Stevens Lane.
"What we have found," added O'Brien, "is that one of the most compelling aspects of this event is the ability for the public to interact with the actual artists. You are not just seeing a painting or photograph hanging on the wall or picking up a pottery bowl off the table. You are talking with the artist, asking questions, and learning about the methodologies that behind their respective passions."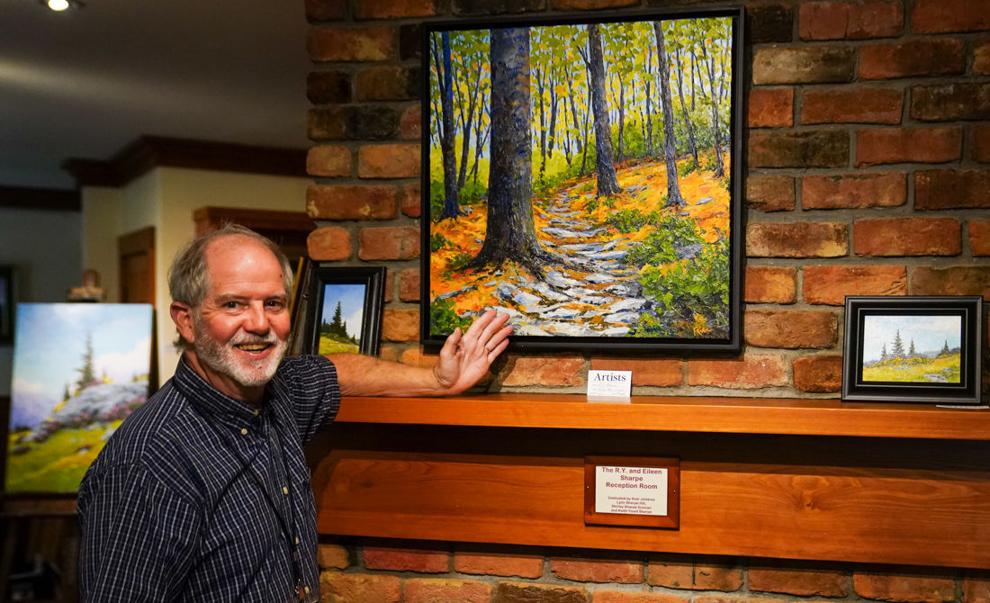 May 28-June 5: Skip Sickler — Photography
From his earliest memories, Skip was drawn to nature. While immersed in the mountains, forests, streams and oceans, he finds himself more centered, more alive. In this context, he presents his photography for your enjoyment and inspiration. Come meet Skip from May 28th through June 5th at Edgewood Cottage in Blowing Rock.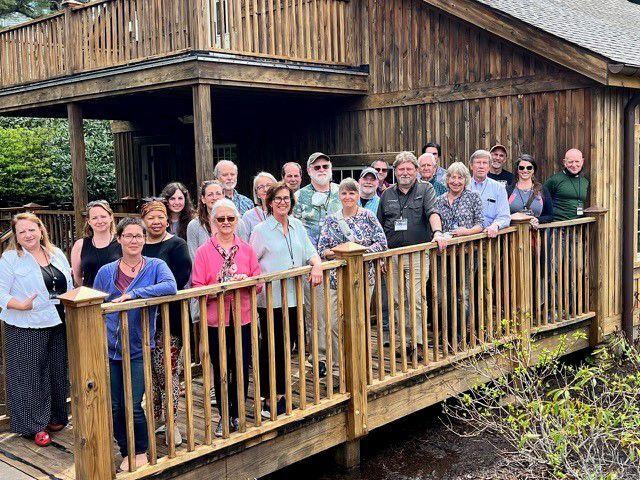 June 6-12: Jack Hamrick — Oils
Art history, life experience, nature and fellow artists are ready sources of inspiration for Jack's vividly expressive paintings, many inspired by the Appalachian mountains. Having painted all around the world, Jack finds western North Carolina's High Country to be the perfect muse by which to paint and live. Come learn more about Jack's paintings and his work with children using art as therapy, from June 6th through June 12th at Edgewood Cottage in Blowing Rock.
June 13-19: Amalia Yosefa — Watercolor, Oils
Amalia's passion is capturing the beauty of the Blue Ridge Mountains in both watercolor and oil. She especially enjoys creating visual pieces that evoke a sense of nostalgia and a return to a childlike sense of wonder connected to a simpler time. Come explore and enjoy Amalia's art at Edgewood Cottage in Blowing Rock from June 13th through June 19th.
June 13-19: Karin Neuvirth — Acrylic on Canvas
Karin recalls that color could drastically affect her emotional state, and is by far the most dominant element in her compositions. Growing up on a farm in Minnesota's cold, grey climate, Karin found solace in creating an oasis of bright colors inside of her home. Living in the North Carolina mountains, she is astounded by the natural beauty around every turn. She works primarily with a palette knife to create colorful, textural, impressionist paintings. Come explore Karin's work from June 13th through June 19th at Edgewood Cottage in Blowing Rock.
June 20-26: Alysa Cantor — Pottery
Alysa Cantor is an artist and arts therapist living in the mountains of western North Carolina. For nearly a decade she primarily worked in the medium of clay, with a special interest in alternative firing techniques. More recently, she has explored photographic printmaking, experimenting with cyanotypes and lumen prints and would so enjoy meeting you at Edgewood Cottage in Blowing Rock from June 20th through June 26th.
June 20-26: Waitsel Smith — Watercolors, Oils
North Carolina artist Waitsel Smith is a visual artist living in Lenoir with over 30 years experience painting the people and places of North Carolina. Working in oils and watercolors, he is considered a master landscape, portrait and figure painter who has also done commissions in pastel, ink, charcoal, pencil and mixed media. Waitsel has enjoyed success as a commercial illustrator, including work for the Travel Channel and Discovery Channel. Come meet and enjoy Waitsel's NC Wyeth style of painting at Edgewood Cottage from June 20th through June 26th.
June 27-July 3: Susan March Payne — Fiber and Paint
Susan's distinctive fiber works combine landscape painting with quilt construction knowledge to create both functional modern quilts and decorative art quilts and wall hangings. Figures, musicians and animals often are featured within the art quilts expressing the joy of playing musical instruments. Come learn more about Susan's work and process from June 27th through July 3rd at Edgewood Cottage in Blowing Rock.
June 27-July 3: Lonnie Webster — Photography
Whether photographing individuals, events, or nature, Lonnie has a passion for capturing life through photography. He believes each image must tell a story about the event, location, person, occupation, season, mood, or the milestones in life.Whether in the beautiful places he has traveled to, or right here at home in western North Carolina, Lonnie has captured amazing vistas, wonderful architecture and enchanting faces across the world. Come read the stories in Lonnie's work from June 27th through July 3rd at Edgewood Cottage in Blowing Rock.
July 4-10: Earl Davis — Oil
Earl is mainly a painter of landscapes in oil--local Blue Ridge scenes, memorable landscapes from hiking vacations in national parks and woodlands. While Earl is inspired by and paints the beauty that calls out to him, he is especially inspired to interpret the effects of light. As paintings emerge on the canvas, Earle enjoys the fulfilling challenge of learning. Come enjoy Earl's work from July 4th through July 10th at Edgewood Cottage in Blowing Rock.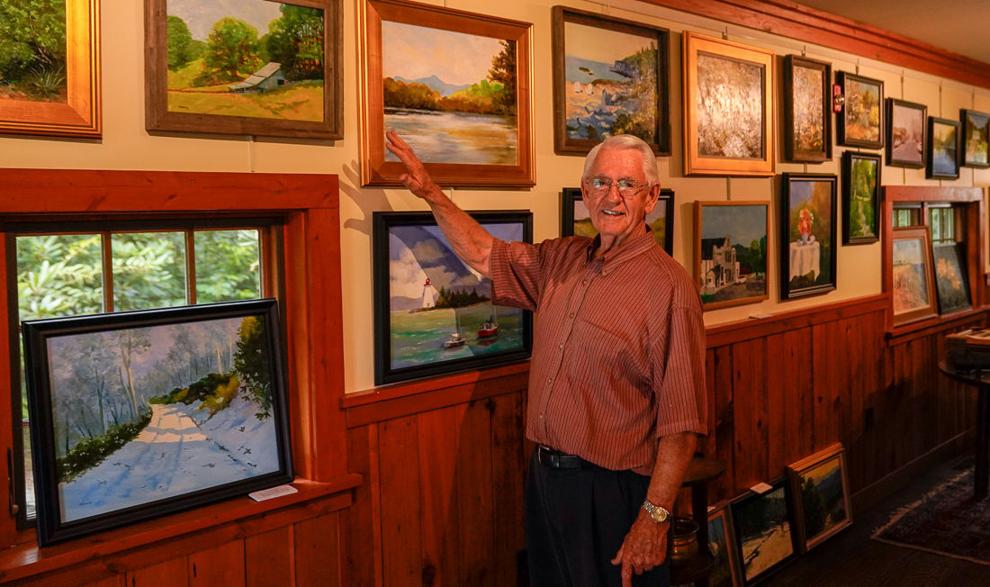 July 4-10: Tim Larson — Epoxy Wood Furniture
Tim has been a wildlife and landscape artist his entire life, using mediums from oils to acrylics to watercolor. As a continuously evolving artist, Tim now combines those painting skills with furniture design to produce one-of-a-kind, rustic, epoxy furniture pieces. Tim's tables are created with live edge wood, stones, and sticks; and hand painted with acrylic accents such as trout, bass, crabs, plants, leaves and other natural features. Tim's epoxy art can be used as cabinet tops, coffee tables, end tables, bar tops and fully custom pieces for any special need. Come meet Tim from July 4th through July 10th and commission an heirloom you'll pass along to your next generation.
July 11-17: Morgan McCarver — Ceramics
Morgan's work is inspired by Victorian American women. Because women have historically been compared to delicate flowers, Morgan reinterprets that symbolism by allowing porcelain wildflower imagery to represent a woman's inner strength. She applies her drawings as transfers, similar to a seamstress overlaying patterns and designs on a dress form. In 2020, Morgan was named the youngest artist to reach finalist status in the 701 Center for Contemporary Art prize. Her singular art can be found in various galleries in North and South Carolina. Come welcome Morgan to the High Country at Edgewood Cottage from July 11th through July 17th.
July 11-17: Zan Thompson — Watercolor
Zan describes his art as a celebration of the essence found in our environments, from alluring subjects to the most mundane. Through his years as a landscape architect and now as an artist, Zan finds himself attracted to natural landscapes, cityscapes and the vanishing landscapes and architecture of small rural towns, especially where light and shadow provide an abundance of drama. Come enjoy Zan's work on display at Edgewood Cottage in Blowing Rock from July 11th through July 17th.
July 18-24: Theresa Gloster — Memory Painting, Folk Art
Theresa Gloster is a storyteller who conveys her stories through paint and other media…stories about childhood, about memories sparked by things that go on in the world today. She uses paint, brushes, needles, thread, or whatever she can find to create art, and to tell the stories that need to be told. Gloster is as much a chronicler as she is a painter. Come share your stories and enjoy Theresa's distinctively enjoyable art from July 18th through July 24th at Edgewood Cottage.
July 25-31: Dot Griffith — Photography
Dot Griffith is a photographer's photographer. After working in New York City as a freelance fashion and architectural photographer, Dot moved to Atlanta to work with designers, authors, and national magazines. She has travelled extensively photographing the effects of coal extraction and coal ash on our Appalachian mountains and traveled abroad with Water Keeper Alliance. The theme in Dot's personal work, which will be featured in her summer residency at The Blowing Rock Art and History Museum (BRAHM) is decay, which she continues to explore through birds and flowers. Dot has extensive experience in photography and would love to meet and greet you at Edgewood Cottage from July 25th through July 31st.
July 25-31: Peg Schroeder — Fiber
Peg Schroeder was immediately captivated by the combination of symmetry and creativity when she began weaving in 2014, creating wearables and wall art, plus household items such as table runners, towels, and rugs. Often inspired by nature, her traditional fiber choices include bamboo, alpaca, and wool. Peg also gives renewed life to recyclable objects such as silk saris, roofs, chairs and beyond. Come enjoy Peg's work at Edgewood Cottage from July 25th through July 31st.
Aug. 1-7: Brad Gates — Acrylic Paint, Ink
Brad is a self-taught impressionist artist who is a full-time Blowing Rock, North Carolina resident. Although not formally trained, Brad has been creating art throughout his life, inspired by travels to the great museums of the world. Stylistically, Brad's art focuses on the principles of pointillism, using thousands of small brushstrokes or pen marks to compose images when viewed from afar. Brad would enjoy meeting you and discussing his distinctive process from August 1st through August 7th at Edgewood Cottage in Blowing Rock.
Aug. 1-7: Patrick Richardson — Paint
Patrick paints things that he experiences, either physically or mentally and almost every painting has a story. While most works are experiential, his non-experiential works requires him to do extensive research to surface and present his interpretation on canvas. An engineer by trade, Patrick would enjoy discussing his work and process with you at Edgewood Cottage from August 1st through August 7th.
Aug. 8-14: Frederick "Craig" Franz — Landscapes in oil and soft pastels
A forty-two year resident of western North Carolina's High Country, Frederick "Craig" Franz's home in Avery County is a landscape artist's dream. His home is at the foot of rugged Grandfather Mountain and on the northern border of the Pisgah National Forest. The High Country's four full seasons provide Craig with unlimited inspiration from which to paint. Working in soft pastels and oils, his award-winning paintings are created both plein air and in the studio. Come meet Craig from August 8th through August 14th at Edgewood Cottage in Blowing Rock.
Aug. 8-14: Robert Dennis — Trompe L'Oeil Artist and Muralist
With an extensive background in graphic illustration, Robert (Bob) is able to create a variety of original Trompe L'Oeil images, including individual paintings as well as interior and exterior murals. In the past, he has done bio-medical and botanical illustrations, created life-like carvings of birds and waterfowl, as well as portraits and murals. His current focus is on Trompe L'Oeil painting and other works customized to provide focal points and to enhance specific locations and decors. After initial consultations, murals are painted on site. Come enjoy the uniqueness and charm of Bob's work from August 8th through August 21st at Edgewood Cottage in Blowing Rock.
Aug. 15-21: Scott Ballard — Paint
As Chief Photographer at Lees-McRae College followed by Program Photographer for the Grandfather Mountain Highland Games, Scott's art journey began with photography. Since that time, he has continued to diversify into painting and has taken part in juried art shows, "Best of the Blue Ridge" shows, and BRAHM'S Plein Air Festival. His work is included in the recently published "Painters and Their Paintings: Ashe County, NC" by Doug Monroe. Scott would enjoy sharing his works and process with you this week at Edgewood Cottage.
Aug. 15-21: Randi Robeson — Oils
Randi always appreciated art but it wasn't until he retired that he began to pursue his own art journey. His love of horticulture and botany has informed his still life paintings and in oil painting, he found his medium to capture all the things he loves. Come meet Randi and enjoy his work at Edgewood Cottage from August 15th through August 21st.
Aug. 22-28: Evenlight Eagles — Leather
Evenlight's work is handcrafted in the spirit of connecting to and caring for the earth. She often uses leathers with positive social and environmental attributes, including repurposed and low chemical leathers, as well as free-range leathers from animals that were legally hunted and used for their meat. A portion of all sales supports wildlife conservation groups. From journals to bracelets to bags and beyond, Evenlight offers items of impeccable craftsmanship you can take into your everyday life or use to celebrate the sacred. Come meet Evenlight and enjoy her works at Edgewood Cottage from August 22nd through August 28th.
Aug. 22-28: Beth Shuford — Glass
While Beth's love of stained glass began over 30 years ago, she is still inspired by how external light can totally change glass art, depending on how sunny or cloudy the day may be. Primarily a commissioned artist, Beth enjoys the planning and execution of the commissions that clients bring. Come see Beth's work and consider a commission of your own, all at Edgewood Cottage in Blowing Rock from August 22nd through August 28th.
Aug. 29-Sept. 4: Tunde Afolyan Famous — Oils
Tunde has emerged among the ranks of contemporary African artists embracing figurative expressionism. Exploring color as the basis of painting, Tunde infuses spiritualism and symbolism in his powerful lyrical expressions. His spontaneous, energetic gestures create splashes, strokes, and heavily layered areas that reveal the confident control of his painting. Tunde's paintings are held in private and corporate collections throughout the world. His paintings have been exhibited in galleries and museums in Nigeria, Europe and the United States. Treat yourself to a visual feast while meeting Tunde at Edgewood Cottage in Blowing Rock from August 29th through September 4th.
Aug. 29-Sept. 4: Lee Harper — Oils
Lee Harper has added "painter" to her resume of renowned dancer, choreographer and founder/director of the acclaimed Atlanta dance company and school, Lee Harper & Dancers. Lee's oil paintings reflect "dancing on the canvas" and are full of motion and heavily pigmented color, brimming with vibrant energy. Lee thinks of her art (dance and painting) as a celebration of nature, of the human spirit and of life. Come meet Lee and consider one of her works of art at Edgewood Cottage in Blowing Rock, from August 29th through September 4th.
Sept. 5-11: Blue Ridge Fiber Guild — Fiber
The Blue Ridge Fiber Guild is a growing group of High County residents who share an interest in fiber arts. Each member specializes in how they use fibers to produce original functional and decorative artworks. The pieces range from quilts, rugs and wall hangings to unique wearables such as scarves, knitted and felted fashions. Basketry with metal and beaded embellishments and creative sculptural felted works will also be displayed. Come select a lovely piece of fiber art while enjoying demonstrations of spinning, weaving, quilting and other fiber arts at Edgewood Cottage from September 5th through September 11th.