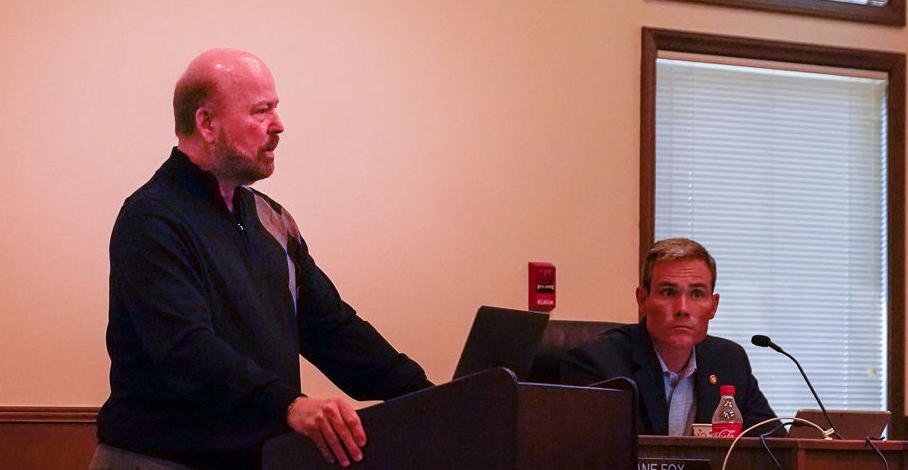 BLOWING ROCK — Blowing Rock has the assets — and challenges — that 99.9 percent of the towns and cities in North American wish they had, said Roger Brooks of Destination Development Association and Roger Brooks International. He told a nearly full town hall audience that Blowing Rock does not have an over-tourism problem, but severe shortages in parking and wayfinding.
In the July 15 presentation of his observations and suggestions after a three-week assessment, Brooks was candid in laying out the numbers for the biggest problem area, parking. And he did that not just for identifying the problem, but how to fix it as well.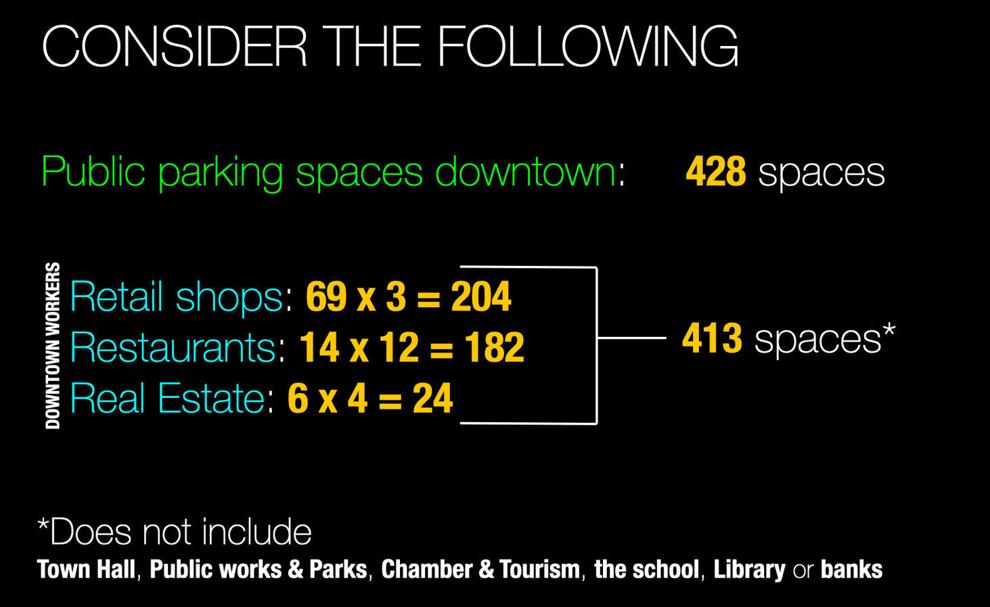 The problem is clear, Brooks said in spelling out a parking shortage of at least 600 publicly available spaces and possibly as many as 1,500. Looking primarily at the almost 90 businesses downtown that rely on public parking — retail shops, restaurants, and real estate offices – Brooks counted 428 public parking spaces in the downtown area. Those businesses, which are all open at approximately the same times, are conservatively estimated to have 413 employees, almost all driving their own cars. So after those businesses' employees find a place to park, that leaves just 15 spaces for everybody else that might want to be downtown.
Much of the traffic and congestion issues, he suggested, are due to far too many people driving around looking for a place to park — at the same time.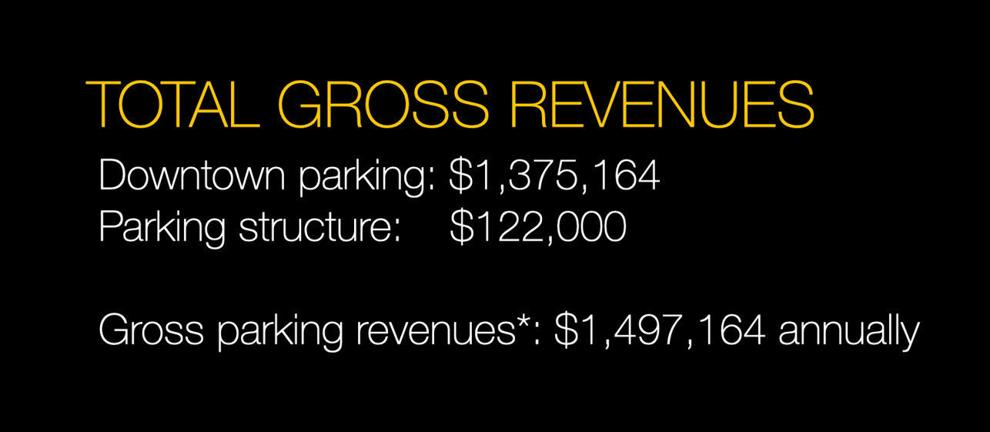 It is important to note that Brooks' numbers do not include town government employees (administrative, public works, parks and recreation), the Blowing Rock Chamber of Commerce (staff and visitors), the Blowing Rock Tourism Development Authority (staff and visitors), Blowing Rock School, the Community Library, banks, or churches, some of which have their own parking but most of whom also add to parking demand.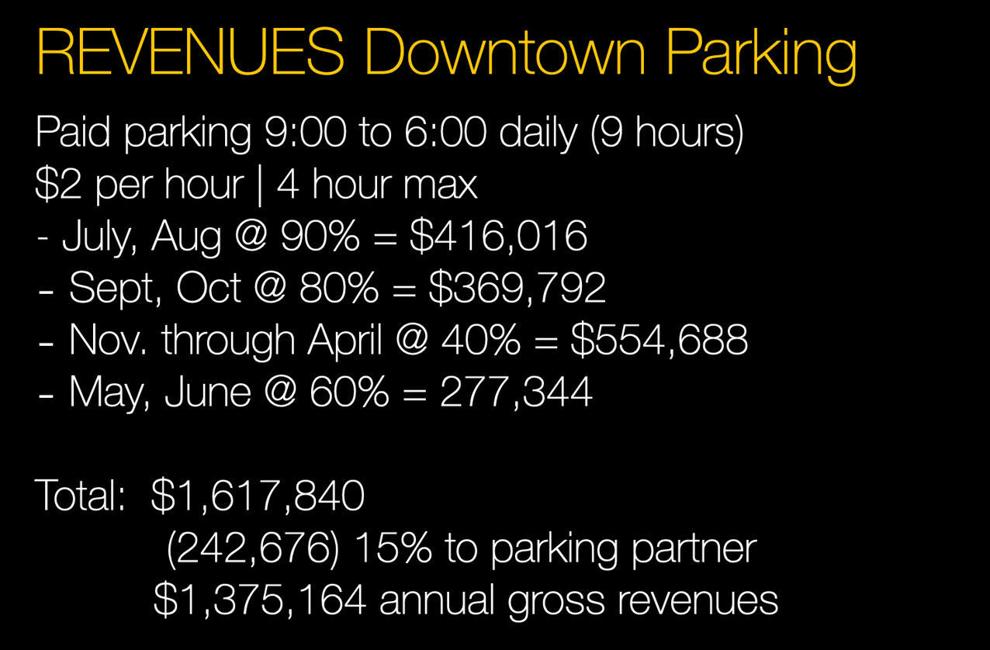 Brooks' suggested solution is for the town to add a large remote parking structure (capable of parking 400-600 cars) as soon as possible and introduce a daily shuttle with a frequency of at least every 15 minutes. In addition, he said, the town should adopt paid parking in the downtown area using one of the newer digital payment, monitoring and collection technologies. He provided several names of vendors and their solutions. At least some of them can be compensated on the basis of a percentage of revenue.
Central to Brooks' view is a belief that the downtown Blowing Rock experience for visitors and people conducting business downtown is worth paying for parking. He suggested that if employees are willing to risk an $8 or $10 ticket to park downtown, a visitor or someone doing business downtown would surely be willing to spend $2 per hour for the convenience. And, he said, paid parking downtown would incentive employees to use a remote parking structure that would be less expensive and, maybe as a perk, that their employers might pay for.
To build a 600 space parking structure, wherever it is located, Brooks estimated would cost a little more than $16 million. He suggests that a federal transportation grant of $5 million is probably available, reducing the net cost of the structure to the town to about $11 million.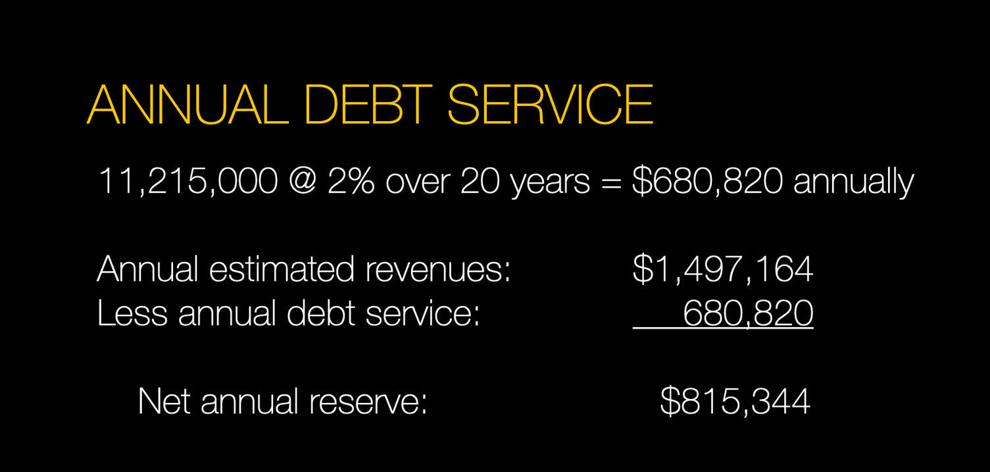 Brooks estimated debt service (principal and interest) on the roughly $11 million at 2 percent interest over 20 years would be slightly less than $700,000 annually and that the cost of a trolley or shuttle would run in the neighborhood of $300,000. But Brooks also laid out what he termed conservative estimates for net revenue streams based on discounted occupancy rates and fees:
Downtown parking — $1.375 million
Parking structure — $122,000
Shuttle advertising — $?????
Given these numbers, less the debt service, Brooks estimates that the town would realize more than $800,000 in what he terms "net annual reserve" or profit. He maintains that any reserve generated should not go into the town's general fund, but into a separate fund to either address future parking problems. Alternatively, all or a portion of the reserve funds could be used to accelerate debt repayment.
He laid out other revenue potential ideas, such as selling businesses what he labeled as "parking condos." In addition, sections or floors of the parking structure might be subject to sponsorship sales. "People tend to remember that they parked on the Walmart or McDonald's level more so than a color or number," he said.
The financing, he suggested, might be achieved through the sale of municipal general obligation bonds or municipal revenue bonds tied to the parking revenue.
Brooks spent a considerable amount of time describing the details of a digital technology partnership for setting up the parking spots, enforcement, and the like. Ultimately, he outlined three choices for implementing paid parking downtown: traditional coin operated meters, pay by smartphone, or use a kiosk and customers pay by cash or credit card.
In addition to parking, Brooks also stressed the need to implement a professional wayfinding system, as well as to make downtown more pedestrian friendly. He suggested that traffic calming methods such as a gateway concept pointing to downtown at Valley Boulevard and Sunset Drive and decorative or distinctive crosswalks on Main Street, Sunset Drive, and Valley Boulevard would be great helps in slowing down traffic and making the intersections more pedestrian friendly.
He emphasized that visitors' GPS-based navigation systems are not a substitute for a good wayfinding system.
Brooks also encouraged the town to find a good "selfie spot." He acknowledged that town hall, with the vibrant and colorful flowerbeds, may make it the most photographed town hall in the U.S., but he also thought that the postcard-type sign on the back of the old firestation at the intersection of Park Avenue and Wallingford Street is poorly located, that it should be the background for a selfie spot at, say, the front steps of Memorial Park.
Before re-emphasizing how lucky Blowing Rock residents are to live in a small town whose population is around 1,300 year-round and 5,000 to 6,000 seasonally, and because of the elevation is some 10 degrees cooler in the summer than the lower elevation locales down the mountain, Brooks offered a timeline for his work from July to the final presentation of his findings in November.
In closing, he cited a quotation that he had found at the Blowing Rock Art & History Museum, citing the book, "In Cloudland, Mayview Park," Blowing Rock, 1920:
"...nowhere in America are there such conditions of Scenery, of Climate, of Alluring Views, of Creature Comfort, of Outdoor Sports; of all the real pleasures that make life worthwhile."