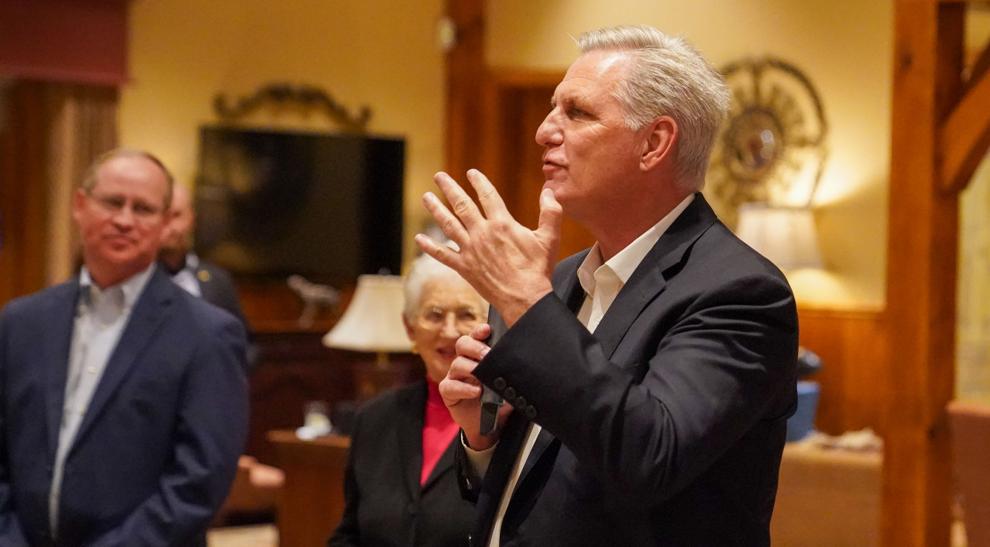 BLOWING ROCK — 'Take back the House!' was the prevailing theme Thursday, Aug. 19, when Blowing Rock's Chip and Monica Perry hosted a GOP fundraiser for Congresswoman Virginia Foxx. House Minority Leader Kevin McCarthy, R-Bakersfield, Calif., served as the keynote speaker and underlined many of the core Republican priorities, including in world politics, national defense, and education.
While McCarthy spoke passionately and critically about the Biden administration's handling of the Afghanistan withdrawal, he also expressed alarm at the president's policies that seemed to dangerously open the border between the U.S. and Mexico. He said that with some 5,000 Afghan prisoners being released and illegal immigrants arriving at the United States' southern borders from many different countries at alarming rates, the threat of another terrorist attack within our borders increases as security measures are relaxed.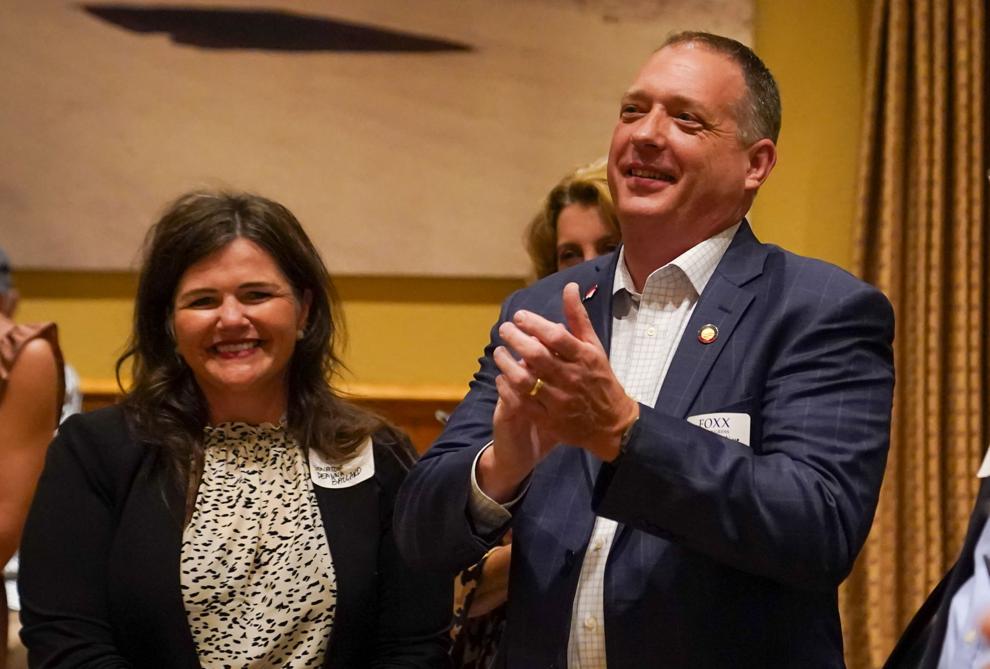 McCarthy applauded Foxx's hard work in Congress, saying nobody works harder, and noted her commitment to education in again serving as the Republican Leader of the House Committee on Education and Labor. He echoed her well-documented criticism of the controversial "Critical Race Theory," offering that it was not the answer to the racial divisions or inequities in the United States.
"I love North Carolina and I have been here several times, often to visit friends and former constituents who have moved here from California. It is a beautiful state. They care about business and continues to grow," he said in an interview.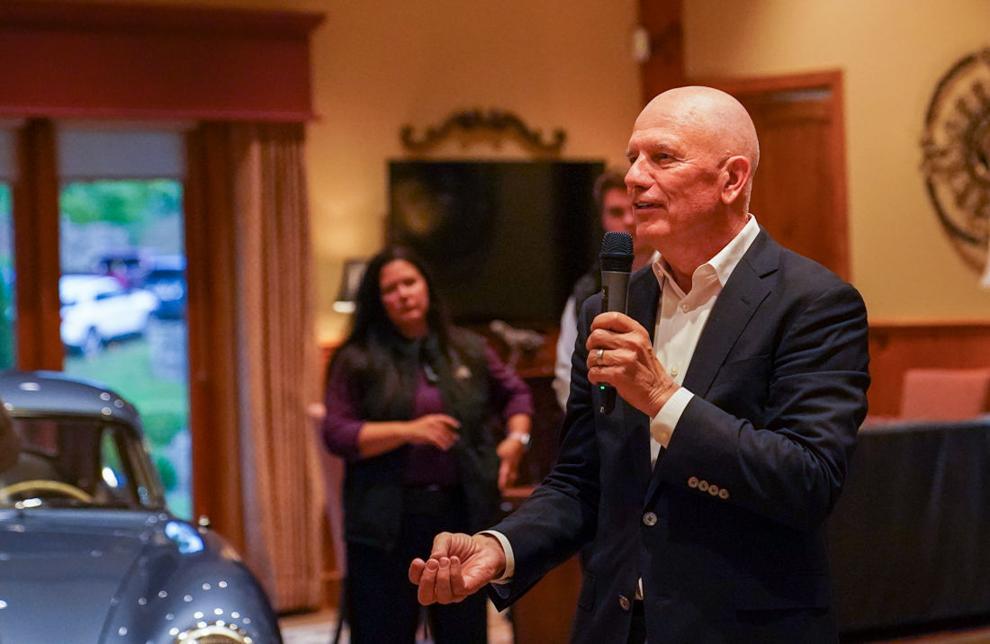 "But I am here for Virginia Foxx. She is so amazing in Congress. A lot of people may not realize the power that Virginia Foxx has, or her work ethic and her character. She carries more than one vote because a lot of people follow how she votes," said McCarthy, who was elected to Congress from California's 22nd District in 2006, after his former boss, Congressman Bill Thomas, retired. He won a three-way Republican primary by garnering approximately 85 percent of the vote, then won the general election against his Democratic challenger with more than 70 percent of the ballots cast.
"Virginia fights hard for the people of this district and I wanted to meet some of her constituents, as I am doing tonight," he said. "Of course, I also wanted to see some of Chip's (Perry) cars, too!"
Asked about his favorite car in the Perry collection, McCarthy did not hesitate in saying, "The 1959 Porsche 356A."
Before talking about any issue, McCarthy said, "The first thing I want to say is to thank all of the Gold Star Families, those who are grieving over the loss of a loved one during their military service. And I want to thank anyone who served in our military. I think what Americans witnessed this past week in Afghanistan is sheer embarrassment in how Afghanistan has played out. The mismanagement of the withdrawal, leaving 10,000 Americans or more that are still there. Our only focus should be getting them out, safely.
"The damage that this Administration has done goes beyond the poor Americans who are stranded in Afghanistan, but the additional damage over the next several decades. Will our allies trust us? Our adversaries will try even harder now, thinking America is weak. It is what China is doing today with Taiwan, what Russia is doing. I talk with leaders and ambassadors around the world and they question where America is at. I want to make sure that they don't question us."
Turning to economic matters, McCarthy pointed to inflation.
"Inflation is a tax on everybody. The idea that we want to spend another $5 trillion ... any economist would say that is the worst thing we can do right now. It is what we shouldn't be doing."
On national defense, McCarthy said that border security is a bigger concern now that 5,000 prisoners in Afghanistan have been let free, that it is not just about immigration anymore.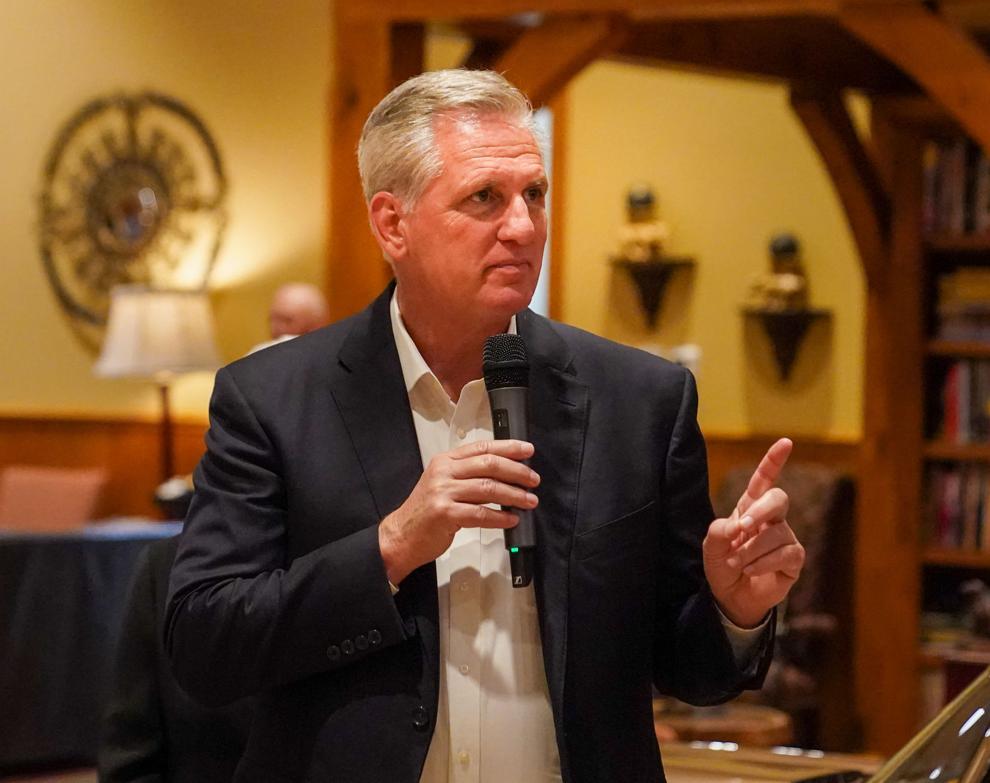 "Our border is wide open. We have been catching people on the terrorist watchlist, coming across our southern border from Yemen. My message to the president is that you have to shut it down. You have to stop it," said McCarthy.
"Including the fight against Critical Race Theory in education, these are the things that Virginia Foxx battles, along with other members of Congress from North Carolina and I am proud to serve with them," he said.
Asked whether he had any higher political aspirations, McCarthy deflected the thought in saying, "It is an honor for me to serve. My focus is on winning back the majority in the House of Representatives and making sure that the next century of American citizens will have the privilege of living without inflation, with reduced crime, with a more secure border. We want to make sure that all our children have as much in the way of opportunities as we did."
When an academic question was posed about who has the most power: the President, the speaker of the house, or the chairman of the House Ways and Means Committee, McCarthy didn't flinch in saying, "I would have to say the President. The speaker has some power, but the president has a great deal more power. If you have watched what President Joe Biden has done by executive order and what he has done with Afghanistan... the sad part is, in this case, the power is in the wrong hands and creating a lot of damage. We have to change that."
In addition to Foxx and McCarthy, other congressmen from North Carolina, as well as from other states were present, along with state representatives that included NC House Representative Ray Pickett and NC State Sen. Deanna Ballard.
A reported 75 High Country supporters bought tickets for a special dinner at the Perrys' house on Wonderland Drive, overlooking the St. John's River Gorge, while 125 purchased tickets for the Perrys' Car Barn event focused on desserts.
Foxx, in thanking McCarthy for his support also thanked Chip and Monica Perry for hosting the event. Looking around the barn at all of the cars in his collection, Foxx said, "Chip has been so generous in offering this as a venue. Please don't spill anything on the cars!"
Perry also addressed the crowd, repeating much of the GOP policy positions, but from a constituent perspective, not as a politician. Perry was the first employee of AutoTrader.com in 1997 and remained its CEO until 2013. While at the helm of AutoTrader, the former McKinsey & Co. executive and business consultant to the Los Angeles Times built the company through acquisitions and organic sales growth into a $1.5 billion, online shopping platform for vehicles, according to a 2015 Automotive News article penned by David Undercoffler as Perry was being hired as CEO of TrueCar.com, where he served until retirement in 2019.