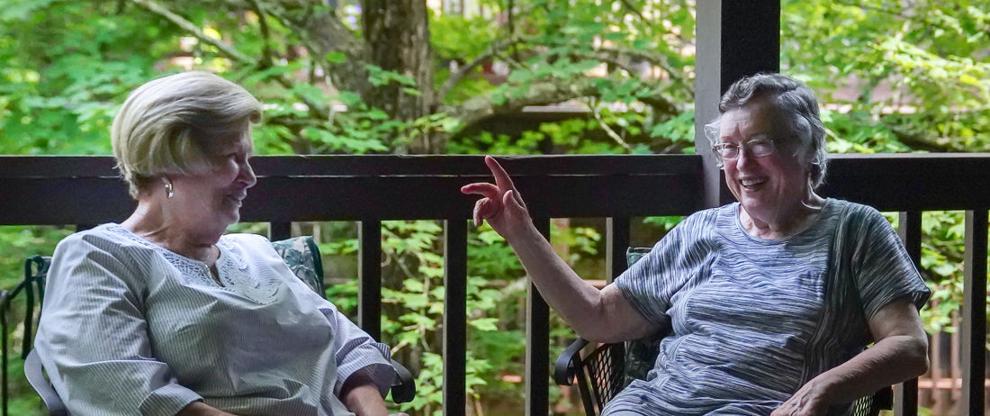 BLOWING ROCK — It may not be a white knuckler, but sitting down with natives of Blowing Rock is a smile-a-minute thrill ride through local history during the last century, and even before.
There were split allegiances, even among family members in Blowing Rock when it came to fighting for the North or South during the Civil War. Fast forward to about 1938 and 1939, and there has been nothing but love between Caroline Greene Robbins and her best friend, Janice Coffey Herblin. They met when Herblin was 5 years old, Robbins just 4. And neither school, marriages, divorces, nor moving here and yonder for a spell over the years came between their friendship — or their many shared adventures.
"I was a Greene and she was a Coffey," said Robbins. "I think there are about five sets of Greenes and five sets of Coffeys in this area!"
"Blowing Rock was a wonderful place to grow up," said Robbins. "Everybody knew everybody. It was safe. I had several mothers, you might say. During the summers, we'd leave the house and find each other, then come home about suppertime. Mom and Dad didn't worry a bit about us. We wandered all over these hills."
Herblin admitted to a little bit of mischief as pre-teens.
"Oh, we would climb trees. And we would bury cigarettes behind the fence of the church. Cigarettes back then were 10 cents a pack. We would go back there behind the church and smoke would just be boiling over that fence. We would buy a pack of cigarettes at the service station by the Presbyterian church. We were 9, 10 years old," said Herblin. "Above Dr. Davant's house there was a big rock. We would go up there, too, and smoke. Whatever was left over, we would put them in a tin can, bury them, and come back later to smoke them."
Robbins, 84 now, and Herblin, 85, had plenty of places to play as children, including the Cone Manor Estate.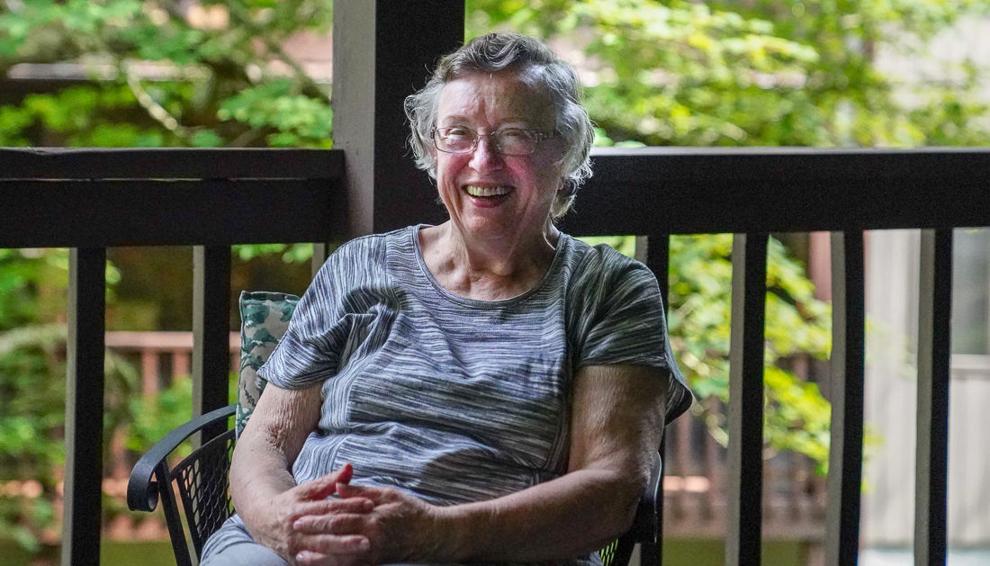 "My father worked on the Cone estate," said Herblin. "I was born during the Depression, when nobody had any money. Dad did just about anything on the estate that was needed. He especially did a lot with the apples, which were being actively grown at the time. The apples seemed to be a year 'round job by the time the workers fertilized, pruned the trees and all of the mowing underneath them. It was hard work. And then, of course, there was the harvesting, sorting, and all of that.
"As kids, living on the Cone estate," said Herblin, "we didn't know that it was anything but wonderful. And it was. It was our playground. We had the whole property to play in and could do anything we wanted to."
Although Moses Cone, the so-called "Denim King," passed away in 1908 at the age of 51, the girls-becoming-young women had limited interaction with Bertha Cone, who lived another 39 years, until 1947.
"We did not see her much," said Herblin. "We would see her riding around in her little carriage, on the trails from time to time."
"I don't remember her wearing anything that wasn't black," said Robbins.
"But she always gave Christmas presents to the children of the hired hands, that I remember," said Herblin.
"I never got a present from her," said Robbins, laughing. "But then, I didn't live on the Cone estate."
"We got to go fishing and hunting a lot, just about any time we wanted," said Herblin. "We fished in Bass Lake and all the creeks and streams that fed into it."
Herblin said that when her family lived on the Cone estate, it was in a large brick house near Chetola.
"That is how we got to school, walking through Chetola. Rain, snow, hail, sleet, we went to school that way, my brother and I. And in the springtime, when it began to get warmer," said Herblin, "when we wanted to go skinny-dipping it was in the river by Chetola, that feeds into the lake. That's the river next to where Valley Boulevard is now. We went skinny dipping because we knew if we went home with wet clothes we would get a spankin'. Mother was afraid of water and wouldn't let us near it."
As it turns out, Herblin's mother may have had good reason.
"When mama was a girl, she couldn't swim," said Herblin. "Her friends tied a rope up in a tree by the lake and they would swing out and then let go of the rope to drop into the water. Because she couldn't swim, Mama would just swing out and swing back in. One time she slipped and fell into the water. But she couldn't swim and almost drowned."
From the girlhood stories, it became quickly apparent that climate change in the High Country is real, whether because of some natural weather cycle or because of mankind's burning fossil fuels to power cars and generate electricity. Whatever the cause of change, their descriptions of winter in Blowing Rock was enough to prompt an unpacking of the long johns.
"In the winter, my father went ice skating on Bass Lake and Trout Lake, and he would pull us along behind him on sleds, the ice was so thick. They would even ride horses on the lakes. And they cut out blocks of ice and took them to the ice house in town, which still stands today near the post office, below First Citizens Bank," Herblin said.
"I can't remember a time when we didn't have electricity-powered refrigerators," said Robbins. "Several years ago, I bought my mother's house up above Chetola Resort, on the street called the Birch Drive Extension. She still had one of those really early refrigerators in the basement, with that round piece on top. It worked up until a few years ago. I still have it in the basement."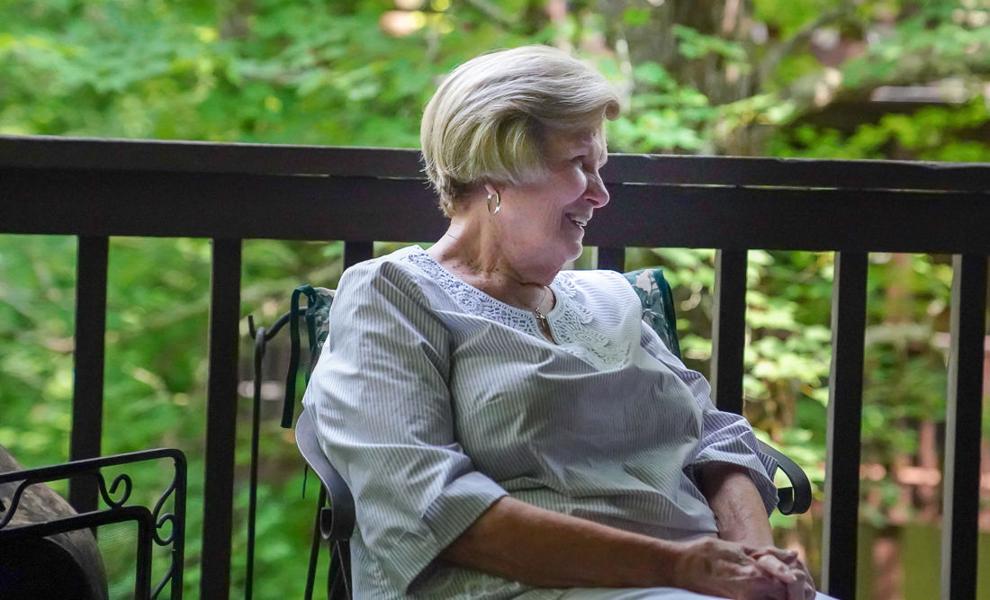 Herblin said that their childhood romps were not confined to the Cone estate.
"Mr. Snyder at Chetola let us play all around there, too. Where the lodge is now, there was even a bowling alley and we got to bowl, too. On the other side of the Manor House they had housing for the caretakers and stables," said Herblin.
Herblin and Robbins described their childhood period in Blowing Rock where there was a severe divide between the rich and poor.
"So much has changed in the 85 years that I have been alive," said Herblin. "Not just in Blowing Rock, but in the world, too.
"Back when we were kids, only the very wealthy came during the summer. It wasn't as easy to get to as it is now. They brought their servants and everything," said Robbins. "There was only one black person that lived here year 'round. Her name was Rosa and we all loved her to death. She was the sweetest lady."
Robbins' grandparents owned the Greene Inn, which fronted Main Street.
"Where the bank is, that was my grandmother's garden," said Robbins. "For her guests at the inn, she would not allow anything canned to be served. It had to be fresh. And she would serve by reservation only.
"She was also the first woman to be town clerk and treasurer. She ran the whole town. She was it. She did it all. Nettie Greene, that was her name. What I remember is that she was the only person hired by the town, then she would hire part-time help for three months during the summer."
Times have certainly changed since Main Street was a quiet thoroughfare through town.
"I don't even get on Main Street anymore," said Herblin. "I know it is very busy now, but when I was in high school, I was a soda jerk at Coman Storie's, at the corner of Main Street and Sunset."
"And I worked at Berryman's," said Robbins. "It was a soda shop, too. It was across the street from what is now Blowing Rock Market. There was another soda fountain in the a pharmacy, where Sunset Tees is now. In the basement was a barber shop that was run by one of my father's cousins."
Both women said that times were especially hard during World War II.
"When the war came, Daddy did not qualify for combat duty because something was wrong with him, physically. For those that didn't qualify, they put them to work in different plants and such. We left the Cone estate and he went to work in Kingsport, Tenn., doing something for the military. He moved to near Johnson City, in Elizabethton. And the only place we could find to rent was in Hampton, Tenn. I think I was in the second grade. Then they sent him to Charleston, S.C., working in the naval yard," said Herblin.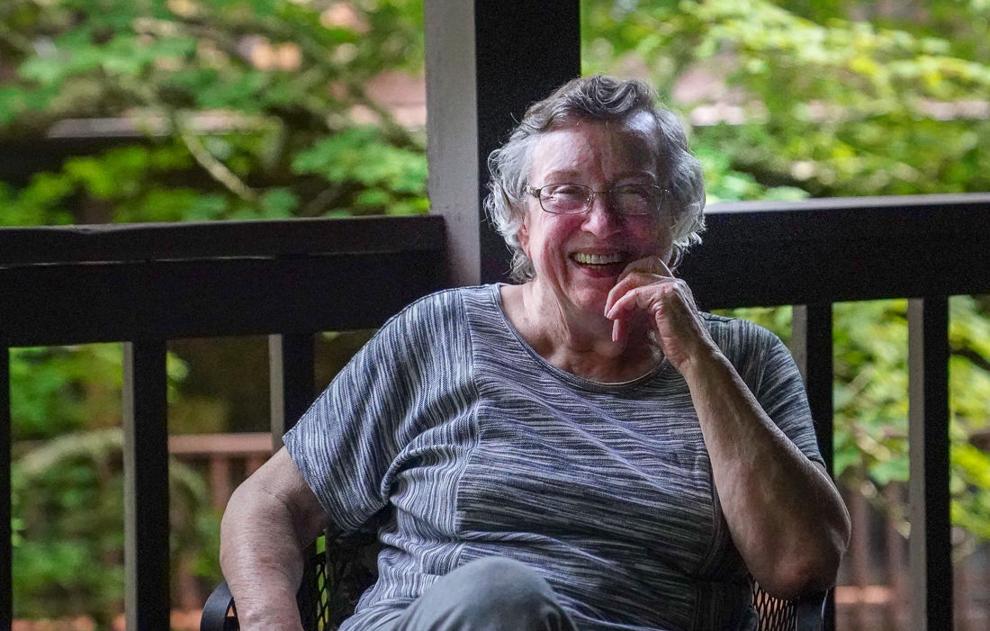 "It was so bad in Hampton, they didn't even have a sewage system," said Herblin. "They had running water, but they had outhouses that were one big room with 20 stools and no partitions between them. The smell was horrible."
Herblin said that when her father got transferred to Charleston, they (thankfully) left Hampton and moved back to Blowing Rock.
"My grandfather, L.B. Tester and his wife lived on Morris Street. He was a carpenter and during the winter he was a caretaker for a lot of the homes of the summer people. Going out of downtown on Main Street toward The Blowing Rock, Mrs. Eno had a house with an apartment over the garage. Because my grandfather was her caretaker, she let us stay in that apartment over the garage while Daddy was in South Carolina for almost three years. My grandfather would come see us every afternoon and my mother cooked some for Mrs. Eno, too. Archie Cannon had a house beside Mrs. Eno.
"When my father came back after the war," said Herblin, "they had saved enough money to buy a house on Morris Street."
"A lot of things were rationed during the war, like you could only have so much butter per week," Robbins said.
The end of the war was certainly reason to celebrate.
"The two of us were out playing in the hills near Mrs. Eno's house when news came to Blowing Rock that the war had ended. Sirens were going off all over town it seemed, and horns were honking. We came a-runnin' because we instantly knew what it all meant. People were jumping for joy," said Robbins.
As the girls grew older, their lives changed but they stayed in touch.
"I enrolled in college," said Herblin, laughing. "I went to M.I.T. ... M.i.T.: Mitchell In Town College. It was a Presbyterian junior college in Statesville. We went to church at Rumple Memorial Presbyterian Church on Main Street, and they gave me a scholarship. I knew I was going to end up at Appalachian Teachers College for a four year degree, but I couldn't afford it. So I went to M.I.T first. I think tuition at Mitchell was $500 for the year, and that was for room, board, and everything."
Robbins said that her family went to First Baptist Church, which was where The Last Straw gift shop is now, next door to Blowing Rock Market.
"There was a Texaco station where the market is now, and a Gulf service station where Mellow Mushroom is.
Unlike Herblin's initially moving away to go to college, Robbins said she stayed home and went to Appalachian Teachers College for a year, then moved down to Charlotte to attend King's Business College.
Herblin returned to the High Country after her two years at "MIT" and finished her degree at Appalachian.
"It was $50 per quarter for tuition," she said.
Robbins said that her grandfather owned all of the land that became the Mayview neighborhood.
"Wouldn't we be rich today," she asked. "If he had kept it. But he sold all but 40 acres to Walter Alexander, who built Mayview Manor and developed a lot of it. My brother and my first cousin bought the 40 acres when my grandmother died."
Robbins told a fascinating story about her family tree.
"Mr. Greene was in his 50s when his wife died. The woman who became my grandmother was 17 when Mr. Greene asked her to marry him. Her parents didn't quite approve and sent her away to California for two years, but then she came back and they got married. She was 19 and he was 54. He had nine children from his first marriage. I figure that a couple of them were older than she was, but together they had five children. She called him Mr. Greene. She never called him by his first name, Benjamin, even after they were married.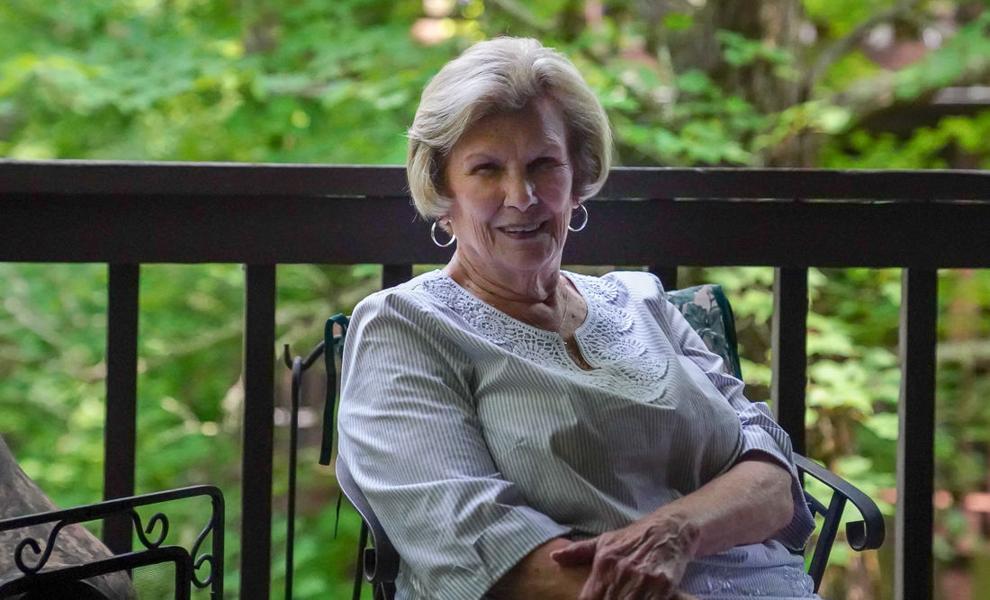 "Mr. Greene had a twin brother and they both fought in the Civil War," said Robbins. "His brother fought for the North and my grandfather fought for the South. After the war, my grandfather came back to Blowing Rock and his brother went out west, to Oregon.
"When you think about it, we are not that far removed from the Civil War when you think that my grandfather fought in it. He was born in 1844 and he had a grandson born in 1944, 100 years later," Robbins said. 'His name was Benjamin, too."
Herblin said that she left Blowing Rock in 1956, while Robbins explained that she left in 1960.
"After I got married, we lived all over. That included Bay City, Texas; Aztec, New Mexcio; Charlotte. My husband was in radio and we moved from one town to the next," said Robbins. "When we got to Hickory, I told him, 'You go where you want to, but I am staying right here.' And I haven't moved since, except I sold my house and bought a condo."
Robbins still maintains a residence in Hickory while spending summers in Blowing Rock after buying her mother's house.
'I left here in 1956, got married and first lived in Statesville," said Herblin. "I taught school there for two years while my husband was finishing his degree at Catawba College. He had just gotten out of the service when we got married. After graduating, he got a job with the telephone company and we moved to Charlotte. Then from Charlotte we moved to Shreveport, Louisiana, and from there to New Orleans in 1960. We divorced in 1968. I loved New Orleans and continued on down there, teaching school. My mother was May Coffey and she wanted me to move back to Blowing Rock and go into the real estate business with her, but I said no, I am not doing that."
Herblin said that she remarried, then retired from teaching in public schools, but opened up a pre-school at her church in New Orleans.
"My husband had a massive stroke, so I took care of him for 22 years. That was a pretty tough time, those 22 years," Herblin said. "But I really did like New Orleans."
Asked whether the friends ever re-united in New Orleans for Mardi Gras, Robbins said, "Yes, we did! And that included Caroline, as well as Barbara Wright. I think there were five of us this one year during Mardi Gras. We weren't sure what to wear for costumes, but I went to a variety store and bought some purple sweatsuits and some gold glitter. We wrote "Call Girls" across the front of the sweatshirts. I rented one hotel room for the five of us. That was fun."
Herblin said that her mother and father, after the war and they had moved to Morris Street, built a couple of houses on lots near the curve (above Blowing Rock School). Eventually, they built Blowing Rock Motel, when Herblin was in high school, and as they put money away would add on to it and make improvements to the property.
Most winters, the women said, there really weren't a lot of cars around.
"Where Valley Boulevard is now, that was pasture land," Herblin said. "Sunset Drive went down from Main Street and dead-ended into Ransom Street. On the other side of Ransom was a barb wire fence around the pasture. For us kids it was great fun to go sledding all the way down Sunset from Main Street, but it was tricky because when you got to the end, you didn't want to run into that barb wire fence! You had to maneuver onto Ransom Street."
Robbins said that for as long as she can remember The Blowing Rocket newspaper has been published.
"It was started by C.V. Henkel, I think in the early 1930s," said Robbins. "I used to play with his granddaughter."