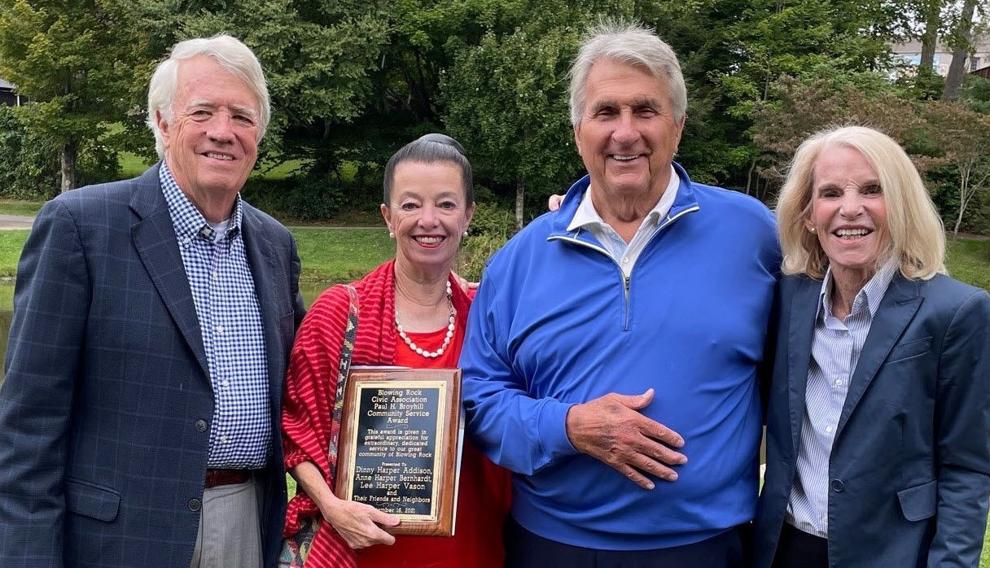 BLOWING ROCK — Crafting a unique neighborhood partnership of residents and a developer netted an unexpected surprise for "the Harper sisters." The Blowing Rock Civic Association awarded its Paul H. Broyhill Award for 2021 to Dinny Harper Addison, Anne Harper Bernhardt, and Lee Harper Vason for their work in marshaling together friends, neighbors, and devoted citizens to preserve greenspace at the southern entrance to Blowing Rock.
The presentation was at the lower gazebo surrounded on three sides by Broyhill Lake, on Sept. 16.
The sisters led the effort to collaborate with developer John Winkler, who owned the rights to and had won approval from the town to develop the property but reached a compromise solution that would protect a significant portion of the subject property as greenspace.
In making the presentation, Blowing Rock Civic Association chairman George Wilcox said, "Today we honor a group of devoted citizens who have taken a critically important step by leading a major effort to preserve the priceless, and too rapidly vanishing green space that is essential to the beauty of our town. This group has called attention to the fact that the quality of our environment while making life enjoyable for residents is also a major economic factor for our community.
"Our award recipients were prompted by the announcement of a new residential development," said Wilcox, "to raise a substantial amount from a number of friends, neighbors and devoted citizens to purchase a significant amount of the property proposed for development and to give it to the Town of Blowing Rock, to be preserved as a natural green space at the South Gateway to our town. They have created a fine example for others to follow by recognizing that only property ownership can assure green space preservation and attractive development. We are therefore delighted to recognize for their superb leadership in this great effort the following members of the Harper Family, a family that has played a major role in the development of Blowing Rock since James Harper built a summer home here 1845."