BLOWING ROCK — Human beings often approach questions and problems with preconceived notions about the answers or solutions. As sixth graders at Blowing Rock School, Kate McKenzie and Katelyn Morgan admitted to approaching their 6th grade Science Fair project with a bias, too — but then learned something different.
"Our project was about the best ways to lower blood pressure in daily living. We thought that spending 10 minutes with a dog would have a more profound effect than 10 minutes of yoga or 10 minutes of meditation. Well, we were wrong. Through our project, we determined that 10 minutes of meditation actually did a better job of lowering blood pressure," said McKenzie.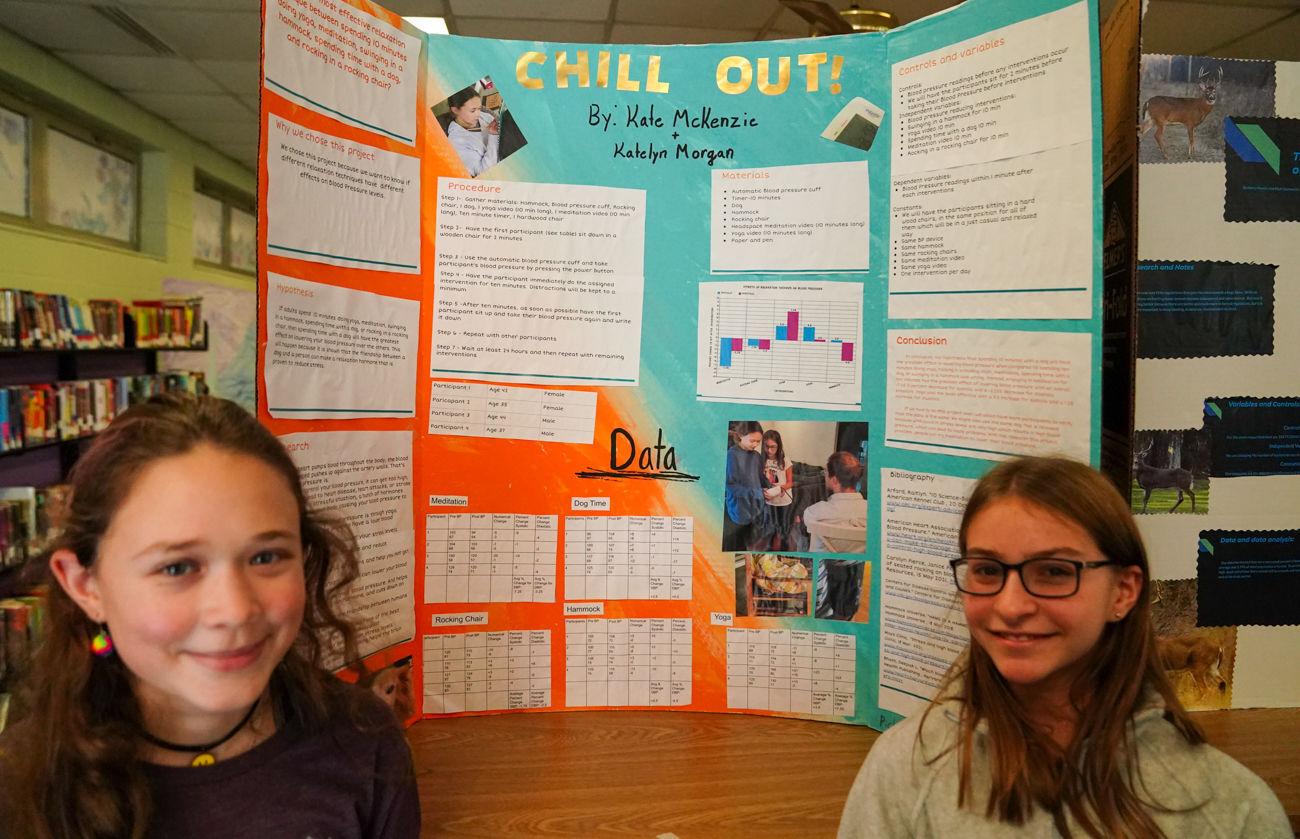 McKenzie and Morgan's project was called, "Chill Out," just one of some three dozen science and math projects prepared by sixth grade students under the supervision of science and language arts teacher, Allyson McFalls at Blowing Rock School.
"Every year this is an exciting competition because we see the kids grow so much from doing their projects," said McFalls. "Sometimes the topics even surprise us. This year, for example, there was a group who explored data about how hunters were impacting the local deer population over the last 10 years or so. It was really nice to see these students take a robust dataset, work with it, and come up with a project."
McFalls said that the sixth grade science project is the first really long term project that the students will tackle.
"When you think about a project at school, most think of one that lasts maybe two weeks as being long-term," said McFalls. "For these projects, it takes about 10-12 weeks to work through the scientific method and talk about how we determine independent variables and dependent variables. Then, how do we articulate the data in a way that communicates a conclusion in a way that makes sense?"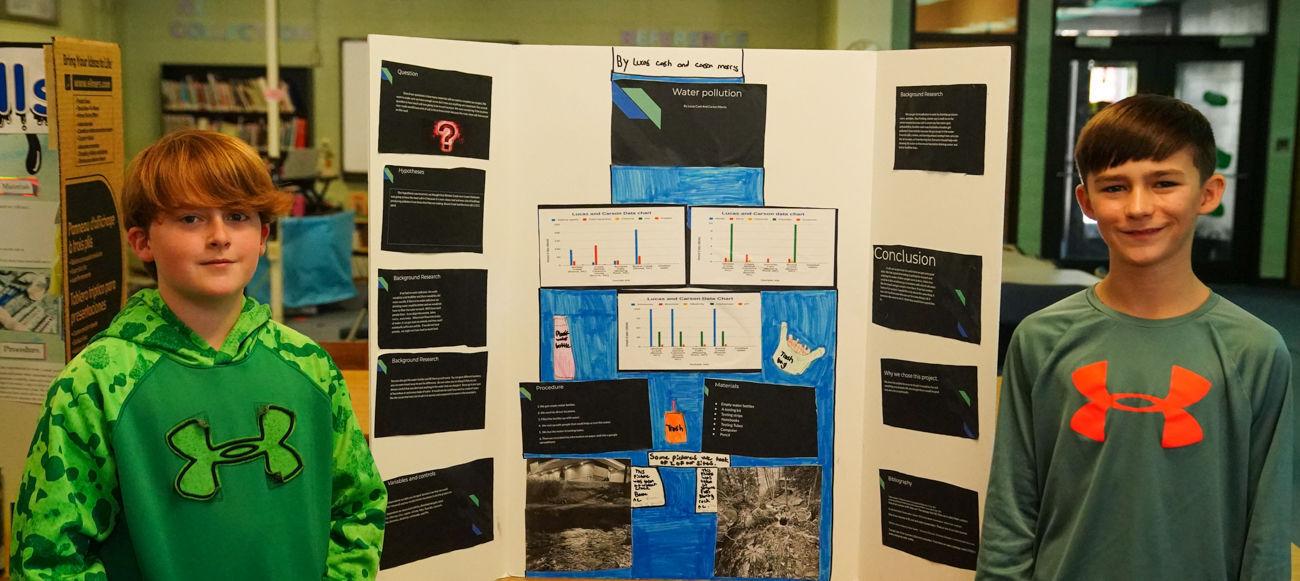 McFalls said that learning to think critically is a primary mission at Blowing Rock School.
"One of the great pleasures for me in teaching at Blowing Rock School is that we begin the process of encouraging critical thought even at much lower grades. It doesn't begin just in 5th or 6th grade. Some projects really start that even in 2nd and 3rd grade. It is nice to be able to build on that foundation when the students get to middle school," said McFalls.
McFalls has had considerable success in nurturing students toward good science projects, even award-winning entries at the state level.
"I think this year's class has several entries that will do well at the regional and state level. This is the tenth year that I have organized the science fair for the school," said McFalls. "Last year we did it virtually because of COVID-19. The state competition. they recently announced, will be virtual again this year. We are still waiting to hear what the regional director will decide."
For the school level competition, McFalls said that she has recruited several teachers, as well as some Appalachian State science students and a retired science teacher to serve as judges.
"We use the same scoring methodology that they use at the regional and state level. Typically, we'll have a pair of judges for each category. It there are some close calls in a category, then they can collaborate to arrive at the best results," said McFalls.
McFalls said that it is common for the students to approach a project with a definitive bias about what the results will be, maybe even as much as 75 percent of the time.
"That's where we have to talk about how to craft that initial research question and how do they go down the road of solid research before they develop their hypothesis. The students may not realize they are doing it, but they often try to pull conclusions from their own personal experience rather than from the research," said McFalls.
McFalls noted that the regional competition will be in January and the state competition (for regional qualifiers) is in March.
The Blowing Rock winners:
BIOLOGICAL SCIENCES A (Animal and Plant Science, Microbiology)
1. Claire Nance:
Do Dogs Have a Color Preference?
2. Alexis Sullivan:
Do Cats Have Unique Paw Prints?
3. Holland Effrid:
What is the Difference between a First Generation of Wisconsin Fast Plants and the Second?
BIOLOGICAL SCIENCES B (Cellular, Molecular Biology and Medical Science)
1. Eloise Cascio:
Sports Nutrition
2. Cameron Parker:
How Does Color Affect Mood?
CHEMISTRY
1. Bailey Hoge:
What is the Difference in Flours in a Cake?
2. Knox Winebarger and John Wilson Mills
3. Dillon Napier
PHYSICS
1. Claire Nix:
Pinhole Projectors
2. Lawson Smith and Caden Sokolnicki:
Air Cars
EARTH/ENVIRONMENTAL SCIENCES
1. Nara Westwood and Cullen Sukow:
Oil Spills
2. Ava Langley and Elizabeth Garrett:
Well Water vs. Tap Water
3. Maddison Canter:
Geology of the Appalachians
MATHEMATICS
1. Kate McKenzie and Katelyn Morgan:
Chill Out
2. Eli Summerlin and Henry Hamby:
Hunting in North Carolina
APPLIED TECHNOLOGY
1. Madison Plemons:
What Type of Pipe?
2. Nora Price:
Which Common Shape Creates the Most Lift?
3. Zach Johnson:
Air Filters