Blowing Rock officials discuss dispatcher contract switch, infrastructure issues during budget workshop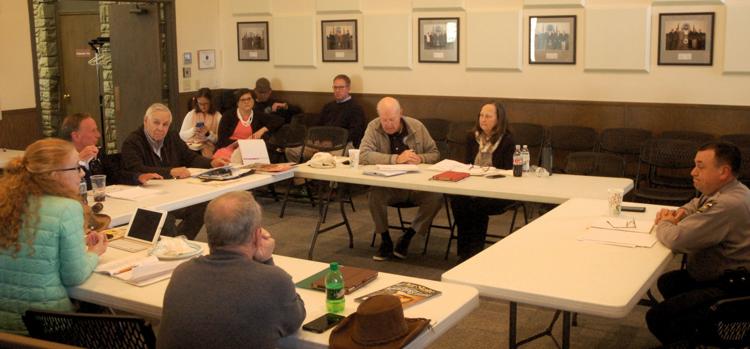 BLOWING ROCK — Re-evaluating the town's contract with Watauga County regarding dispatch and 911 services is a priority of the Blowing Rock Town Council that will be discussed at the April town council meeting, according to a budget workshop on March 18.
The frustrations came up with a discussion with Blowing Rock Police's interim Chief Aaron Miller, who wants more control, Computer-Aided Dispatch terminals in vehicles and at the station, which he says the department currently doesn't have.
"We're at their mercy," Miller said of the county.
Length of time on calls and miscommunication on hardware issues were two recent examples Miller said were part of his frustrations with Watauga County.
The idea of withdrawing from the contract with Watauga County was discussed, with council members in favor of giving a year's notice as contractually required before switching primary PSAPs as early as June 2020. The likely new primary PSAP would be the town of Boone.
Miller said that CAD terminals in the vehicles was something he had in his Hickory Police vehicle in the 1990s, but said that if Watauga County doesn't want to install them in the BRPD vehicles, they won't. Further, Miller said that Boone Police could install mobile CAD software in the BRPD cruisers tomorrow, if possible.
According to council members, both Watauga County and the town of Boone are primary public safety answering points, meaning that Blowing Rock, designated a secondary PSAP, could contract with either one for dispatch and 911 calls.
Miller said that Blowing Rock averages about 10 calls through 911 each month, saying there are many more through the non-emergency lines.
Mayor Charlie Sellers said he had met with Watauga County officials and said they know that Blowing Rock isn't happy with the current service.
"The way I see it, they have not lived up to their contractual obligations," Mayor Pro Tem Albert Yount said of Watauga County.
Councilman Jim Steele wants interim town manager Jim Freeman to look into the potential consequences of a switch and report back to council before they make a decision.
Miller also brought up the need for a generator, which he said would cost $44,000, which would include operational expenditures.
Tracy Brown, director of the Blowing Rock Tourism Development Authority, said that 2018 was a strong year for the group with occupancy tax revenue up 10 percent.
"It's the highest year we've ever recorded,' Brown said.
Brown provided an updated on short-term rentals in Blowing Rock, saying that 176 properties have been brought into the fold.
A total of 24 properties were found to be operating short-term rentals that were out of compliance, Brown said.
Councilwoman Sue Sweeting asked about potentially collecting occupancy tax from short-term rental properties in the past. Norman said that it needs to be addressed.
Marketing in " big" cities was a point of emphasis, with Brown saying Charlotte, Winston-Salem, Greensboro, Durham and Raleigh is where the bulk of business comes from.
"Even if the economy goes down, we can bank on those markets," Brown said.
Going forward, Brown told the council he plans on focusing more of digital advertising and talked about how many people look at their phones for news.
Going into 2019-20, Brown wants to focus on parking problems, saying that it's more of a management problem with too many events on busy weekends. Another area of emphasis Brown brought up was keeping up with the times.
"Things change, we have to embrace it or be left behind," Brown said. "We have to realize (Blowing Rock) is not a country club."
Blowing Rock Fire and Rescue Chief Kent Graham said that his department received a $260,000-plus grant for all-new breathing equipment from FEMA, which covered most of what he would have requested. Graham said the air packs are currently on the trucks to be used if needed.
Councilwoman Virginia Powell asked about the sign on the fire station along Valley Boulevard, saying that people drive by without knowing what it is. After discussion about past council actions, the council directed Freeman to ask Graham to put up the sign.
Graham said that looking forward, he will likely ask for administrative help in 2020-21, saying that the workload is becoming too much for a part-time employee.
A second boat and a trailer are part of a grant that Blowing Rock Fire and Rescue recently received, Graham said, and will be arriving in the next few months.
Blowing Rock Planning and Inspections Director Kevin Rothrock discussed with council about a comprehensive plan update, recommending that an in-house report be done to see where they are in their 10-year plan that was completed in 2014.
Blowing Rock Parks and Recreation and Landscaping Director Jennifer Brown showed council members its new "RecDesk" website where people can reserve the town's amenities, such as the American Legion Hall, for events and pay with a credit card. This website includes resident and non-resident fees.
Steele asked Brown if port-o-johns are needed for the parades, with the response being that the volume is there to justify them.
Councilman Doug Matheson said that the Fourth of July parade is part of an all-day event and the Christmas parade is more of a single event.
Brown wants to address updating the town's playground equipment starting in 2019-20 and said it is a priority in 2019-20. Sweeting brought up that any new equipment will have to be wheelchair accessible.
A potential Parks and Recreation Trust Fund grant could cover playground equipment and planned improvements to Park Avenue to waterproof the old firehouse building and put in a new sidewalk along the south side of the road.
Other items discussed as priorities include upgrading the Memorial Park restrooms, potential restrooms in the vicinity of Annie Cannon Gardens and the Davant Field walkway.
A wait-and-see approach will be taken on the potential needs on the Valley Boulevard median after the N.C. Department of Transportation finishes work this year and fulfills its 18-month landscaping contract.
Purchasing of landscaping equipment should be done after a study on the use of the old firehouse space, Matheson said which is currently used to store parks, rec and landscaping equipment.
Brown said that a master plan for the town's space is planned to show how the town can best use it. Brown said the last such plan was done in 1988.
Town Finance Officer Nicole Norman said that Freeman, who was not present, seeks to updated the town's codes before he leaves in June.
A big point of discussion was the recycling contract with Republic Services, who has proposed a 12 percent increase to continue providing services to the town.
All of the town council members said they need to look at alternatives.
"When do we say, this thing is not working for this town," Steele said of the Republic Services contract.
Yount said it sounded like to him that Republic wants to get out of recycling and they might just have to eat the increase this year while planning for the future.
Re-qualification incentives for town employees and upgrading some of the town's computers and upgrading software was also brought up by Norman.