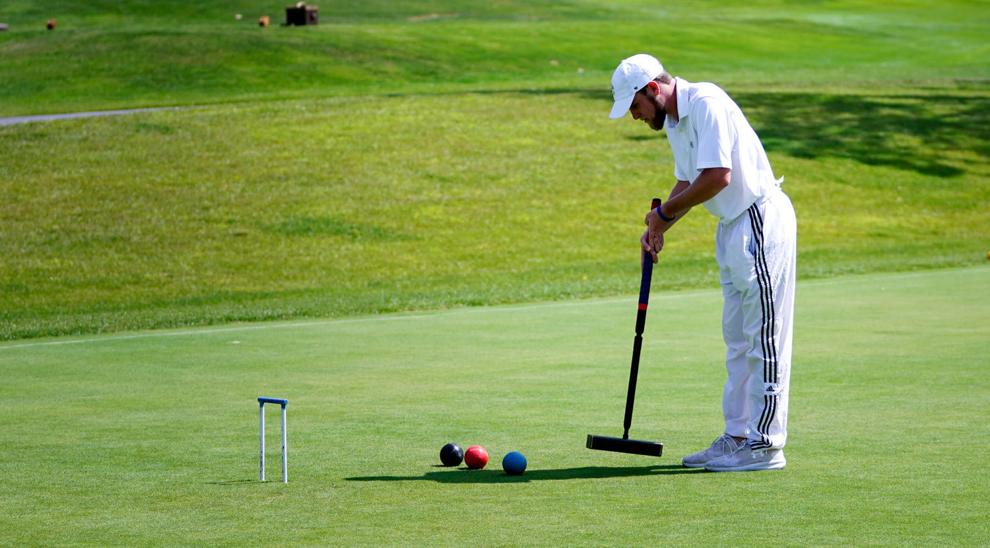 BLOWING ROCK — With terms like "straight rush" and "over the top cannon," it might be easy to surmise that the speaker is talking about a card game, or maybe even a beer drinking contest. Those conclusions were not even close to the subject on Sept. 9, when Matt Essick and Tom Balding teamed up at Blowing Rock Country Club for an instructional croquet exhibition.
There were oohs and ahhs and groans, as well as enthusiastic applause. There were astonished wide eyes and even a couple of OMGs. The No. 1 ranked croquet player in the U.S. and No. 5 in the world, Essick is among the sport's royalty. Balding isn't far behind, perhaps, as the pro who replaced Essick at Grandfather Country Club. Certainly, they know more than a little bit of what they are talking when the subject of hitting wooden balls with wood mallets through various kinds of hoops comes up in conversation.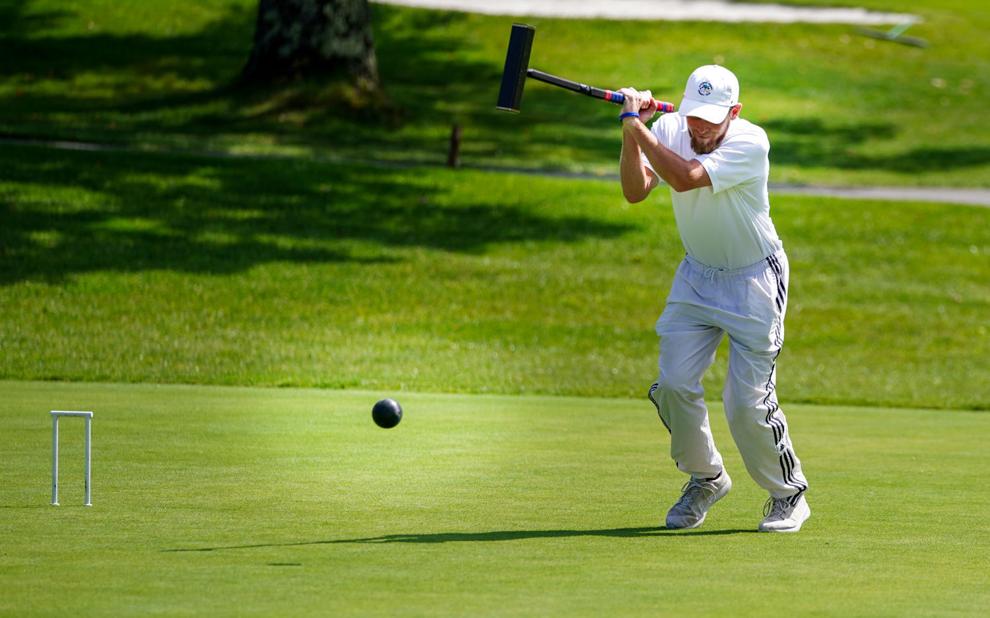 Association Croquet, according to various documents cited in Wikipedia, may have its roots in an ancestral game introduced to Britain from France during Charles II's reign in England, Scotland, and Ireland between 1660 and 1685. At that time it was played under the name, paille-maille, also spelled pall-mall. Other theories about the modern game of croquet suggest that it arrived from Ireland during the 1850s, perhaps after having been brought to Ireland from Brittany (France), where a similar game was played on the beaches.
One description, an 1828 entry in a dictionary of the English language, suggests that it is billiards played on the ground.
Asked what he thought was the hardest skill to learn in playing croquet, Essick did not hesitate.
"I think it is mental," said Essick. "Once you have the various shots down, it is about not letting your opponent inside your head. Play your game."
Essick spends the warm season in Winston-Salem and the colder season in Winter Park, Fla.
"I started playing croquet when I was 3 years old," said Essick.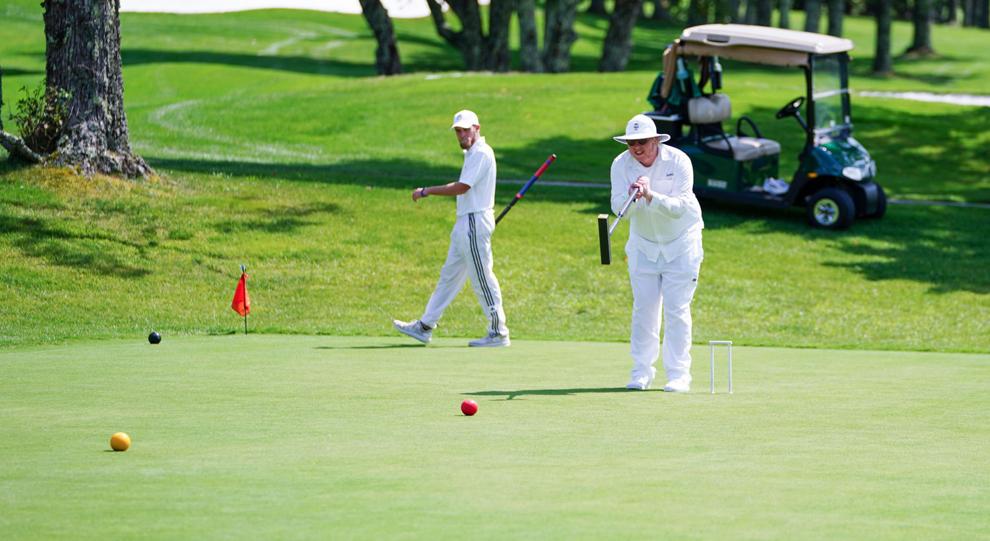 As recently as May 6, the author of the Croquet Network.com wrote an article titled, "Triple Peels Dominate the Finals in the American 6-Wicket PFC Hoop Maker Masters."
"What a show! In my eight or so years of playing American 6-Wicket, I have never seen a player finish a game with a triple peel, and yet this past weekend, Matthew Essick finished three of his last four games with a triple. In the semi-final match against Zack Watson, Matthew won both games by scoring all of the hoops with his second ball while peeling (scoring his partner ball) through the last three hoops and then pegging both balls out on the center stake winning 26tp-0 and 26tp-13. Essick did the same in one of his games in the finals against current American 6-Wicket National Champion, Randy Cardo, winning 26tp-5 and 26-0."
In November 2020, Essick scored his first USCA national title.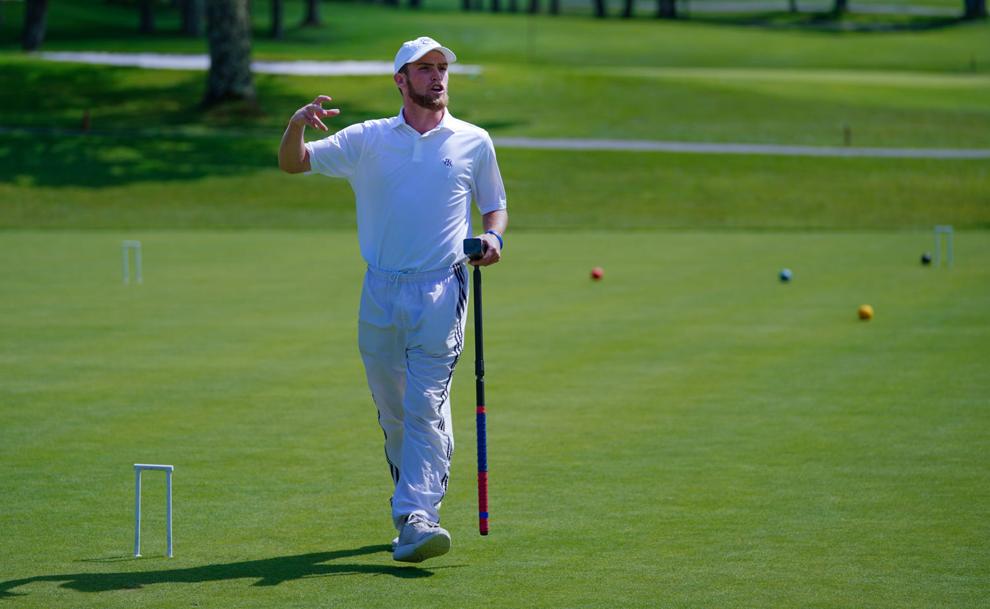 Balding is now the croquet pro at Grandfather Country Club, where he says that of the 400 members roughly one-quarter, or 100, play croquet.
"About 80 of them take weekly lessons," said Balding.
A Maryland native, Balding said he took up the game while in college.
"I was attracted by all of the trophies and accolades that came with winning," he said, "but now I realize it is all about promoting the game, getting other people to enjoy it and understand it."
Although croquet began to decline in popularity in the late 1800s, giving way to lawn tennis, including at the All England Club at Wimbledon where the croquet lawns were largely converted to tennis courts, in recent years there has been a resurgence, particularly at country clubs like Blowing Rock and Grandfather. According to the U.S. Croquet Association, there are roughly 200 croquet clubs in the U.S. and it is even being embraced as a club sport on many college campuses. Examples include the University of Virgnia, Harvard, Dartmouth, St. John's, the U.S. Naval Academy, the University of Chicago, Penn State and others.
An entry in the 2010 director of the Croquet Association reports that there are over 170 croquet clubs in England and Wales. The All England Club at Wimbledon may be more famous for lawn tennis, but still retains an active croquet section.
"There are artificial surfaces," said Essick. "And you have to play whatever the surfaces dictate. Blowing Rock is blessed to have an awesome court and well-manicured, natural lawn surface. This is top-notch."
Bob Hartnett, an organizer of the Sept. 9 exhibition that brought Essick and Balding to Blowing Rock, said that the game's popularity at BRCC is growing steadily and that they hope to expand some of the facilities in the future to accommodate more players.