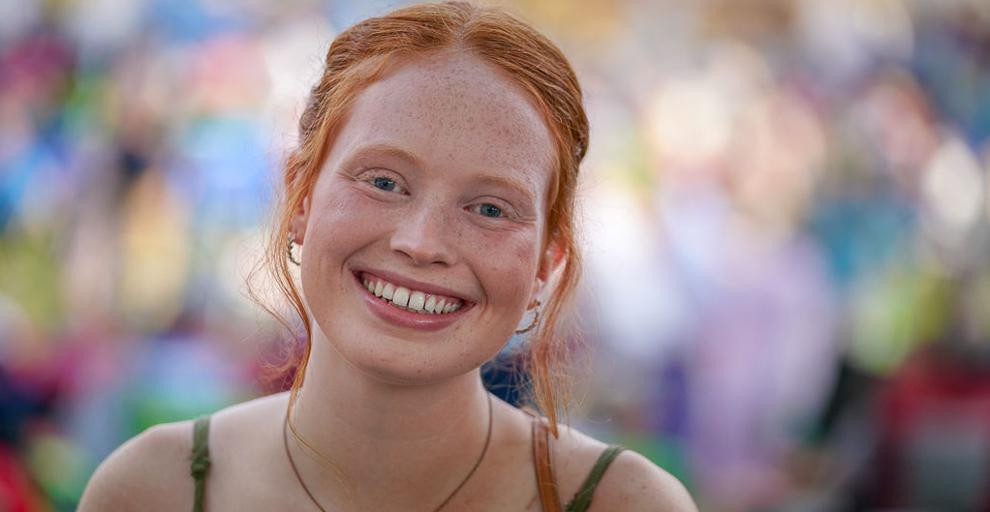 BLOWING ROCK —It was just like old times, only better. And it brought the biggest of smiles to town, all around.

The July 23 'Symphony by the Lake' at Blowing Rock's Chetola Resort had just about everything. God bestowed His blessing on the event with sensational weather. There was inspirational music from around the world by the Symphony of the Mountains orchestra. There was spectacular fireworks at the end of the evening. There was even a harvest moon seen over the horizon after the smoke cleared.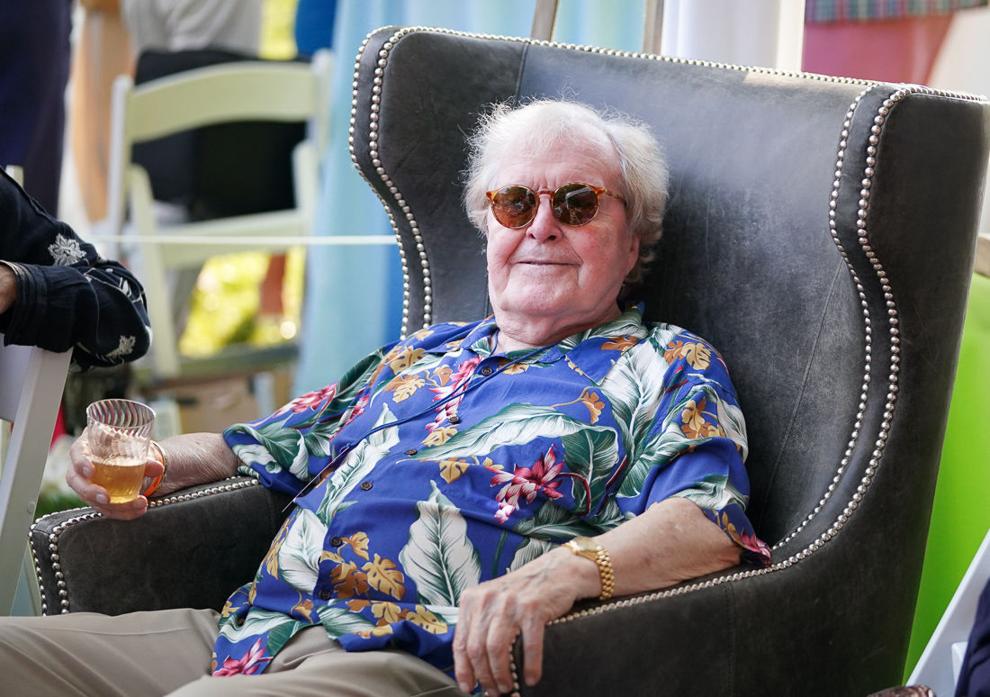 But most importantly, after a year of cultural hibernation there were beautiful people enjoying it all, from start to finish.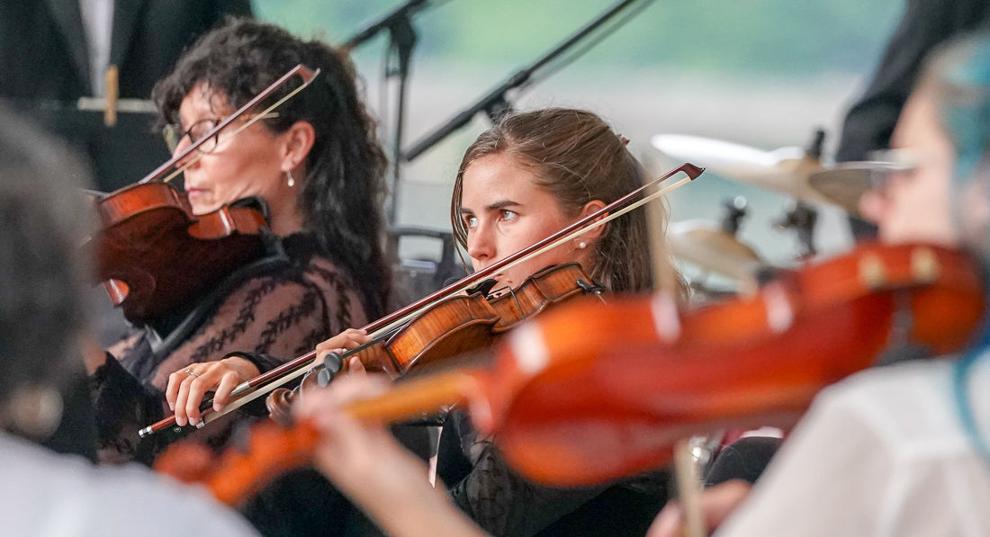 At the back gate as a volunteer, co-owner of Jenkins Realtors, Pam Vines, described almost a mob scene when the gates opened at 5:30 p.m.
"People were backed up, eager to get in like I have never seen before," said Vines. "They were here early to find a place to park, as well as to claim their places to sit. The pre-opening crowd was backed up almost to the Polo Ralph Lauren store across that grassy area and the parking lot. And this is the back gate. I can only imagine what it is like at the front gate."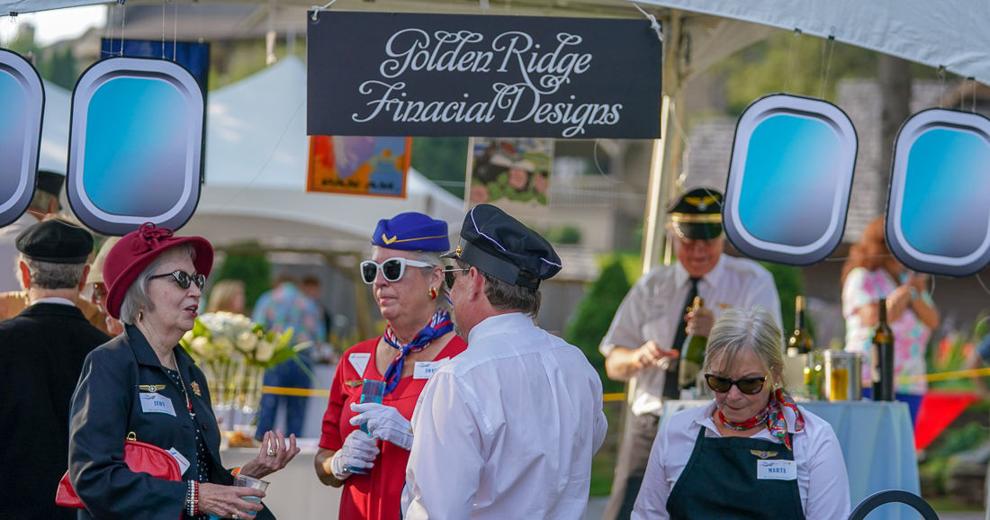 Karyn Herterich, owner of Serves You Right and the Southmarke shopping center on Main Street, is also a principal of the symphony's Legacy Sponsor, the Kennedy-Herterich Foundation. She and husband Dieter were in familiar territory, once again hosting one of the patron tents that encircled the larger audience for private parties that spilled into each other as friends and neighbors and visitors from near and far celebrated Blowing Rock's grandest event of the year.
"We wouldn't miss this," said Herterich, who this year had her guests come as themselves, sans costumes. "It is certainly a great party, but especially this year it means so much more. So many of us had to sit out and miss a lot of the things we hold dear in terms of special events last year. These are the times that we like to share with our friends, neighbors, business colleagues, and maybe even welcome some new faces into our circle of acquaintances. We talk about family, we catch up on a year's worth of comings and goings. I hear a lot of guys already starting to talk football.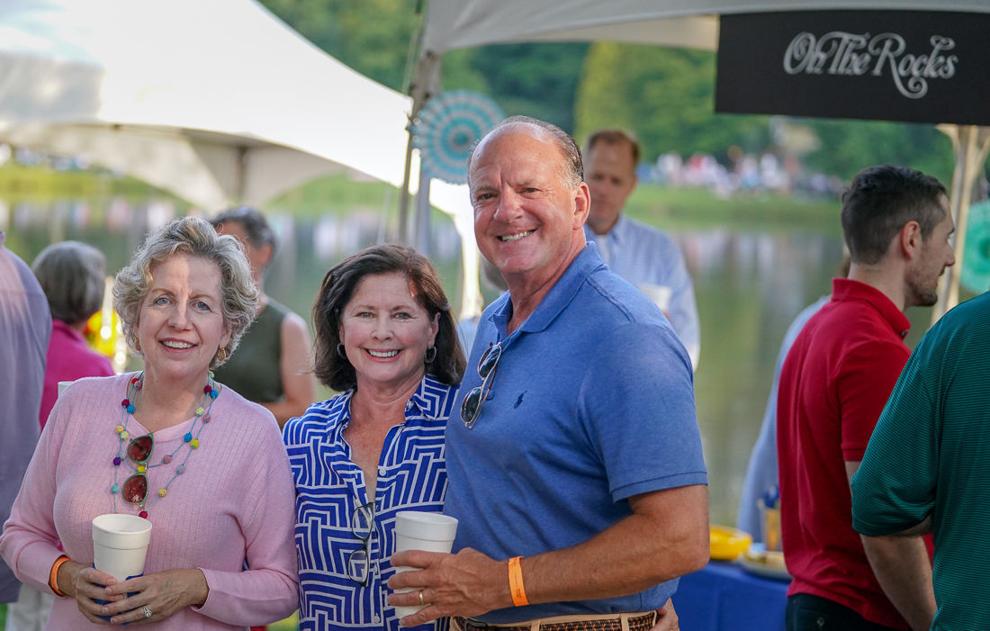 "Coming at the end of July, it is a last big summer fling before the start of school just a few weeks away and so many of our seasonal residents will be heading back to their primary homes," said Herterich.
Speaking of football, down a few tents was the Allen Tate Companies party where Pat Riley, chief executive officer of the Charlotte-based real estate firm was celebrating the renewal not just of a new three-year contract sponsoring the NFL's Carolina Panthers, but also a new sponsorship in support of Appalachian State University athletics. Justin Hukill, general manager of App State Sports Properties was on hand to acknowledge the moment.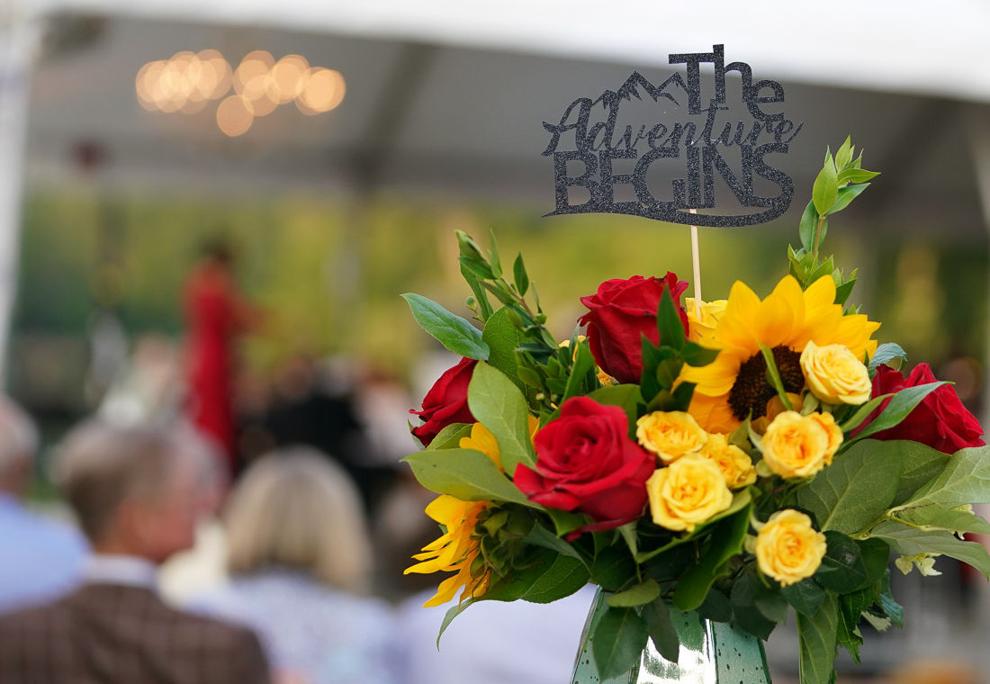 "The addition of Allen Tate Companies to our roster of sponsors is significant," said Hukill. "In addition to helping fund our operations, it raises the profile of App State not just regionally, but statewide. We look forward to this partnership."
Back up a few tents and Monkee's Ken and Jessica Wehrmann's party was celebrating a banner year, in spite of and even because of the pandemic as the entrepreneurs pivoted early in their retail store's apparel offering, moving to more casual and outdoor wear. Given that people were limited in terms of what they could do during the pandemic, the Wehrmann's capitalized on what people needed in living more of their daily lives outdoors.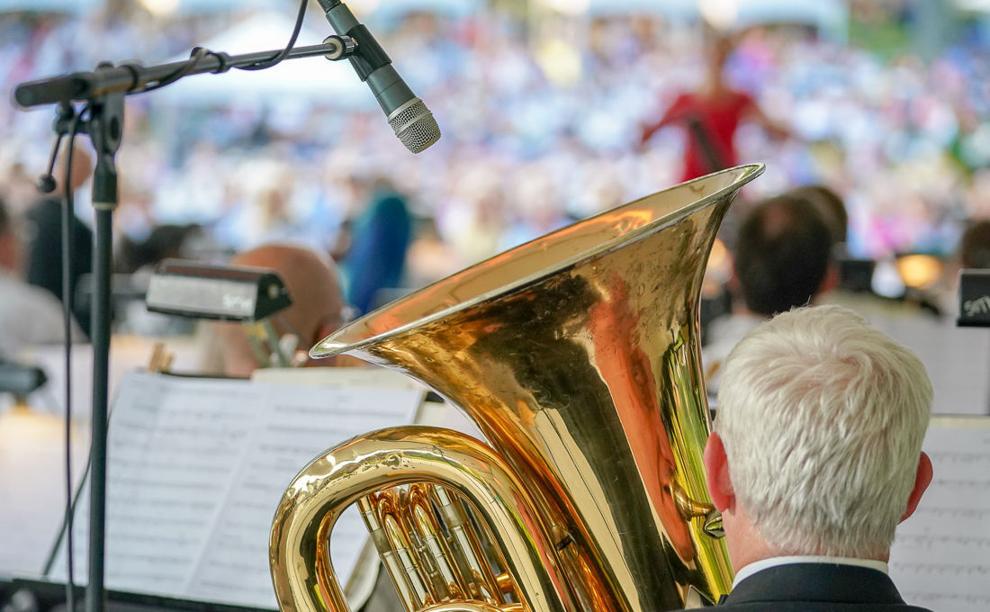 Among the notable guests at the Monkee's tent was Dr. Peter Lipscomb, an ophthalmologist with Greystone Eye in Boone. With a nod to Lipscomb, one bystander said, "This is a man that I let look deep into my eyes as frequently as possible." Ken Wehrmann replied, "I can relate to that!"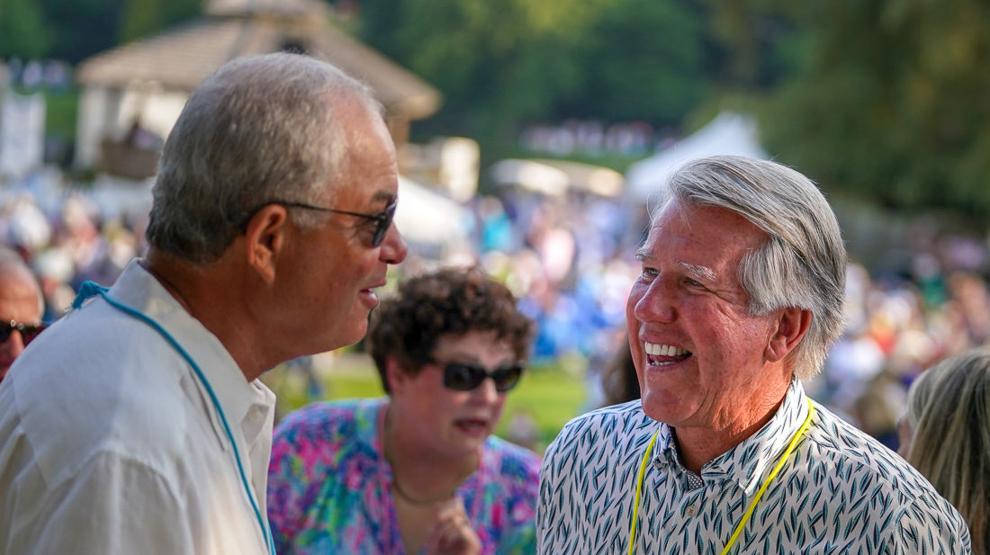 Almost next door, Hugh Zhang and wife Lulu, with sons Evan and Ian, were hosting a party tent while attending their first Symphony by the Lake. Although Lulu is active in the arts in Houston, Texas, where they make their permanent home, she was very enthusiastic about the Blowing Rock experience.
"I have never experienced anything like this. The lake, the outdoors, this is beautiful. This is special," Zhang said.
Greg Tarbutton, a co-owner of Chetola Resort with his brother, Kent Tarbutton, explained to the crowd that his brother normally served as host of Symphony by the Lake, but this year was not feeling well and thought it best to stay at home. As his brother's emcee stand-in, Greg not only greeted everyone and welcomed them onto the property, but artfully thanked all of the sponsors and organizers, as well as the estimated 100 volunteers that he said made it all possible. He gave special kudos to Suzy Barker, events director for the Blowing Rock Chamber of Commerce in saying, "This is Suzy's first symphony event to lead and she has done a marvelous job." And an appreciative crowd applauded enthusiastically.
Mayor Charlie Sellers thanked everyone for coming as things were getting back to normal after the pandemic. "This is all about you," he said. "You are what makes the Symphony by the Lake special."
Representing the event's banner sponsor, the Charlotte-based Hendrick Automotive, Bobby Rice repeated the welcome to all for what he described as Blowing Rock's "biggest and best" party.
And then it was time for the main event.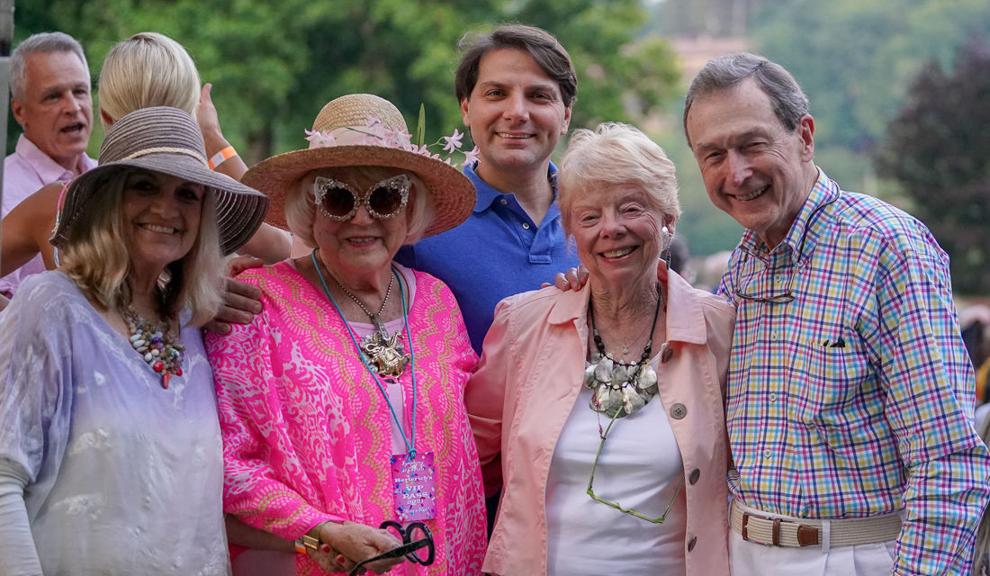 Under the direction of Cornelia Laemmli Orth, the Symphony of the Mountains took the audience estimated at a little more than the 2,500 tickets sold "Around the World." They buzzed the globe with Otto M. Schwarz's "Around the World in 80 days." They galloped with William Tell. They toured "Africa" alongside Marshall McDonald and Steven Sharp Nelson and followed Elton John and Tim Rice into "The Lion King" territory. For Broadway enthusiasts, the orchestra closed out the opening set with Rodgers and Hammerstein iconic song from "Carousel," "You'll Never Walk Alone."
Our musical travels went intergalactic after intermission with selections from the "Apollo 13" movie score. Then came back to earth, jumping from Australia's "Waltzing Matilda," to the Argentine tango, "El Choclo" before a stirring Michael Rodgers vocal solo of "The Impossible Dream," from "Man of La Mancha." It was enough to make any Don Quixote proud.
The orchestra next travelled to the icy cold of Antarctica, greeting penguins in John Powell's "Happy Feet: The Story of Mumble." Visions of Johnny Depp, a patch over one eye, followed with selections from "The Pirates of the Caribbean." Rodgers then belted out a soulful rendition of "Ol' Man River," from the musical, "Showboat."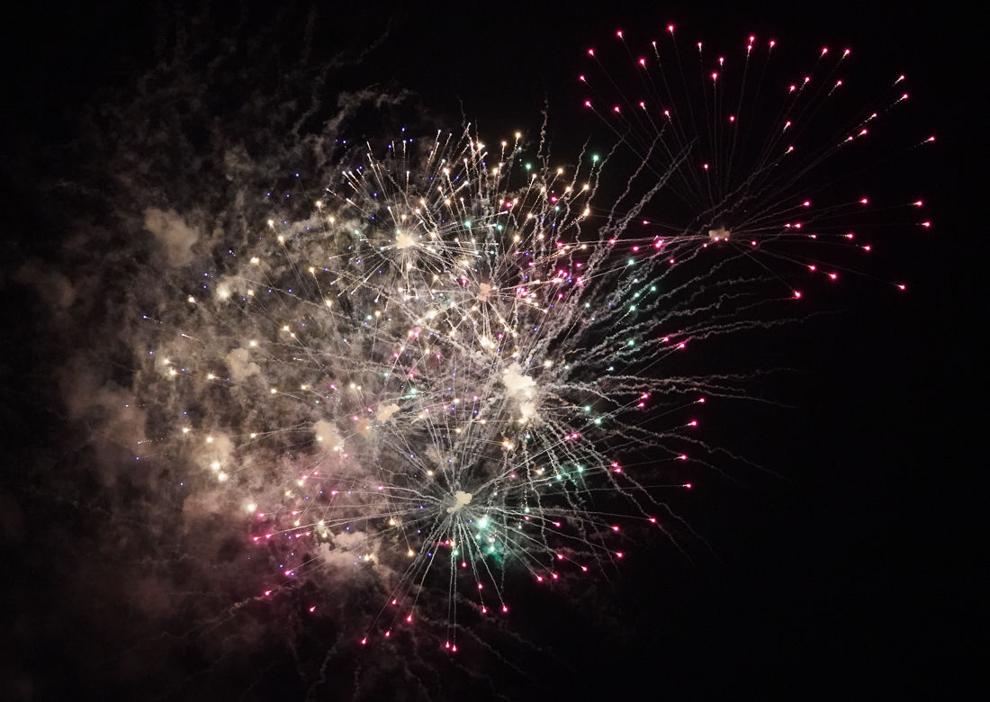 Orth then led the orchestra in saluting every branch of America's military service with "Armed Forces Salute." It wasn't yet time in the evening to "hit the dusty trail," but the caissons were rolling along for many members of the audience while others mouthed, "Off we go, into the wild blue yonder."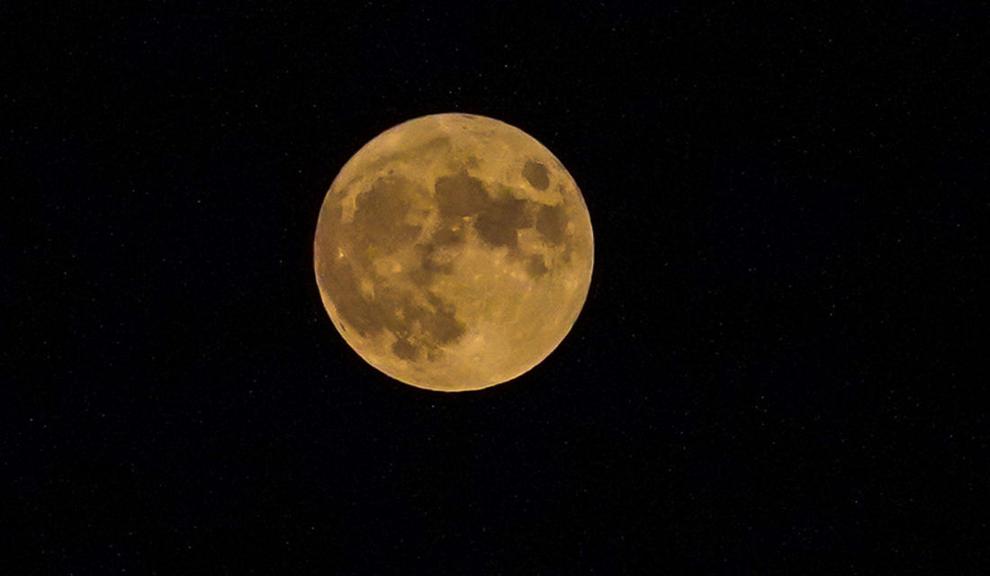 For the 34 years (except for the pandemic year in 2020) that Symphony by the Lake has been hosted by Chetola Mountain Resort and produced by the Blowing Rock Chamber of Commerce, the last song of the night has been John Philip Sousa's, "Stars and Stripes Forever." That was true again on this night, climaxing into the beginning of a 15-plus minute fireworks display over the lake. It was a fitting culmination of what, in large measure, was an emphatic celebration, as if to say, "We're back!"