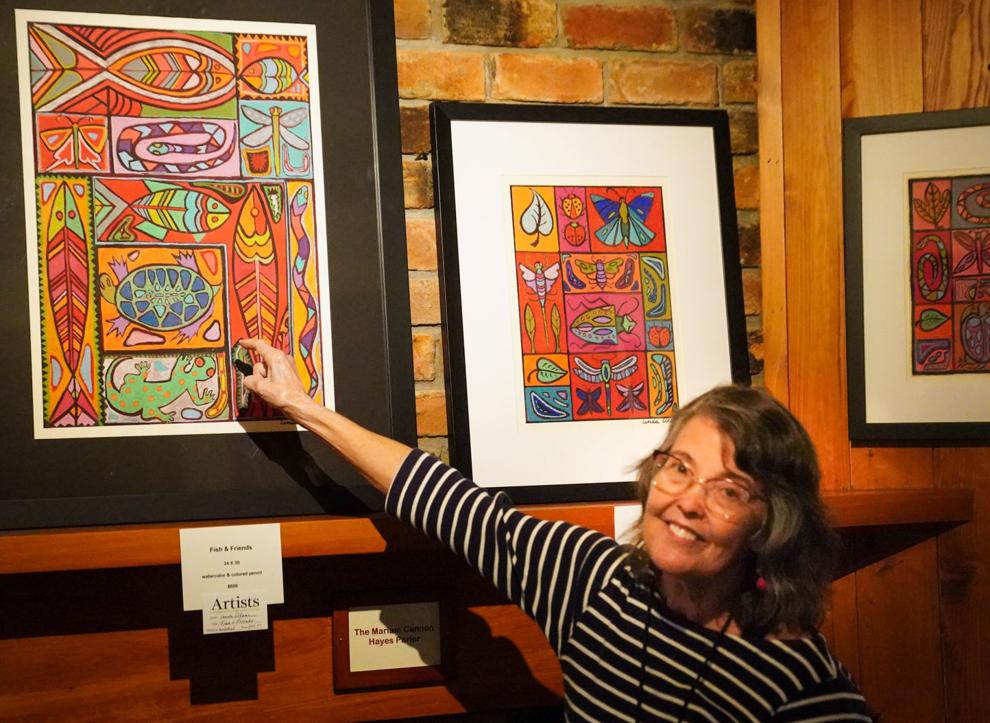 BLOWING ROCK — There is a lot of whimsical fantasy in the art of Linda Elksnin, now on display at Edgewood Cottage in Blowing Rock, through Sept. 12, as part of the Blowing Rock Historical Society's Artists in Residence series.
"These are my moon people, or moon humanoids," Elksnin said, pointing to a couple of paintings where the moon people are hovering over a church and town.
"Mark Chagall did a lot of work where he has people flying over buildings. It is kind of surreal and simple," said Elksnin.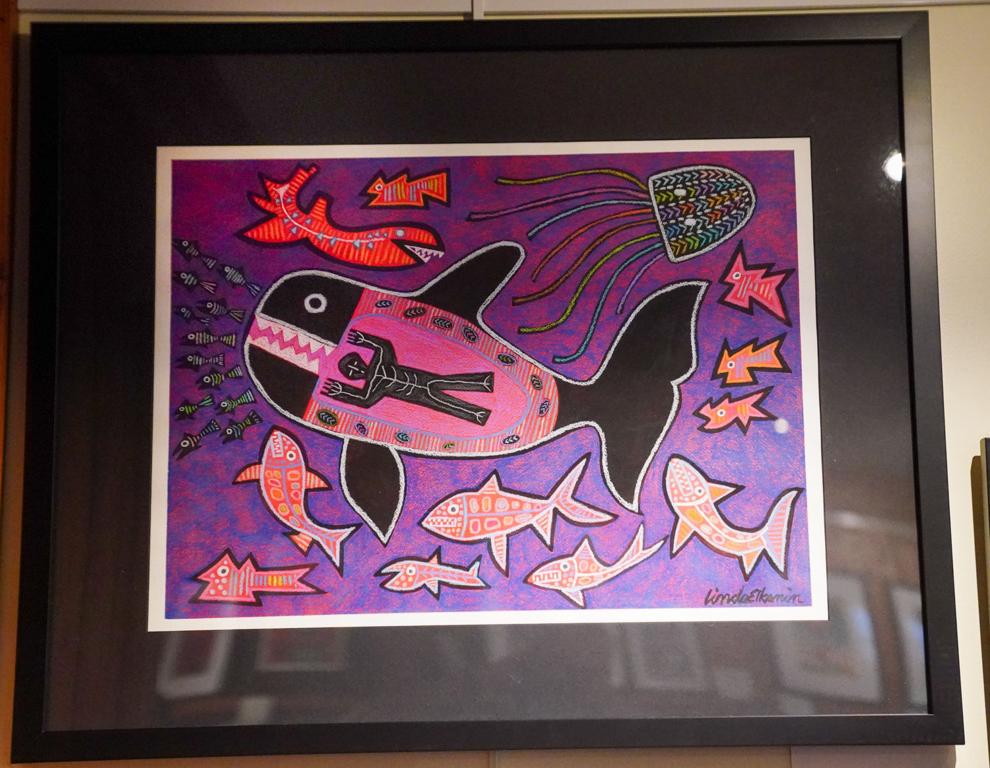 "I also have a series of what I call primitive flowers, kind of folk art inspired. I use a lot of watercolor and colored pencil, with a lot of repetition with dots and color. These are similar to some things that are actually done on fabric. I know that this is a unique style because people have told me that, but it is what makes me work and makes me happy."
Elksnin maintains a dual residence in Vilas as well as in Columbia, S.C.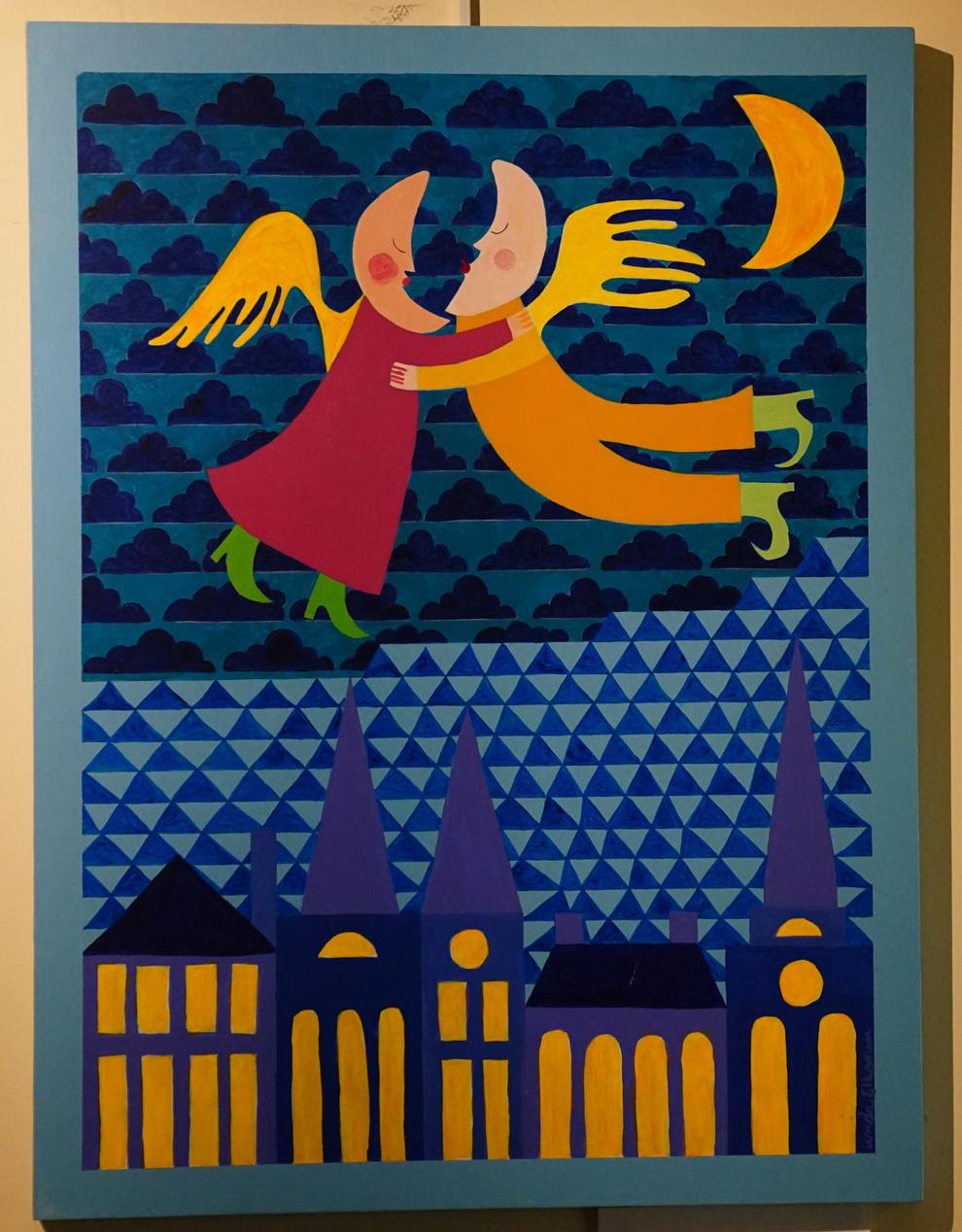 "But I have been in the High Country for 30 years. I have had friends who have exhibited here at Edgewood Cottage, so I thought this might be a great opportunity, not just for myself but also to support the Blowing Rock Historical Society. Exhibiting this whole week with two other artists, potter Bob Meier and painter Lisa Pepper, is going to be fun getting to know them and their work," said Elksnin.
Spending a week at Edgewood Cottage is a little unusual for the woman born in Pennsylvania and raised in New Jersey and Maryland.
"I typically exhibit at a lot of art shows outdoors, including Blowing Rock's Art in the Park, but also in Atlanta, the Biltmore Estate, and Nashville. It is really tough work doing those one day shows. Here, my husband and I came over to set up yesterday evening and it took us about three and a half hours, but it is a lot easier to come and set up once for the whole week instead of just for one day, putting a tent up for those outdoor shows. So, this is a really nice venue."
Elksnin said she likes the mixed media because of its fluidity.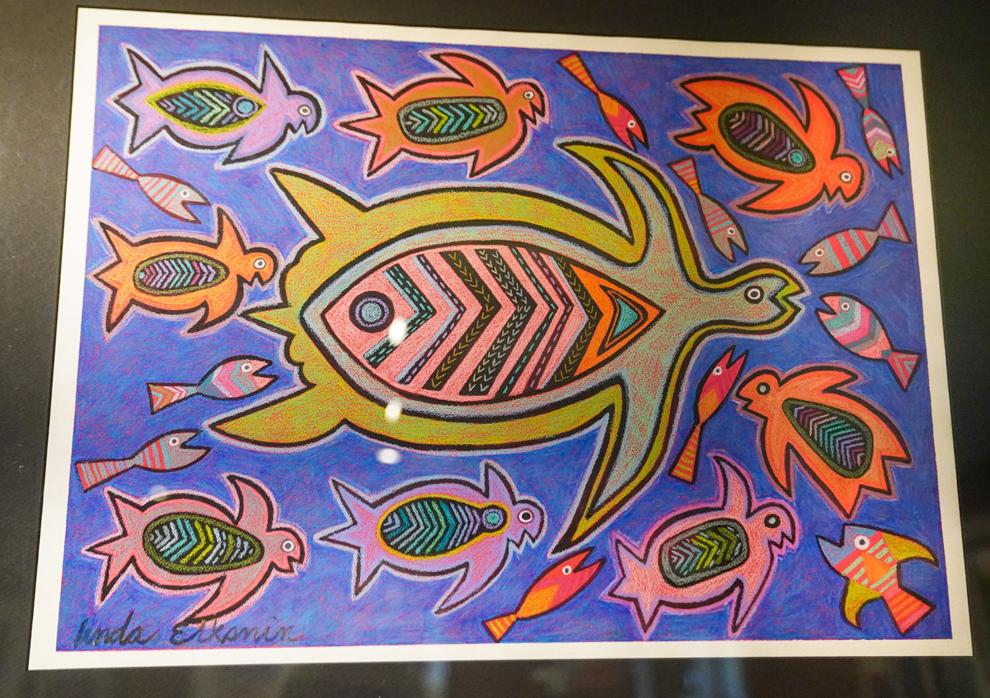 "I really enjoy watercolor because you have a lot of options with it. You can be very loose and I do some loose work, but the colors are very vibrant. The white in the background makes the colors pop... The colored pencils I started to use on top of the watercolors because I am interested in textiles. Some of these pieces are inspired by fabric art. Some of this is textile-like, without using fabric," said Elksnin. "If I want something to be more of a solid color, then I typically use acrylic."
The daughter of a teacher and an electrical engineer, Elksnin has been living in the South for five decades, she said, now working out of studios in North Carolina and South Carolina.
"My inspiration largely comes from textiles, with influences from self-taught, folk and what I would call 'outsider' artists. I have also been influenced by mainstream artists such as Mark Rothko, Romare Bearden, and Marc Chagall," she said.
The use of shapes and symbols is intentional.
"I enjoy incorporating subject matter from a variety of cultures, including those of the American South, Appalachia and Haiti, as well as the aboriginal peoples of Panama and Australia. Whether abstract or loosely based on reality, the common thread in my work is color and what I consider to be a graphically pleasing design. Some have described my work as 'whimsical' and 'happy'," said Elksnin.
The artists admits that her passion for art began in elementary school when she took classes at the Philadelphia College of Art. Shortly after earning her Bachelor's of Fine Art degree from Syracuse University, her career path took an unexpected turn: teaching art to children with disabilities. That led her to earning master's and doctoral degrees in special education from the University of Virginia, then to The Citadel to coordinate the graduate-level special education program. She retired as Professor Emerita in 2006, then returned to painting full time. Represented by the Charleston Artist Collective, her work is featured online at Saatchi Art, Redbubble, Artfully Walls, Serena & Lilly, and One King's Lane.