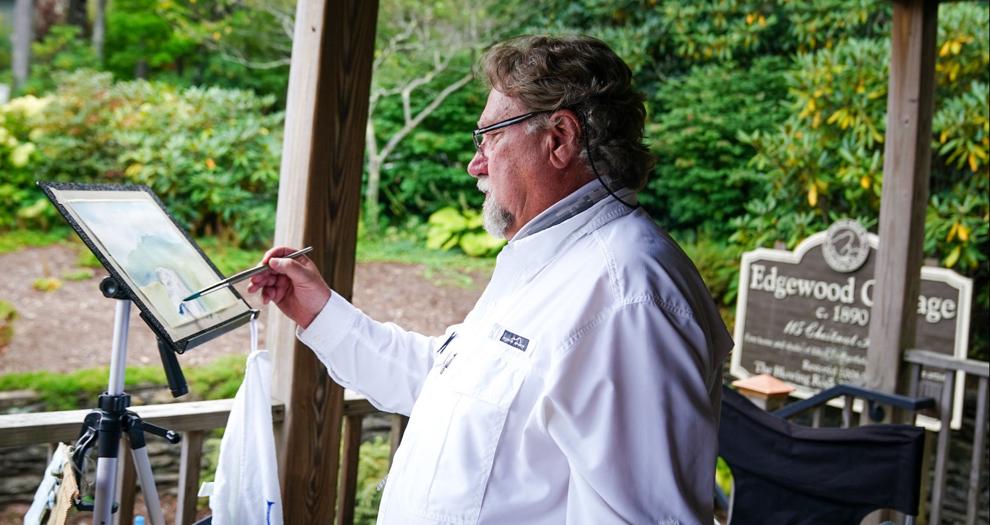 BLOWING ROCK — Some folks are born with a silver spoon in their mouth. Not Zan Thompson. He claims to have had a paintbrush in his hand before he could even walk or talk.
Thompson is the Artist in Residence at Edgewood Cottage for the week of Sept. 13-19 and, by looking the attention to detail in his watercolor pieces on display, it is easy to believe his claim.
"My parents were artists so it is literally something I grew up with." said Thompson. "I was born and raised in Atlanta. My parents met at the Ringwood School of Art just before World War II. I have two sisters who are younger than me. Everyone in the family paints. I now focus on watercolors, but I was the last one in the family to figure them out."
He said he was a slow learner.
"For the longest time, I just made mud puddles when I painted with watercolors. Then I finally took a class from Tony Couch. He watched me paint and then said, 'You can draw and you can paint, but your problem is that you try to do it too fast.' He had me start outlining the process, the steps to do the painting, not just paint the sky and then paint the field, including the drying time. He said, 'You have to wait for the paint to dry before putting on the next application!'" said Thompson.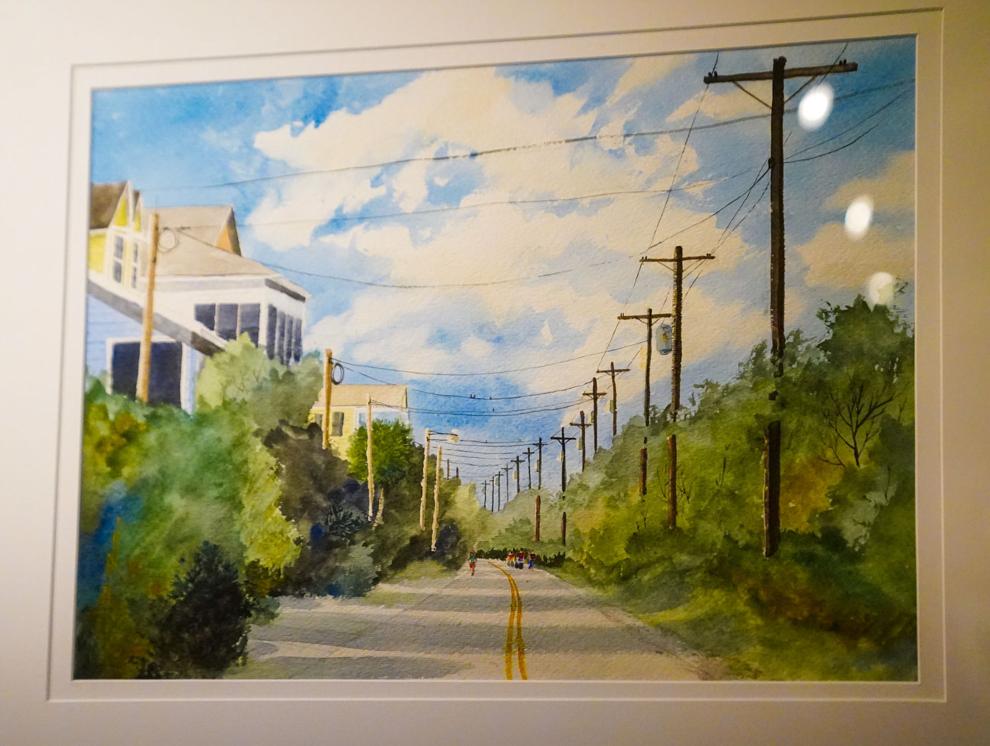 Painting plein air outdoors and its breezy and fairly warm, watercolor paint can dry in about 60 seconds, said Thompson.
"If it is a damp, rainy day, well then about an hour," he said. "So you have to monitor and understand the environment in which you are painting."
Both parents painted in watercolors, but Thompson's father had a commercial art business in Atlanta.
"Coca-Cola was a customer. On the side he did watercolors. My mother did watercolors, oils, acrylics, and even sculptures," said Thompson.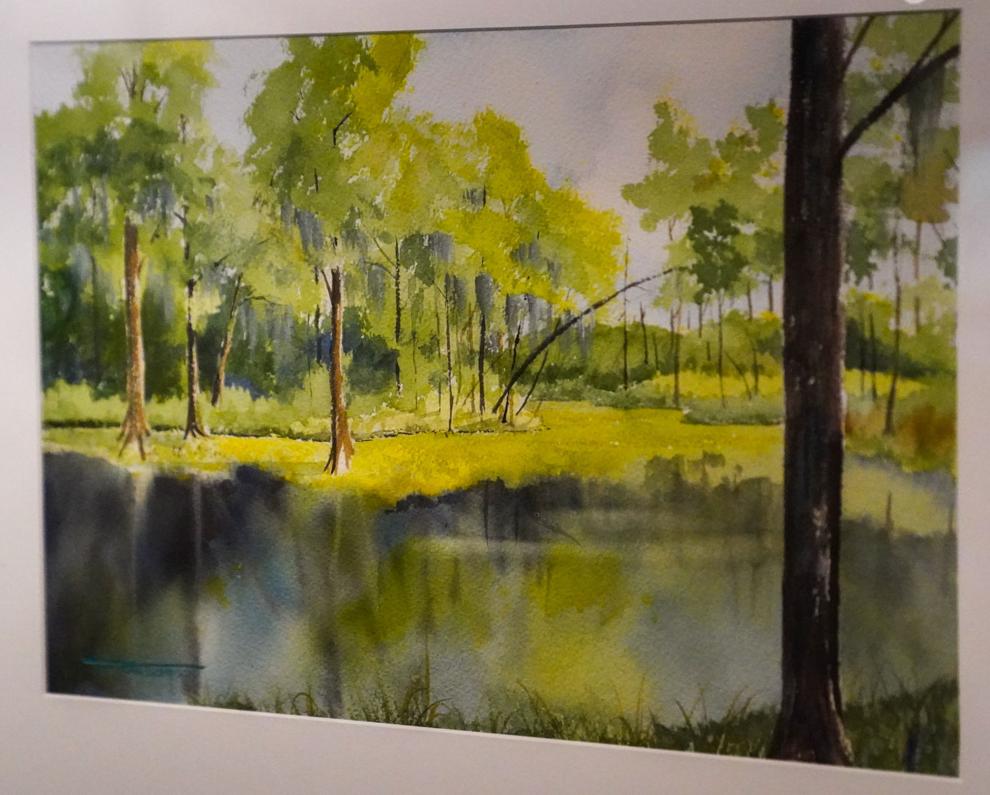 Whether looking his larger paintings or one of the smaller works, what grabs the viewer is Thompson's attention to detail — and the fact that buildings often dominate the visuals.
"I am very much an Impressionistic painter. My interest is in contrast, which you can see in some of the paintings that I have here at Edgewood Cottage. Light and dark really fascinates me, shadows, that sort of thing," Thompson said.
There is a reason, of course.
"My background, professionally, before becoming an artist full-time was in landscape architecture for roughly 45 years. The attention to detail comes from drawing the buildings, drawing urbanscapes.
"In high school, I started working in a plant nursery near the school. I was already starting to think that I might want to go to Georgia Tech after high school, and study architecture. Then I met some landscape architects that came into the nursery from time to time. One of them, who was also a writer for the Atlanta Constitution newspaper, she told me, 'You don't want to be a traditional architect. You like art and you like outdoors. You need to be a landscape architect.'
"The only problem I had with that is it meant that I had to go to the University of Georgia instead of Georgia Tech. But I ended up doing that, and ultimately I enjoyed it. After I got my degree, I owned my own business for about 25 of the 44The years that I did landscape architecture," Thompson said. "It was a good time."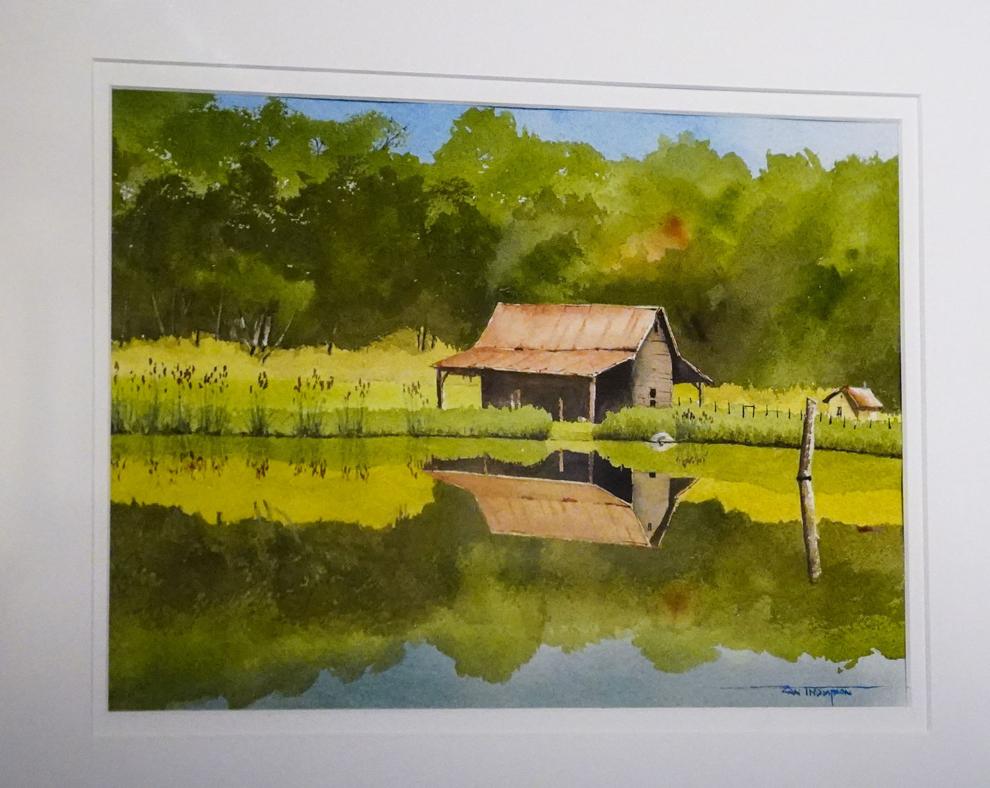 The Atlanta native who now lives in Conover, N.C., near Hickory, said that while he was still working in landscape architecture plans were already being formulated to go back into painting watercolors.
"I figured that it would be a nice kind of retirement business," he said.
Thompson said that he spends a lot of time in the High Country, painting, because it is such a scene-rich area. He also teaches various classes and offers workshops in the area. He had special commendation for the Artists in Residence series and the work that Blowing Rock Historical Society is doing to promote art.
"For me, it is hard to say why I like art because it is something that I grew up with. It was all around me. Watercolors always fascinated me because they are so translucent or so loose. It is a medium that offers so many ways of presenting themselves," said Thompson.
As far as influencers go, other than his parents, Thompson said that dozens of artists have had an impact, but he has a special place in his heart for a couple.
"I will always have a place in my heart for Tony Couch, because he is the guy that set me straight: Take your time, slow down, get it right. But there are dozens of others who I like to look at their art and study them. Some I cannot even pronounce their names. One guy, Vladislav Yeliseyev, like me, was in the architectural field. I took a class from him because I am so detail oriented and I knew that he had already gone down the same path that my journey was taking, from architecture to watercolors. He does very loose, Impressionistic paintings. He was very inspirational and changed my approach. He is also big on contrast, like I am," said Thompson.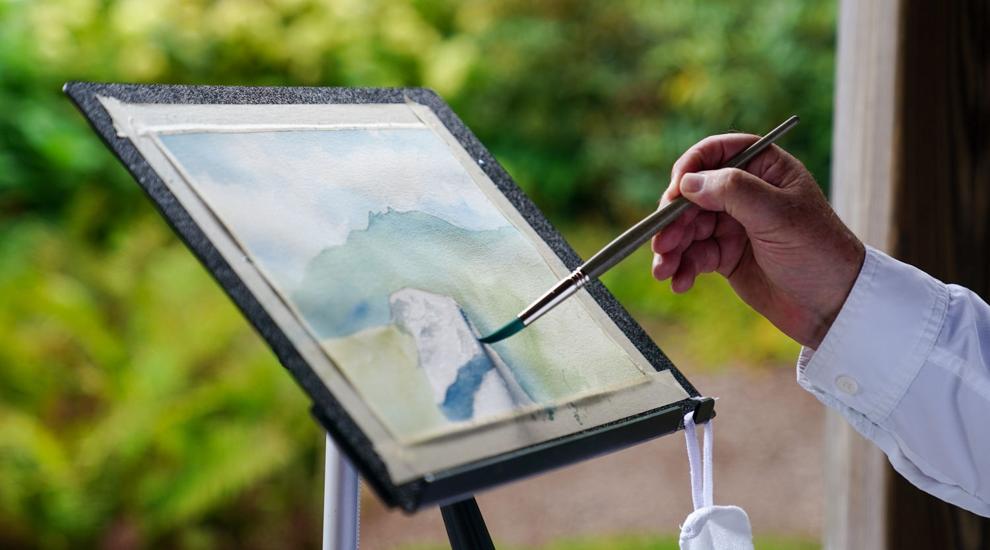 Thompson said that he teaches his students that when they walk up to a scene that they want to paint, to take out their cell phone and take a picture because the same scene will be different in just a very few minutes.
"The shadows will change. And especially if you are in Blowing Rock, it might be raining in 30 minutes! There are all kinds of reasons to record the scene so that you can go back to see the way it looked when you initially took an interest in it," said Thompson. "Sometimes you may find that you find the shadows an hour and a half later more to your liking, too. You can also use the phone to edit the image, move it around, so you can come up with the best composition. The cell phone is a marvelous tool that has come along."
For Thompson, composition of a painting is about entertaining the eye.
"You want to move the eye around the painting," he said. "You don't want the eye of the viewer to leave the page. You want the eye to focus in on one part of the painting. I use light and dark 90 percent of the time to make that focal point really pop. I always look at a painting when I am done... your eye follows this tree trunk up, follows a branch over, then follows this roof line back. I am always asking where is my eye moving about the painting. Did I get it right? Or do I need to paint it again?"
Thompson said that most of his work is done in the Southeast U.S.
"But anywhere I go, I take my painting tools with me. I have three different bags with art supplies. One is a full bag with easel and everything, but I also have a small bag with only two brushes and six colors. Maybe I carry the small one out to a beach, sit with a cup of coffee and paint people walking up and down the beach, only painting on postcards," Thompson said. "The larger one is always in my truck, wherever I go."