The Community Care Clinic provides a medical home for about 900 uninsured patients, offering not just primary care but behavioral health and specialties such as neurology, physical therapy and orthopedics. And the clinic's leadership is made up almost entirely of women, a dynamic team that works together to serve uninsured patients in the High Country.
"Being new here, I found it really awesome that our leader is a woman and that we are empowered women working towards a goal and a mission to provide health care for people who need it the most," said Development Officer Caitlin Massey. "I definitely find comfort in that."
The clinic, which launched in 2006, is its own 501c3 nonprofit that partners with other organizations such as the Hunger and Health Coalition and the Hospitality House, a homeless shelter and crisis agency. The idea for the clinic emerged in the early 2000s, when Dr. Jack Whitlock and Dr. Marye Hacker started treating low-income patients from the back of a station wagon.
Now funded by community donations and state grants, the clinic's mission is to provide quality health care to low-income, uninsured people.
"Through our integrated care model, patients have access to high-quality services that include primary care, behavioral health, disease management, active follow-up and continuity of care," the clinic's website states.
The clinic accepts patients from across the region, from Watauga and Ashe to Johnson and Wilkes counties. About 75% of patients come from Watauga County, followed closely by Ashe, Alleghany and Wilkes, said Executive Director Catherine King. More than half of the patients are women.
There are no geographical restrictions for service. The only requirement is to be uninsured.
Many patients have not seen a doctor or had health care for four or five years before they come to the clinic, King said. The reason they visit? They've developed health problems.
"Most of our patients have a chronic condition, and about half of them have more than one," King said. "A lot of our patients are quite sick. Their chronic conditions have progressed to the point where they don't have a choice — they have to try to find something."
Lack of health insurance has long been an issue in North Carolina. The state's uninsured rate is the ninth highest in the nation. More than 1 million North Carolinians did not have health insurance in 2018, the same number for the year before, according to an annual U.S. Census Bureau report released in 2019.
The gap widens even more based on geography. Data gathered by the American Community Survey and the Census Bureau's Small Area Health Insurance Estimates program shows that North Carolina's rural counties include 20 of the 22 counties with the highest percentage of uninsured residents. The mountains and southern coastal plain have the highest numbers.
"It's not like you lose your health care and come to the free clinic," King said. "It takes a while for people to get there."
To help bridge that gap, the clinic has an integrated care model that focuses on the big picture: not just the patient's physical state, but their emotional, social, mental, environmental and spiritual needs as well. Support includes case management, nutrition education, diabetes education and community resource referrals.
As the clinic serves a growing number of patients, it is also navigating several changes this year, including a shift in leadership and changes in practice due to COVID-19.
King took over as executive director in August. She has been at the clinic since 2010 in several roles, including accountant, data management and collection, grant writer and assistant to the executive director. She received her bachelor's degree in industrial engineering from Purdue University and worked in industry for more than 30 years in Ohio and North Carolina. King has also served as parish administrator for St. Luke's Episcopal Church in Boone.
In her new position, King now manages the clinic's staff and handles grant writing full time — work that is informed by her background in engineering.
"That's the kind of stuff I like to do: the data gathering," King said. "There's a lot of data management in writing grants. We would not be here without them. We would not be the same clinic without them."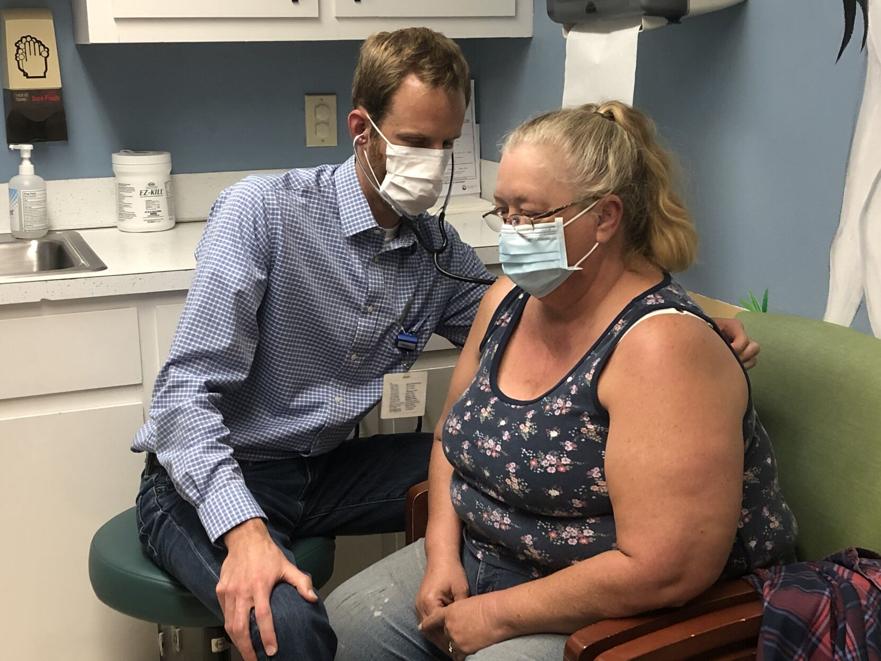 In light of the pandemic, the clinic is trying to resume services in a way that balances safety precautions and patient needs. Behavioral care is still entirely virtual, but about half of clinic visits are in person now, alternating virtual and physical appointments, Massey said.
"There's that personal aspect to health care that really adds to the holistic part, as well," Massey said. "We're trying to do our best to make sure that we can stay safe, stay healthy, but also do what's best for our patients."
Staff are also focusing on expanding mental health services. An estimated 65% of patients are in need of mental health services, but the clinic doesn't have the staff or the resources to serve nearly that many people, King said.
"Not everybody needs intensive mental health counseling, but everybody could use a little nudge towards better health here and there," she said.
To continue expanding and supporting clinic services, the CCC hosted a fundraiser in September, raising $10,000 from virtual and in-person activities including a catered dinner by Scott Phan, music by William Massey and The Harris Brothers and digital streaming by Yosef Media. While the clinic typically has an annual fall fundraiser, the transition to a virtual event was a success, Massey said.
Community Care Clinic has big plans for the future, including an online art auction in October and rebuilding in-person services post-coronavirus. Massey and King want to increase the clinic's visibility in the community, build new relationships with local businesses, maintain relationships with existing supporters and help the organization grow throughout the region.
To stay up to date on upcoming events, or for more information about the clinic's services, visit https://ccclinic.org or on Facebook @communitycareclinicBoone.