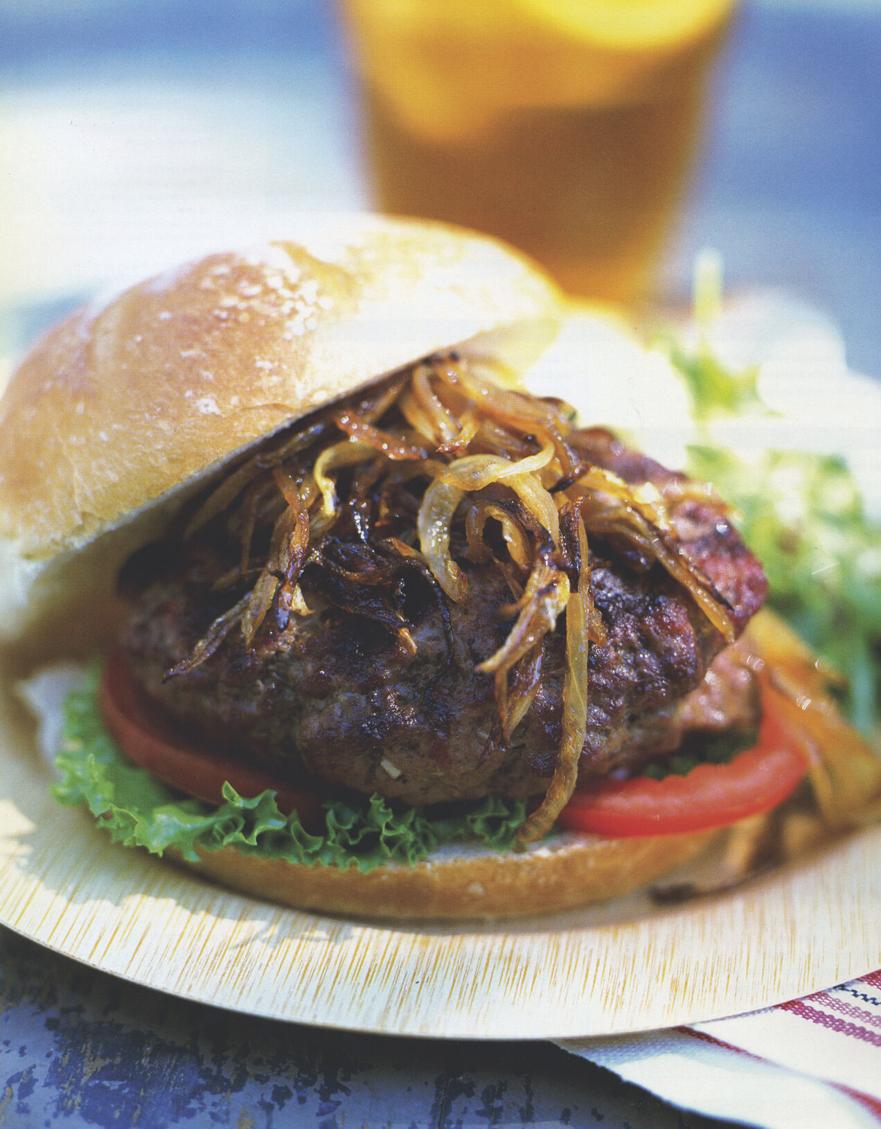 Herb Cheese-Stuffed Garlic Burgers
Barbecue season has arrived, so soon people will be bonding in the backyard over hamburgers and hot dogs. Backyard barbecue season begins in spring and continues through summer and, where the weather allows, into fall. Barbecues are a perfect summertime soiree, as they're usually laid back affairs and make use of the pleasant weather.
While it's fun to expand your culinary horizons over the open flame of a grill, it's important that you never forget the basics, especially when entertaining crowds who are no doubt looking forward to grilled burgers. Giving the masses what they want is good hosting, but you can still try your hand at a little experimentation when serving burgers at your next backyard barbecue. The following recipe for "Herb Cheese-Stuffed Garlic Burgers" from Andrew Schloss' and David Joachim's "Mastering the Grill" (Chronicle Books) provides the best of both worlds.
2 pounds ground beef chuck, 85 percent lean
2 tablespoons chopped garlic
1/2 teaspoon kosher salt
1/4 teaspoon ground black pepper
3 tablespoons herbed garlic cream cheese, such as Boursin
6 hamburger buns, split
Oil for coating grill grate
Gas: Direct heat, medium-high 425 F to 450 F; clean, oiled grate
Charcoal: Direct heat, light ash; 12-by-12-inch charcoal bed (about 3 dozen coals); clean, oiled grate on lowest setting
Wood: Direct heat, light ash; 12-by-12-inch bed, 3 to 4 inches deep; clean, oiled grate set 2 inches above the fire
1. Heat the grill as directed.
2. Using your hands, mix the beef, garlic, salt, and pepper in a bowl until well blended; do not overmix. Using a light touch, form into 12 patties no more than 1/2-inch thick.
3. Put a portion (about 1 ½ teaspoons) of cream cheese in the center of each of the 6 patties; top with the remaining patties and press together, taking care to seal the edges well. Refrigerate the burgers until the grill is ready.
4. Brush the grill grate and coat it with oil. Put the burgers on the grill, cover and cook for 9 minutes, flipping after 5 minutes, for medium-done (150 F, slightly pink). Add a minute per side for well-done (160 F).
5. To toast the buns, put them cut-sides down directly over the fire for the last minute of cooking.
6. If serving the burgers directly from the grill, serve on the buns. If the burgers will sit, even for a few minutes, keep the buns and burgers separate until just before eating.
---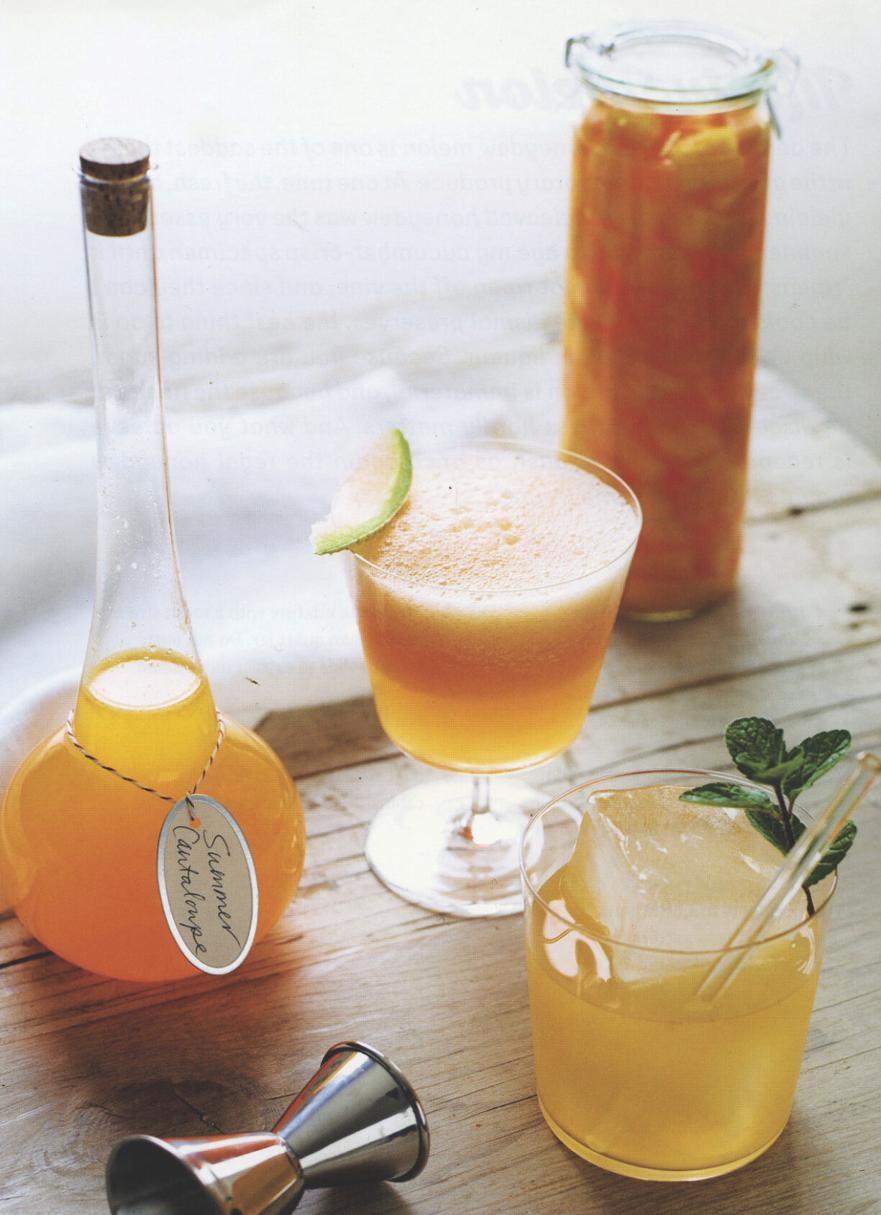 Summer Cantaloupe
Summer is synonymous with many things. Vacations, warm weather and al fresco dining are part and parcel of many people's summertime routines.
Another beloved routine is enjoying a cold beverage on a warm summer evening. As summer breezes invite scores of people outside to relax on their patios, decks or balconies, a cold beverage can be just what's needed to take such relaxing nights one step further. The following recipe for "Summer Cantaloupe" from Andrew Schloss' "Homemade Liqueurs and Infused Spirits" (Storey Publishing) is easily whipped up and can go a long way toward making summer evenings especially sweet.
1 fifth (31/4 cups) 80-100 proof vodka
4 cups cantaloupe chunks
1 cup simple syrup (see below)
Finely grated zest of 2 lemons
1. Muddle the vodka, cantaloupe and lemon zest with a wooden spoon in a half-gallon jar. Stir to moisten everything.
2. Seal the jar and put it in a cool, dark cabinet until the liquid smells and tastes strongly of melon, four to seven days.
3. Strain the mixture with a mesh strainer into a clean quart jar. Do not push on the solids to extract more liquid.
4. Stir in the simple syrup.
5. Seal and store in a cool, dark cabinet. Use within one year.
2 ¼ cups water
2 ¼ cups granulated cane sugar
Mix the water and sugar in a small saucepan until the sugar is all moistened. Bring to a boil over medium-high heat. Stir to make sure the sugar is completely dissolved, then remove from the heat and let cool. Refrigerate for up to three months.
---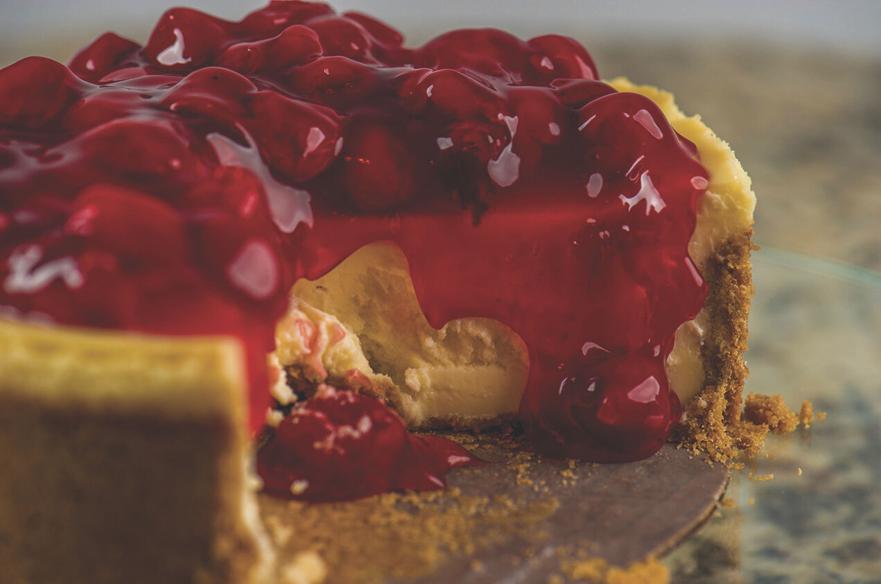 New York Cheesecake
Rich, creamy and decadent, cheesecake is enjoyed across the globe. There are many famous cheesecake bakeries in North America, and those who can't resist digging their forks into this beloved dessert may assume that cheesecake traces its origins there. In fact, cheesecake traces its origins to the ancient Greeks.
The first "cheesecake" is believed to have been created from a ricotta-type cheese base on the Greek island of Samos. Excavated cheese molds were found there that dated to around 2,000 B.C. Cheesecake was considered a good source of energy and there is evidence that even Olympic athletes were fed cheesecake during the first games. Greek brides and grooms also were known to rely on cheesecake as their cake of choice for weddings. Original cheesecakes were made from flour, wheat, honey, and cheese, then formed and baked, according to Cheesecake.com.
After the Roman conquest of Greece, cheesecake was adopted by the Romans. Their name for this type of cake was "placenta" and it was baked on a pastry base or sometimes inside of a pastry case, advises What's Cooking America. Cheesecakes also were called "libum" by the Romans, and were used as an offering at the gods' temples. Cheesecakes also were introduced to other areas of Europe thanks to conquering Roman armies. By 1,000 A.D., cheesecake could be found throughout northwestern Europe, England and Scandinavia.
Through the years, cheesecake's popularity spread elsewhere. However, New Yorkers say that cheesecake was not really cheesecake until it got an Empire State makeover in the 1900s. Many New York restaurants have their own versions of cheesecake, with Turf Restaurant laying claim to the first cream cheese-based cheesecake recipe in 1929. New York dairy man William Lawrence accidentally invented cream cheese in 1872 while trying to recreate a soft, French cheese known as Neufchâtel. Little did Lawrence know that this mistake would inadvertently revolutionize cheesecake recipes.
Cheesecake technically is a pie and not a cake, and there are versions that are baked and others that firm up in the refrigerator without having to cook a custard base. Many cheesecake afficionados have a favorite cheesecake recipe. However, this classic and iconic New York cheesecake, courtesy of Philadelphia Cream Cheese brand, is an ideal one to make your own.
1 ¼ cups graham crumbs
1/4 cup butter, melted
5 packages (250g each) Philadelphia Brick Cream Cheese, softened
1 cup sugar
3 tablespoons flour
1 tablespoon vanilla
1 cup sour cream
4 eggs
1 can (19 fl. oz) cherry pie filling
Preheat oven to 325 F if using a silver 9-inch springform pan (or to 300 F if using a dark nonstick 9-inch springform pan). Mix crumbs and butter; press firmly onto bottom of pan. Bake 10 minutes.
Beat cream cheese, sugar, flour, and vanilla in large bowl with electric mixer on medium speed until well blended. Add sour cream; mix well. Add eggs, one at a time, mixing on low speed after each addition just until blended. Pour over crust.
Bake for 1 hour and10 minutes, or until center is almost set. Run a knife or metal spatula around the rim of the pan to loosen cake; cool before removing the rim of the pan. Refrigerate for 4 hours or overnight. Top with pie filling before serving. Store leftover cheesecake in the refrigerator.