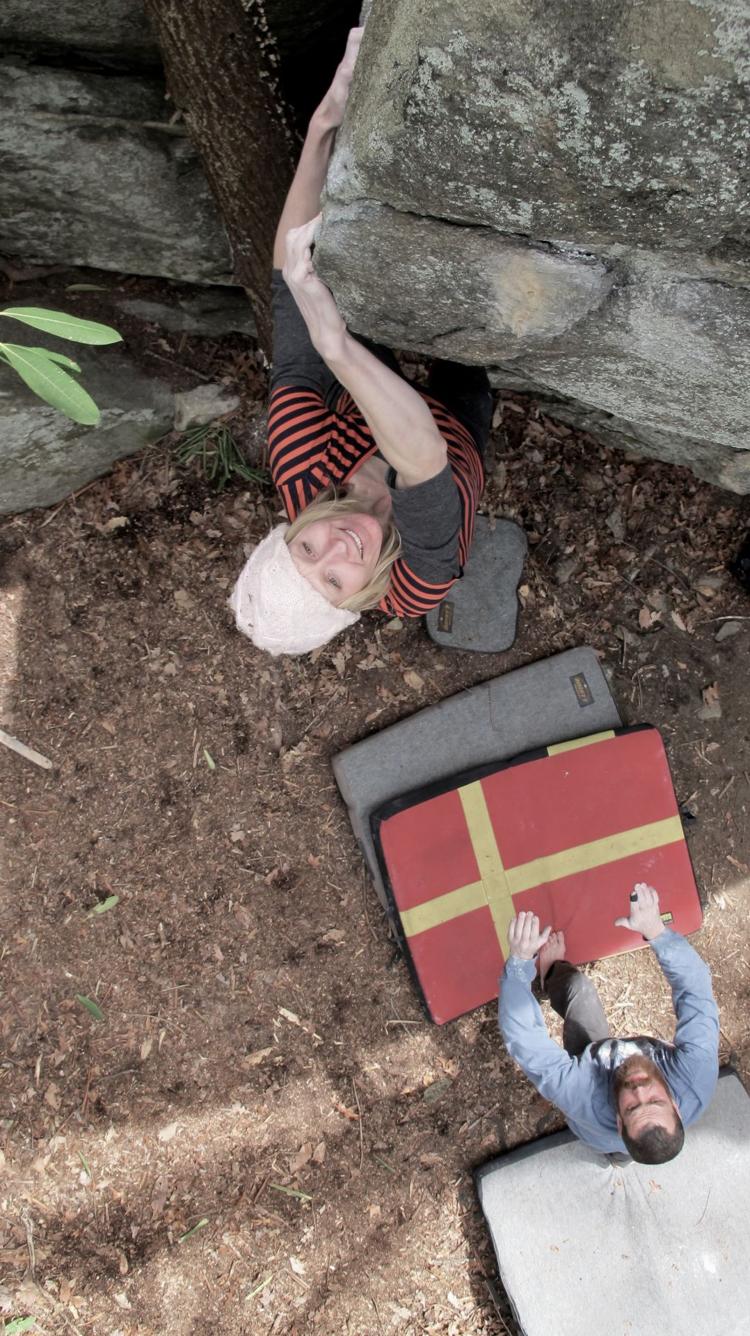 Kim Fuelling
Most people don't associate rock climbing and painting, but for Kim Fuelling, that's part of her everyday life.
Kim, along with her husband Paul, moved to the High Country in 2000 after a visit to the area for the Hound Ears climbing competition.
"We basically started bouldering together, and we were traveling in an old car around the country together to different climbing spots," Paul says. "Our travels were coming to an end, but we heard about one more spot to get to, which was Boone, and we came and were like 'why would we leave?'"
Kim estimates that the couple had only $400 when they moved, describing herself as "obsessed" with climbing at the time.
"I fell in love with the culture and the people here; everyone is friendly and warm," she says. "The climbing is exceptional. There's a lifetime of climbing here. The rock quality is excellent, and there's always new areas to discover."
Since moving to the area, their climbing activity has slowed—with the couple getting out to climb "maybe once a week"—but their artistic careers have accelerated. In 2010, a decade after living in the area, the couple opened Mabel Studios as a way to showcase Kim's painting and design skills and Paul's ability as a craftsperson and woodworker.
"Most of my work is done in oils on various types of wood panels that we build at Mabel Studios. Some are large scale on reclaimed wood with tons of character, and some are on a more traditional, smooth panel," Kim says. "My work is inspired by the Appalachian landscape, vintage travel and park service posters, and some of our great American fine artists like Agnes Martin and Richard Diebenkorn."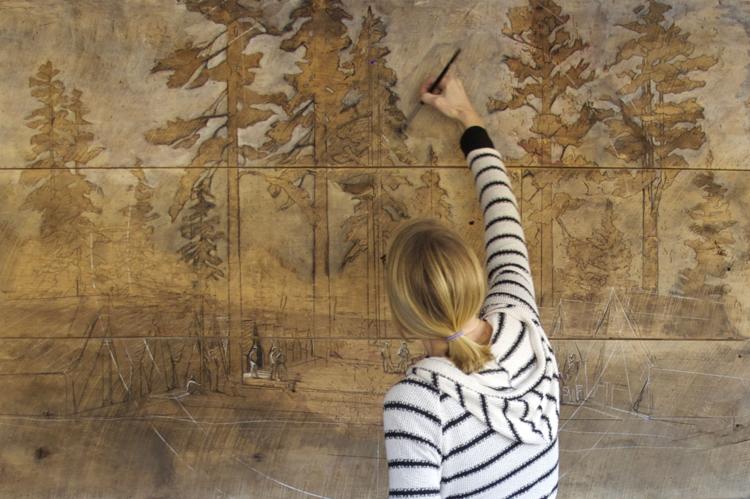 It was partly Kim's painting that brought her and Paul together.
"One of the reasons I was attracted to her was because I thought she was a good painter and had an aesthetic that matched mine," he recalls. "Now our work is so closely tied together, and we work on each others' projects together and critique each other and try and push each other." Kim is also a big part of the woodshop as well, helping design, sand, and finish pieces. The two churn out "one-of-a-kind work" that includes furniture pieces along with fine art.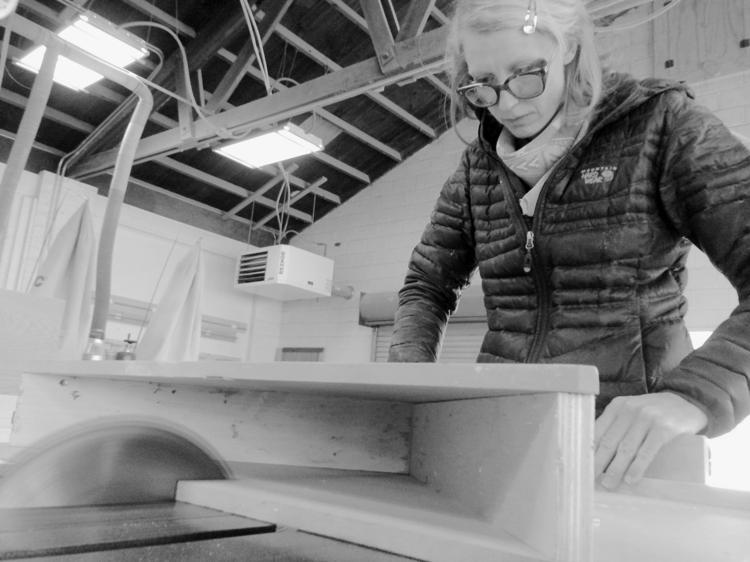 "Mainly her art is her life," Paul says. "She is committed to it, and she's definitely passionate about what she does and tries to do the absolute best work that she can produce."
The woodshop itself is located at the historic Cove Creek High School building in Sugar Grove, just a few miles down the road from Kim's painting studio and gallery space, which also doubles as their home. Kim and Paul chose to combine their gallery, studio space, and home as a reflection of their "free" lifestyle.
"One of the things about us is that we don't clock in and clock out; our work is our life," Paul says. "Our activities are in the same vein. We strike when the iron is hot, and we designed our whole lives to have that freedom to be able to paint and to do things we enjoy."
And when guests come to stay? The couple remodeled a 1973 Airstream camper to serve as a guest space and have completed other custom camper projects that people can view on their website, mabelstudios.com, along with their other work.
---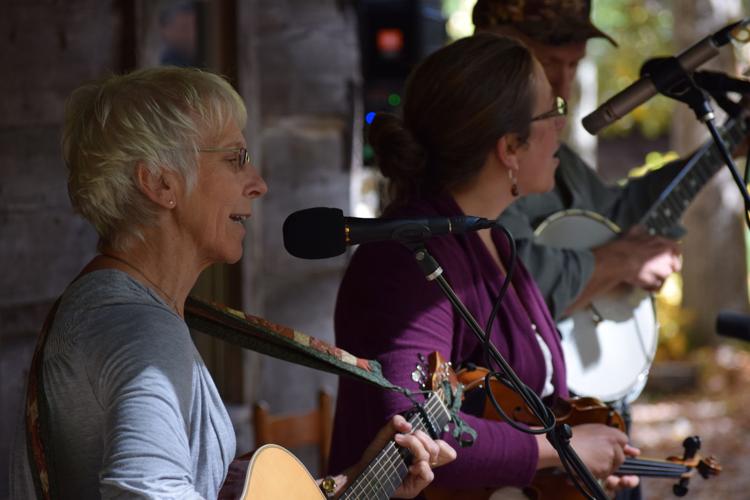 Deborah Jean Sheets
A self-described follower of the "old ways," Deborah Jean Sheets is the living embodiment of traditional Appalachian culture.
Sheets, a former educator, lives with her husband Randy in Valle Crucis, in a house they built themselves. Randy and Deborah Jean grow most of their own food in their garden and make a lot of their home goods by hand, all in an attempt to preserve and honor the old way of living.
"We are very connected to our home because when you do things yourself, it takes time," Deborah Jean explains.
Deborah Jean and Randy, along with their daughter Kelly Sheets Snider, make up the Sheets Family Band. The family band performs original music as well as reprising traditional, old-time songs.
"She is a great performer; she's one of the best harmony singers around. Hearing her on stage or at a party, it's incredible," says Mark Freed, town of Boone cultural resources coordinator. "She can find ways to blend her voice with anyone."
For Deborah Jean, her love of traditional music and Appalachian culture began shortly after graduating from Appalachian State.
"Gradually through social settings I became familiar with this type of music I didn't know existed," she remembers. "I was 26 or so, and I was at a party and was sitting on a stool on the outskirts of this (music) jam that was going on, and before I knew it I was in the middle of the jam just sitting and listening, and it was an incredible experience, and I thought I wanted to do that, I want to participate."
Deborah Jean took a community college class shortly after that experience in the jam circle to learn the basic "banjo lick" and has continued refining her craft ever since.
"She's a great songwriter; she doesn't have a huge catalog of songs, but several of the songs she wrote are recorded," says Mark. "She's a really neat artist, and it comes to her in waves, and when it does come to her, it's really special."
As an accomplished musician and performer, Deborah Jean works to pass on the traditional style of music to the next generation as an instructor with the Boone Junior Appalachian Musicians program at the Jones House.
"The tradition and keeping the kind of pure way of living like that is important to them; traditional music is dear to them," Mark says. "They perform the music because they love the music, but also because they have this internal connection, and they're very aware that they're a link of a chain."
Deborah Jean looks at the JAM program as a way to show children what they're missing out on. "I think it's important to expose them to the heritage music and that's what I always do," she says. "We're always looking for things to excite them."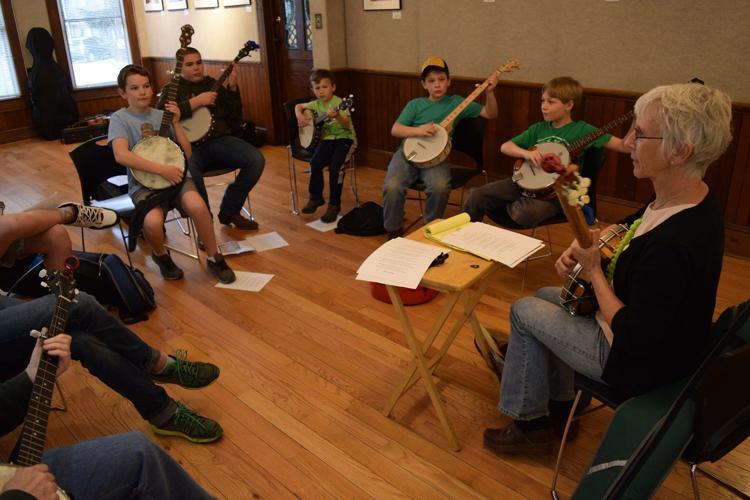 As a music teacher, she uses her educational background to connect with students on a personal level.
"She's a fantastic teacher and is super patient; she works great with people," Freed says. "She's really connected with some of her students."