Wedding plans are more than endless chores and to-do lists — the choices you make reveal who you are. The flowers you select help tell your story and wrap you, the person you're marrying, your family and friends in love.
When your grandmother got married, she likely went to her local florist who either sold their own flowers or sourced them from a nearby farmer. You could tell what part of the country and time of the year people got married just by looking at the flowers they carried. Today, most of the wedding flowers pictured on social media tell a story that started with technical innovation, economics, the Nixon administration and endless summer.
Confused? It's complicated.
Through the 1960s, innovations in refrigerated transportation had made it cheap and easy to move goods around the world. By 1969, a group of American growers, taking advantage of year-round growing conditions, created Floramerica, a flower farm outside of Bogota, Columbia. Meanwhile back home, President Nixon's administration had passed the Clean Air and Clean Water Acts, imposing environmental regulations that banned the use of many common agricultural chemicals.
Facing a new regulatory climate and higher labor costs, American growers found it was cheaper to grow flowers outside the U.S. and ship them back into the country. Today, Columbia remains the world's largest producer of cut flowers, shipping to markets that supply most U.S. retailers and florists. This is big business, with over $2 billion worth of flowers moving around the globe for Mother's Day alone.
In order to survive the journey, flowers first have to be treated with preservatives, then doused with pesticides to reduce the possibility of agricultural pests hitching a ride into the U.S. Look closely at the wedding flowers featured on social media — it's often the same handful of species being used creatively. That's because a limited number of flowers are sturdy enough to endure chemical treatment, international shipping and arrive still looking good.
In North Carolina, farmers are working hard to bring flower growing back home and consumers are responding — last year we bought over $5 million worth of cut flowers from North Carolina farmers. Like the flavorful food found at the farmers' markets, locally produced flowers offer the unique flavor of their region.
Susan Wright and her husband Brent have been farming in Ashe County for decades; they've watched as interest in local flowers increases. Growing over 250 varieties of flowers at Shady Grove Gardens, they are able to offer brides choices not found in the cargo containers entering the country from Columbia.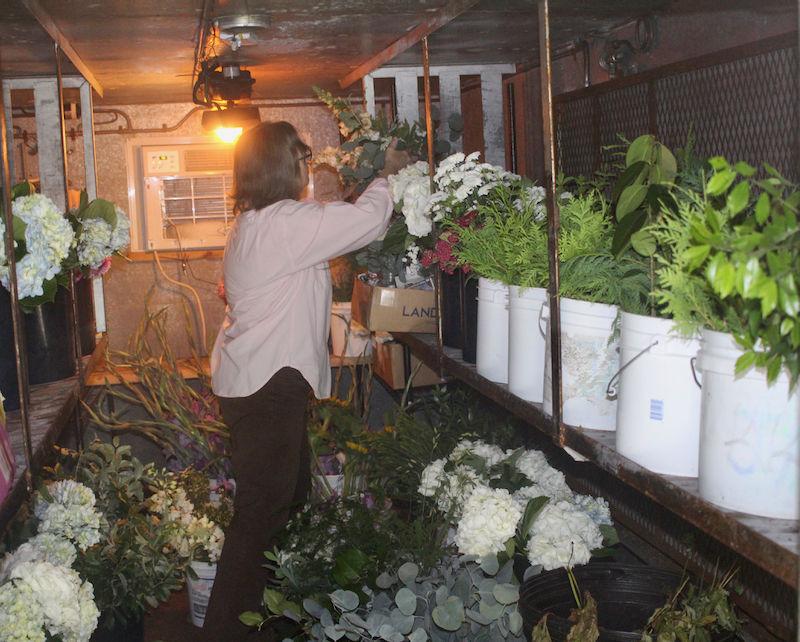 The High Country is a popular destination for weddings; couples come from off-mountain and out of state to begin the story of their life together. These brides incorporate High Country music, food and flowers in their events. Susan Wright estimates over 80 percent of the brides she helps come from outside our region. These brides appreciate that local flowers are connected to this land and help reveal the time and place of their special story.
Susan's husband gathers flowers from their organic fields, and she then spins them into dreamy bouquets and decorations. Stepping into the converted milk truck they use as a cooler, Susan shows me buckets of blooms that will be picked up tomorrow by brides who want to create their own magic. In the darkness of their converted cooler Mason jars filled with water are labeled with tiny tags; "bride," maid of honor" or "bridesmaid" hold bouquets waiting to take their place on stage.
These delicate blooms will never know preservatives, pesticides and transoceanic voyages; instead they sing mountain sunshine, cool nights and gentle breezes. Theirs is a High Country story.