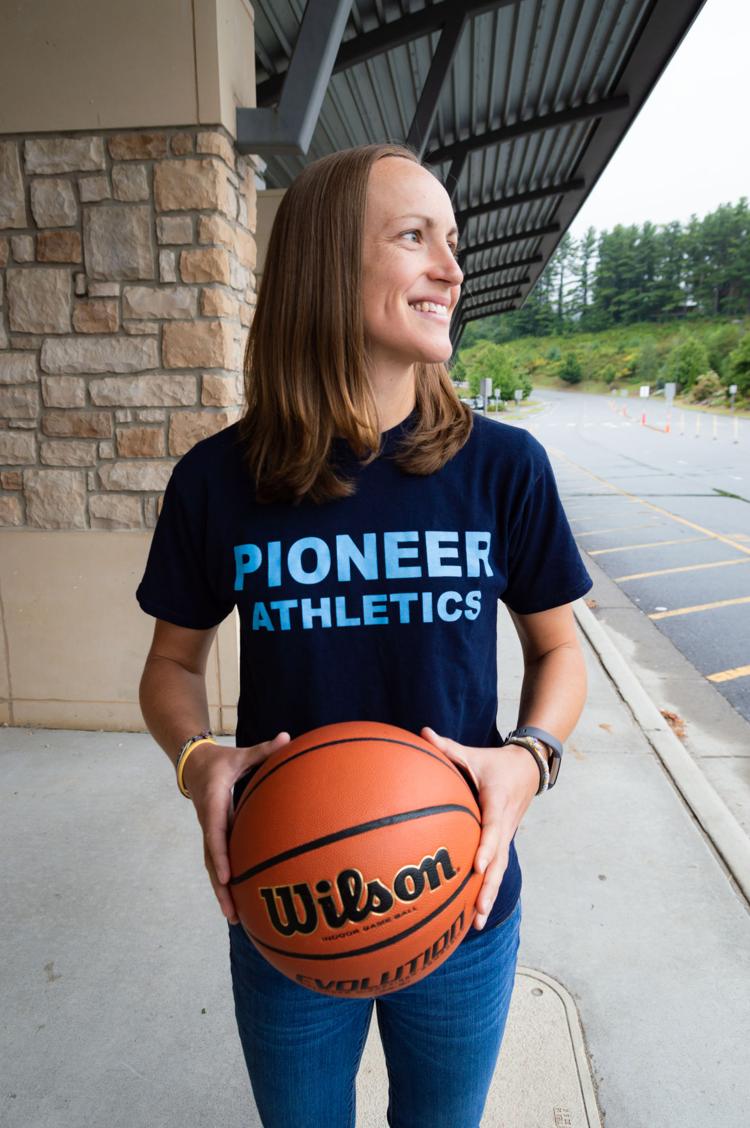 Few things in life shape a young person's future more than the support, advice and level of encouragement they receive from the adults and mentors in their life. That's a lesson that local basketball coach Laura Barry learned in her own career on the court, and she's vowed to show the same level of commitment to her athletes that was shown to her by her parents and the inspiring leaders in her life.
A Natural Leader
Although basketball wasn't her first sport, she quickly learned it was her favorite.
"I actually played soccer first at age 5, but I knew at a young age that I liked basketball better. My parents played basketball through high school, so it was normal for me to play as a young kid. I fell completely in love with it in my middle school years," she says. "I loved the competition and it felt very natural to me. Soccer and softball were hard, but basketball came easy. I played up with my sister's age a lot (two years older than me) and could hold my own, so I had a lot of confidence as a kid. When you're good at something, you usually tend to like doing it more."
After years of practice, hard work and growth (both personally and on the court), Laura joined the women's basketball team at the University of North Carolina (which made it to the NCAA Final Four in 2007 while she was there) — an experience that altered the course of her future.
"Playing at UNC changed the career trajectory of my life. I always loved the game, but the deeper I got in it as a college player, the more I realized I didn't like anything else as much. I learned so much about the game from my coaches there and from playing at such a high level in the ACC," she said. "It opened my eyes to how much better it gets the deeper you dive into it. I tried my first year out of college to get a job at a nonprofit and go into the business world, but I found myself looking for coaching jobs after less than one year."
Now knowing she was ready to turn her passion into a career, she spent time working as an assistant coach at Allegheny College in Pennsylvania, St. John's University in New York and East Tennessee State University before making her way to the High Country.
"I love how solid the community is here. There are so many people here who are genuine and willing to help others. I have lived in bigger cities and I appreciate the neighborly vibe here. I also love how great a school Watauga is … they have a great staff, great resources and the best students," she says. "I came to Boone and took the high school job really knowing very little about the school and community. The people here are what makes it a great place to live."
The Apex, North Carolina, native joined the faculty at Watauga High School in 2016 and was named coach of the girls' (and eventually the boys') basketball teams, a position that has primed her to be a role model for young athletes (male or female) and anyone who aspires to try a new sport or brave new territory.
"At first, I thought about all the reasons I couldn't or shouldn't coach the boys, and then I kind of shifted and realized what an opportunity it was for me, the guys and the community of young females. So many males coach female sports, which I think is great, but there's no reason more females shouldn't coach male sports," she says. "It's about experience and qualification, not gender. I hope that me coaching a guys' team this year helps younger girls in the High Country think more outside the box and limit themselves less around the way things were done in the past. Courage is a choice, and practicing it makes it easier. Anyone that is nervous to do something should lean into that fear, learn to be okay with failure and just go for it."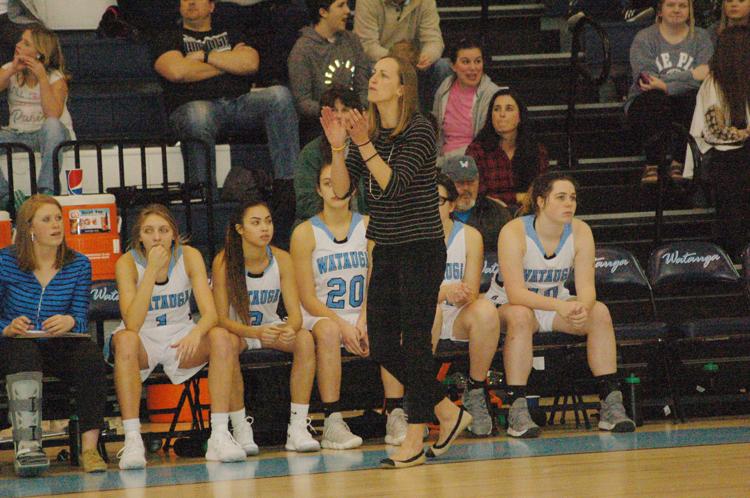 Driven by her passion for leading young people and her intense love for the sport, Laura left her teaching position at Watauga High at the end of the 2018 school year and established Peak Basketball — a training organization built on "Process," "Effort," "Accountability" and dedication to "Keep at it." Today, she runs the organization and has stayed on as head coach for both the girls' and boys' teams at Watauga.
"I created Peak Basketball to help provide training opportunities for athletes in the High Country. I grew up with great coaches outside of school that taught me the game and helped me develop skills to be successful," she explains. "Within that program we also had life and character development, which I think is so important for young adults.
"I wanted Peak to be a program where players could push themselves to learn and grow as players while understanding more about themselves through hard work, failure and competition. I have other coaches who help me in Peak and we all have the same philosophy of pushing athletes and helping them grow. Our main offerings are group workouts (12-24 athletes), travel teams, individual skills training and camps."
Driven to Make an Impact
A leader on and off the court, Barry's passion for the sport and for her athletes shows in everything she does.
"It's hard to quantify what I love about the game. I love the poetry of it — a great pass, perfect shot, anticipation on defense. I love teaching it and seeing kids get it and get better at a skill. When I'm on the court as a coach, I feel like I'm in my happy place. Time doesn't move the same, and sometimes I lose track of time, as my players can attest to. I don't know when or how it happened this way, but I care a great deal about the game itself."
Most importantly, however, she knows that there's more to basketball (and other sports) than what happens at practice or during a game.
"I'm big on teamwork! Caring for and playing for the person next to you can not only increase team performance, but it's a life skill that makes people better family members, employees and citizens. Sports can teach this in an amazing way," she says. "'It's not about you' is something I like our athletes to keep in mind. I also think sticking with something through adversity is always a present teaching point in sports. Whether it's a tough practice, a losing streak or not enough playing time, adversity is a guarantee in life and youth sports give kids a chance to practice staying positive through challenges."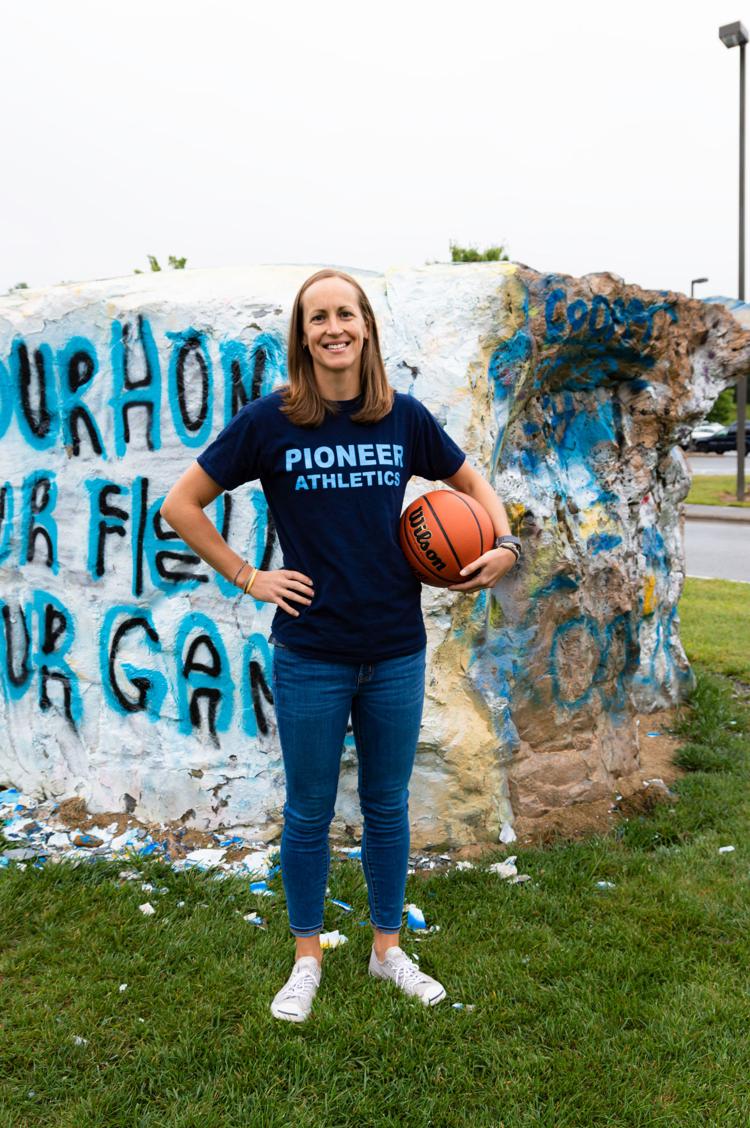 Inspired by her parents and the strong influence from coaches throughout her life, Laura is committed to making an impact on other athletes.
"I want to create an environment where student-athletes can be themselves and grow each day into a better version of that. Part of my mission is helping them develop confidence and be positive with themselves, but realizing in that process to chase growth," she says. "I think, as a coach, the most important thing you can do is love your players for who they are and where they're at and try to show them who you believe they can become. We should never provide limiting ideas or impressions of them. As I evolve as a coach and a person, I learn more and more how important relationships are and how lucky I am to use a game I love to impact and help young people. That drives me each day to become better at building those relationships."