My mother is an artist; therefore, I am often asked, "Are you an artist?" 
I sincerely believe that cooking is an art. And, like any form of art, cooking requires time and thought. How do I do it? Two words: menu planning!
I meticulously keep an inventory of dry ingredients, as well as stuff in the refrigerator and freezer, and I plan a weekly menu based on what needs to be used and what is seasonally available and/or on sale at the store. I should also mention that I have a database of my recipes — 220 and counting — that I pull from when making my weekly menu. 
I'd like to give you a little taste (see what I did there) of what I cook and eat over the course of 10 days — 10 courses if you will (I did it again). I've also shared a few of my favorite recipes. Bon Appetit!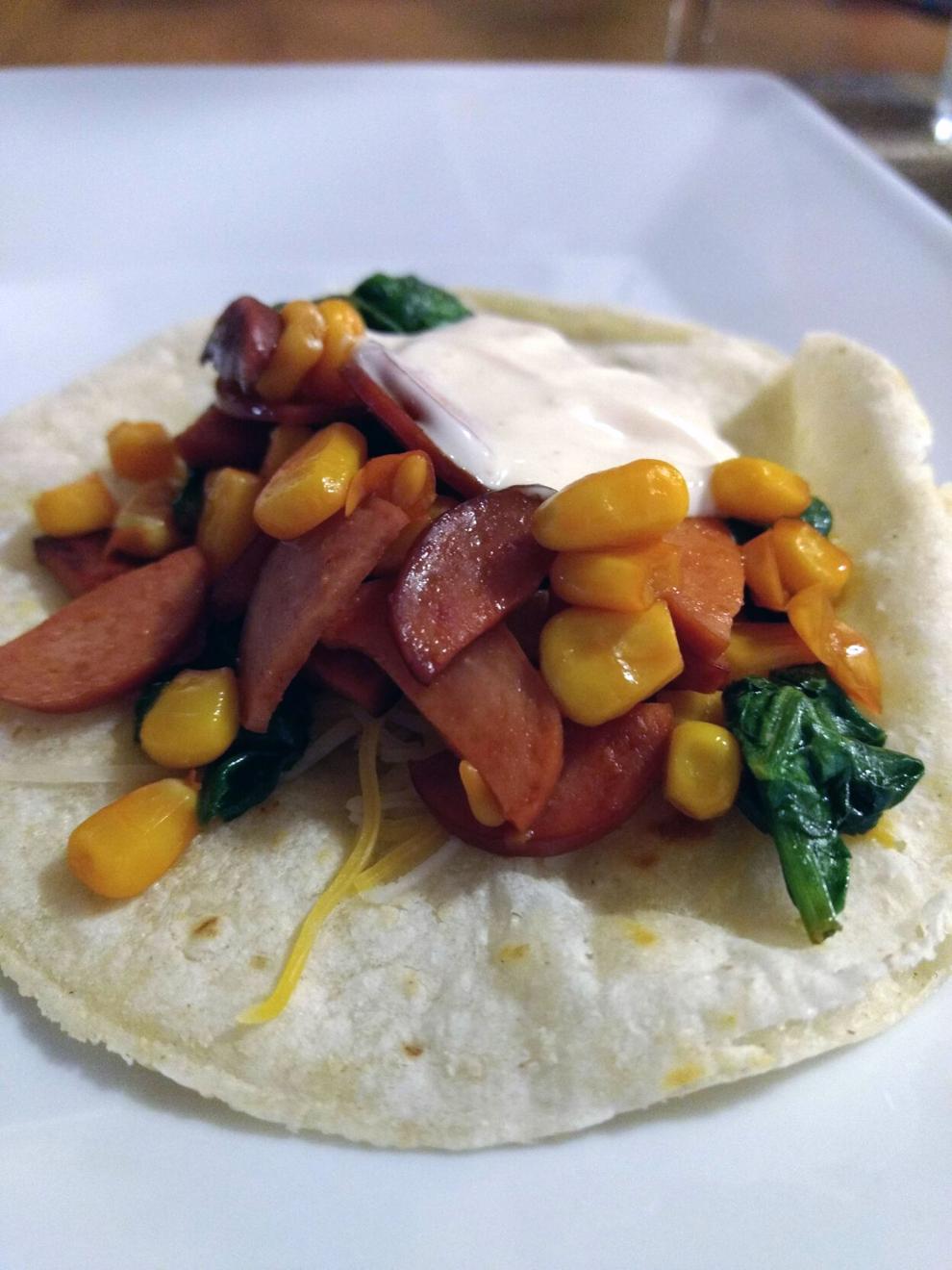 Day One
Let's begin with tacos! These are super fast and oh so tasty. My husband, Roger, says that he could eat them everyday.
Smoked Turkey Sausage, Spinach and Corn Tacos
2 links smoked turkey sausage, halved and thinly sliced
1 small can corn, drained and rinsed
1 tsp. chipotle olive oil* 
1 package Goya Sazon Culantro y Achiote seasoning
Heat a large pan to medium-high. Add the olive oil and sauté the turkey sausage until slightly charred. Add the spinach and corn and cook until the spinach is wilted. Season with the Goya Sazon Culantro y Achiote packet. Serve on griddled corn tortillas and top with shredded cheese and chipotle yogurt. 
¼ cup Chipotle or Spicy Ranch dressing
In a small bowl, combine the yogurt and dressing. 
Day Two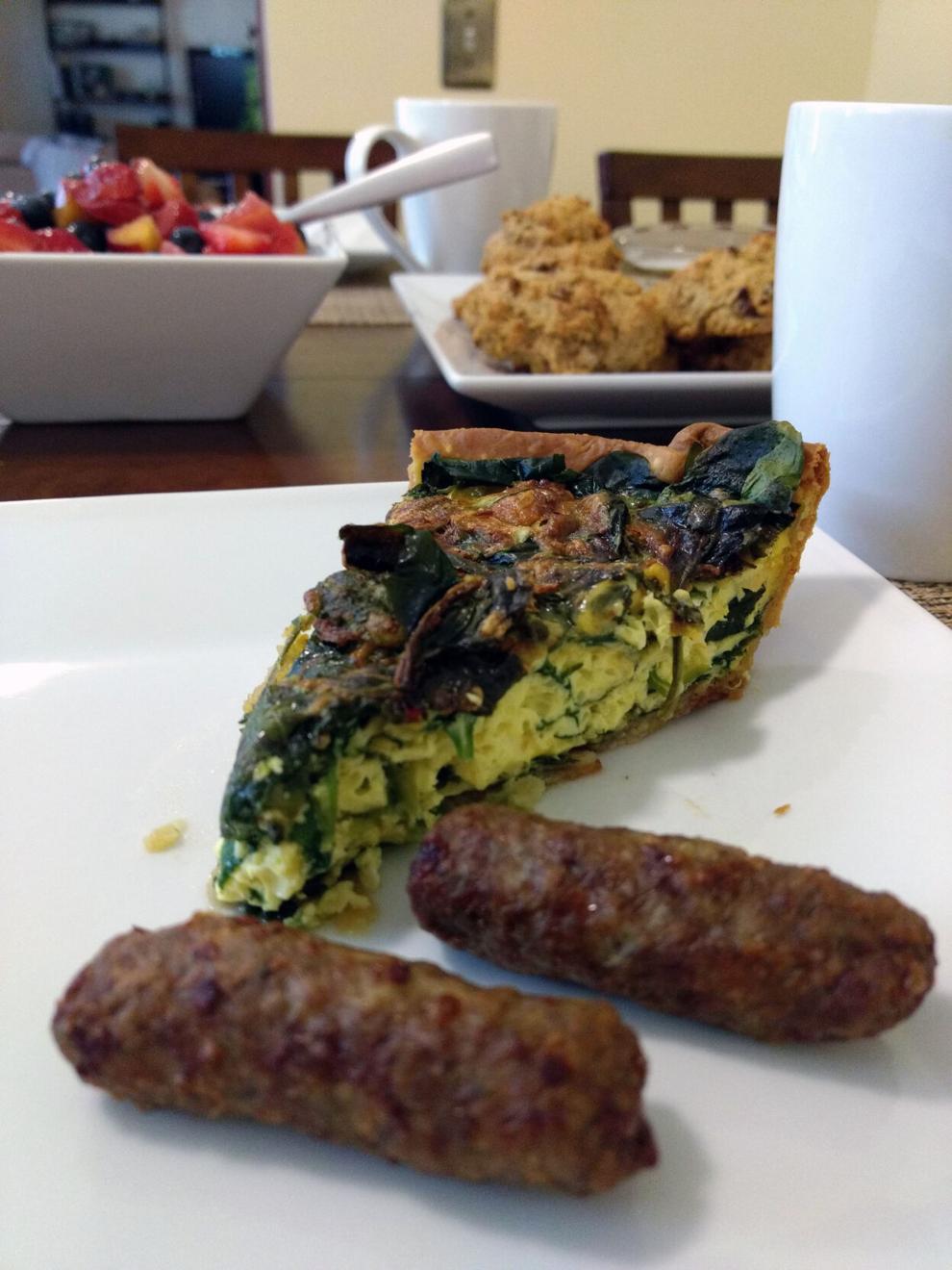 This is a typical weekend breakfast. I make a variety of quiches — this one combines fresh spinach and sharp cheddar. The scones are from a mix; I do not enjoy scratch baking.  
½ cup finely shredded sharp cheddar cheese
Preheat oven to 400 degrees. Allow pie crust to rest on the counter for approximately 15 minutes before unrolling and placing in a pie pan. In a medium bowl, combine the eggs, milk, olive oil, and salt and pepper. Mix well. After placing the crust in a pan, layer the fresh spinach and sharp cheddar cheese to the top. Pour over the custard mixture. Reduce oven temperature to 350 degrees and bake for approximately 40 minutes or until the crust is golden; If using a convection oven, cover with foil for the first 30 minutes and uncover for the final 10 minutes. Rest five minutes before serving.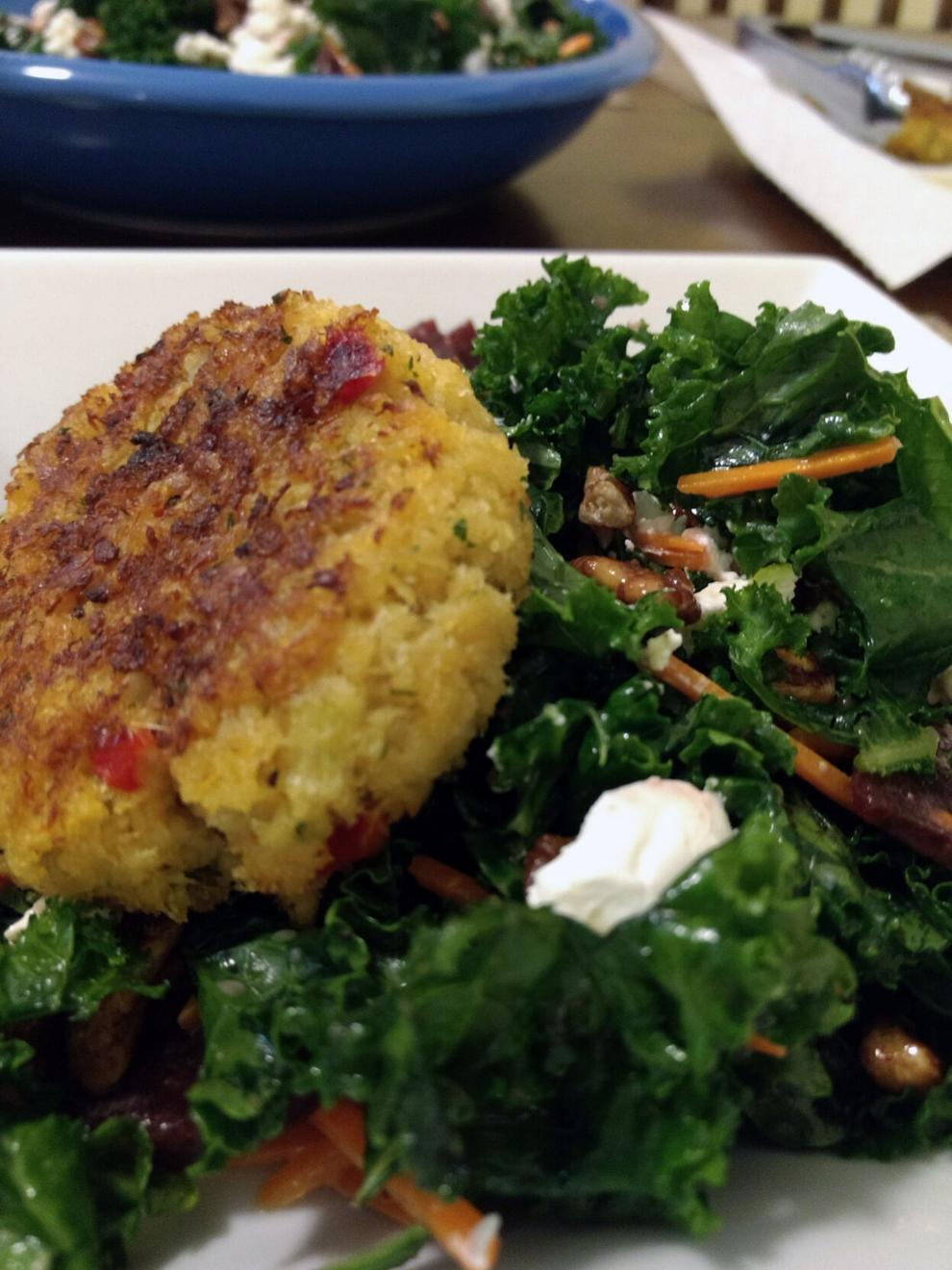 One of my favorite easy meals — the salad consists of citrus-massaged kale, baby beets, shredded carrots, goat's cheese crumbles and candied pecans in a poppyseed dressing. The crab cakes are store bought and cooked on my panini press. From start to finish, it takes approximately 15 minutes to make.
Day Three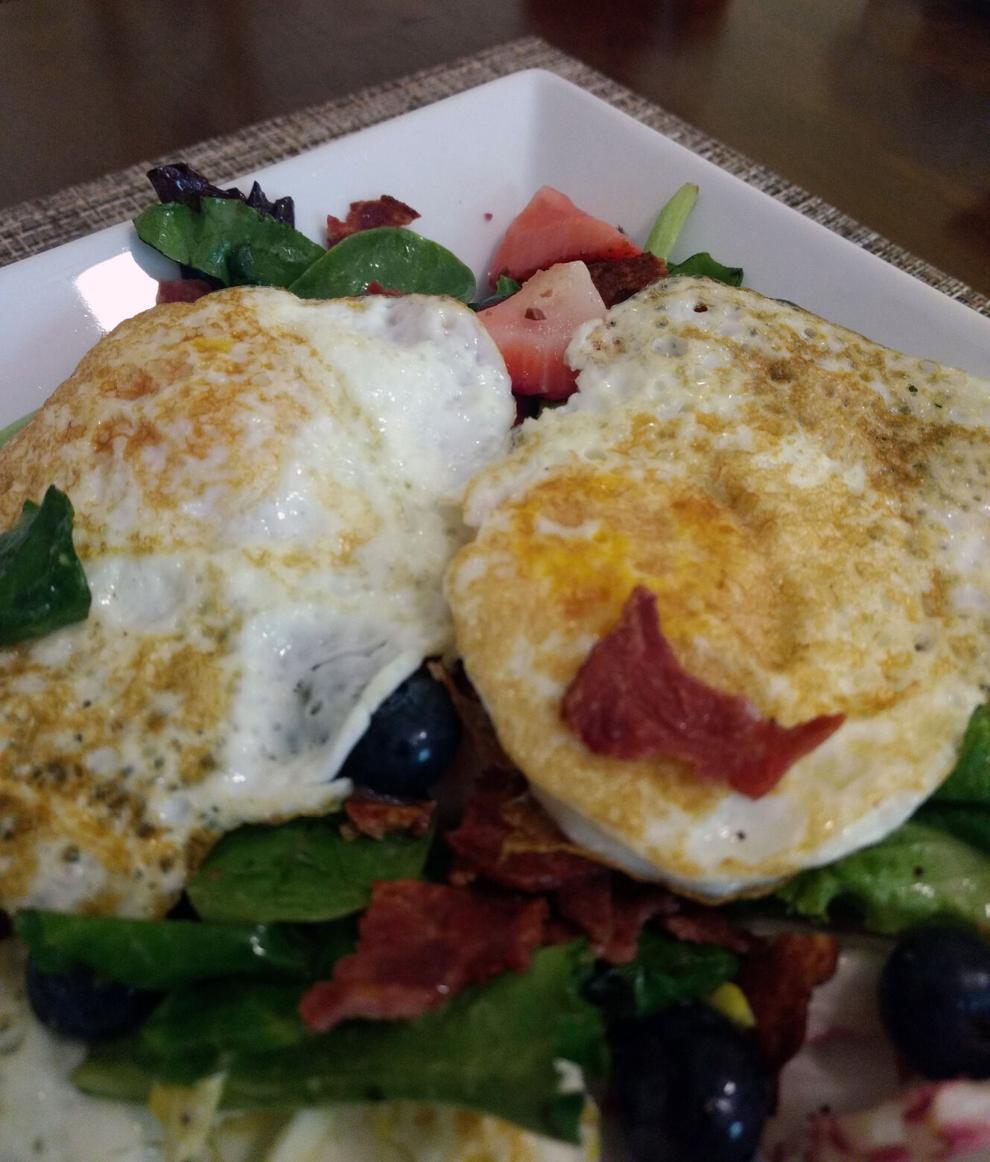 Salad for breakfast? Yes, please! Roger and I eat this often for breakfast on the weekends. It's quick and delicious!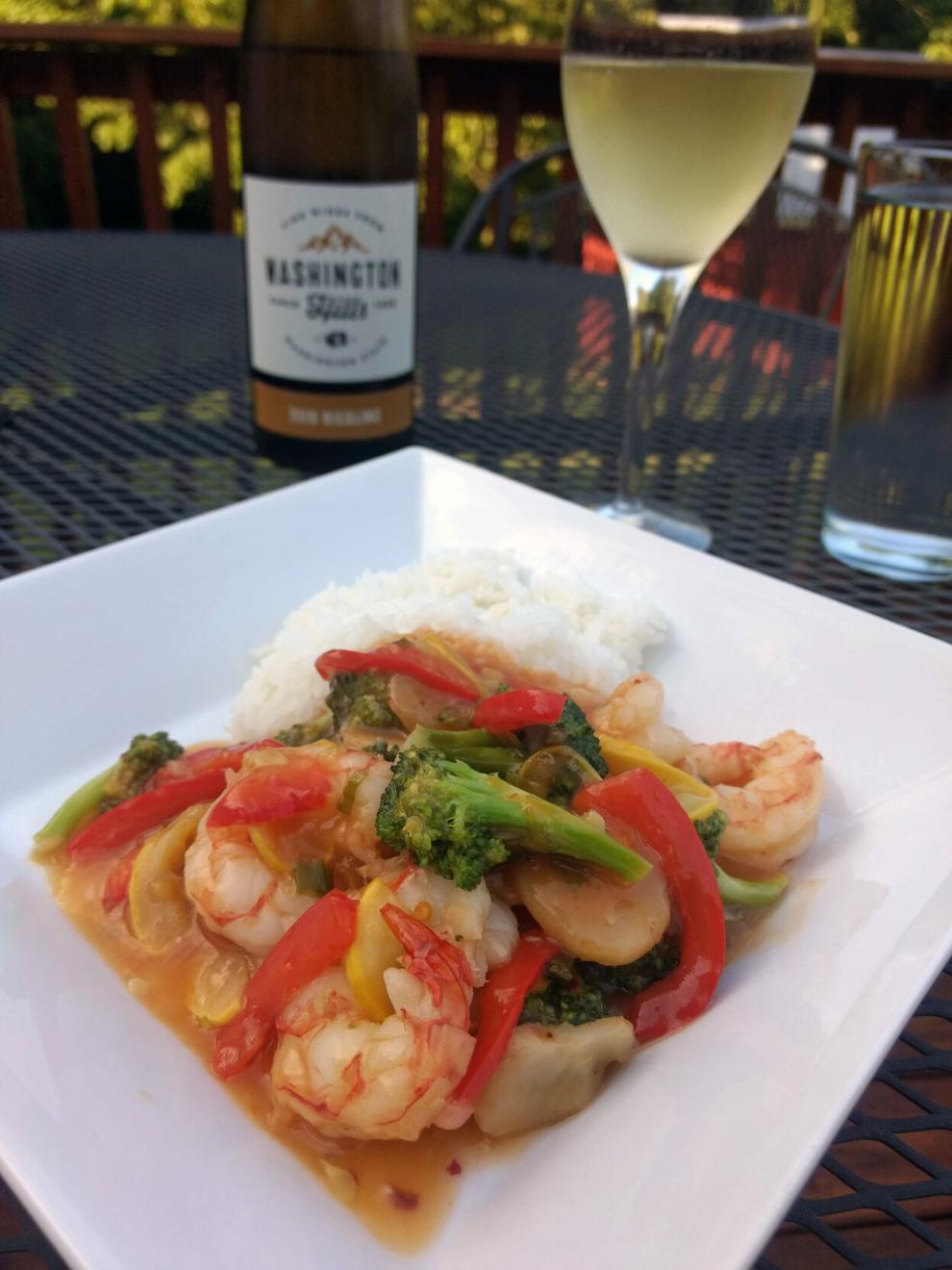 I cook a lot of Asian food, and this Chinese-inspired dish combines plump shrimp with broccoli, red peppers, yellow squash and water chestnuts in a sweet and spicy orange sauce — homemade, of course. It's better than takeout.
Day Four
My weekday breakfast of choice is hard boiled eggs. A little boring compared to my weekend breakfasts; however, my morning boiled egg works with my busy schedule and helps fill me up until lunch. 
A note about lunch: Roger and I are big fans of leftovers, so I always try to make enough of whatever we are having for dinner to have leftovers for the next day's lunch. That's why there are no pictures of my lunches. 
This satisfying pasta dish is garlicy, lemony and cheesy and perfect for weeknights or any night. Also, it's full of broccoli, which is my favorite vegetable.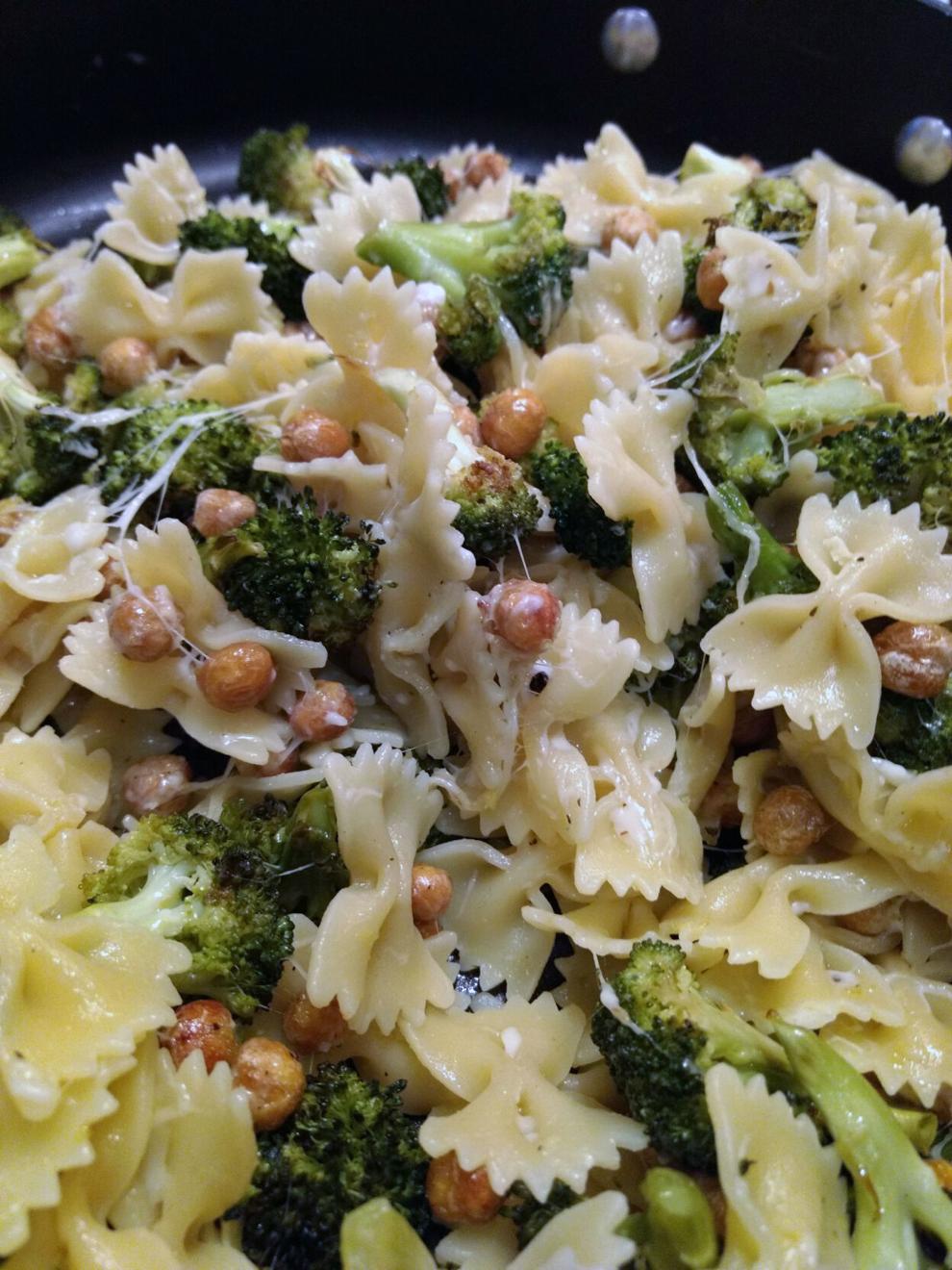 Roasted Broccoli and Garbanzo Pasta
3-4 medium-sized broccoli crowns, cut into bite size pieces
1 can garbanzo beans, drained and rinsed
3 cups pasta of your choice
1 Tbsp. garlic olive oil*
1 Tbsp. Milanese Gremolata olive oil*
½ cup shredded Parmigiano-Reggiano
Preheat the oven to 375 degrees. Toss the broccoli in the olive oil and season with garlic powder, salt and pepper. Spread on a baking sheet and roast for approximately 30 minutes or until slightly charred. 
Heat a large pan to medium-high. Add the olive oil and sauté the garbanzos for 10-15 minutes. Season with salt and pepper to taste. Add the roasted broccoli and stir in the lemon zest. Cook the pasta according to package directions, drain well, and combine with the other ingredients. Stir in the cheese and serve. If desired, drizzle with more olive oil before serving.  
Day Five
This dish has layers of Moroccan couscous, baby arugula, cherry tomatoes, sautéed spinach, roasted cauliflower and seasoned ground lamb. It's topped with homemade cucumber yogurt sauce, store-bought harissa and feta cheese crumbles. Not a fan of lamb? Substitute ground beef or turkey or crumbled tempeh.
Day Six
Roger and I love a good curry. My recipes are courtesy of my Uncle David who attended a cooking school in Thailand many years ago while on vacation. This classic green curry with flavors of coconut, lime, Thai basil and jalapeño, combines air-fried tofu with eggplant, zucchini, yellow squash, red bell peppers and carrots. It's served with Jasmine rice. 
Day Seven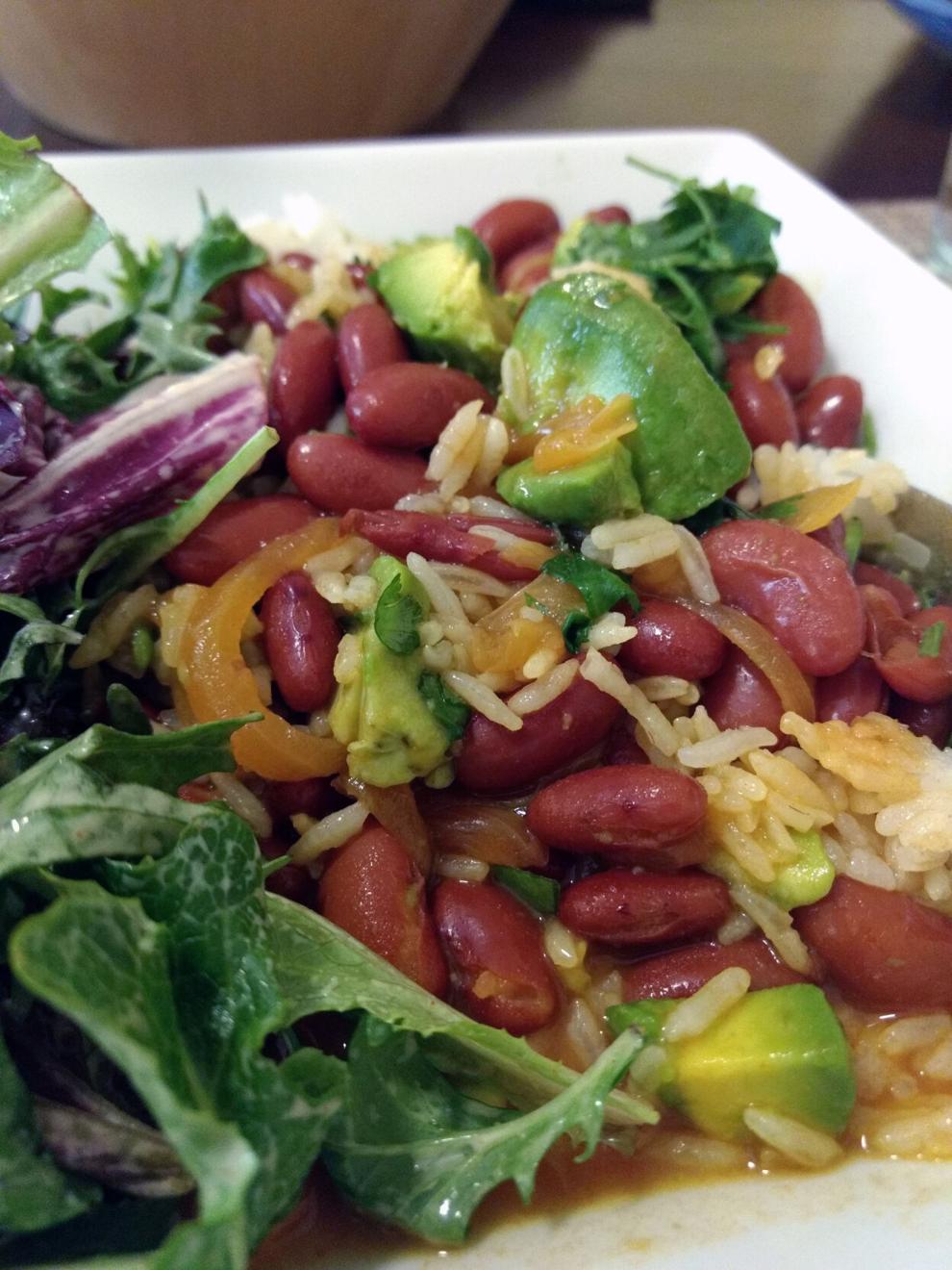 We enjoy some version of beans and rice almost weekly; this recipe, shared by our friends, Sharon and Carlos Robledo, is a favorite. It is simply canned light kidney beans — we use three cans — combined with one onion that has been sliced and caramelized and seasoned with two packages of Goya Sazon Culantro y Achiote. It's served over garlic rice and topped with fresh avocado and cilantro. 
Day Eight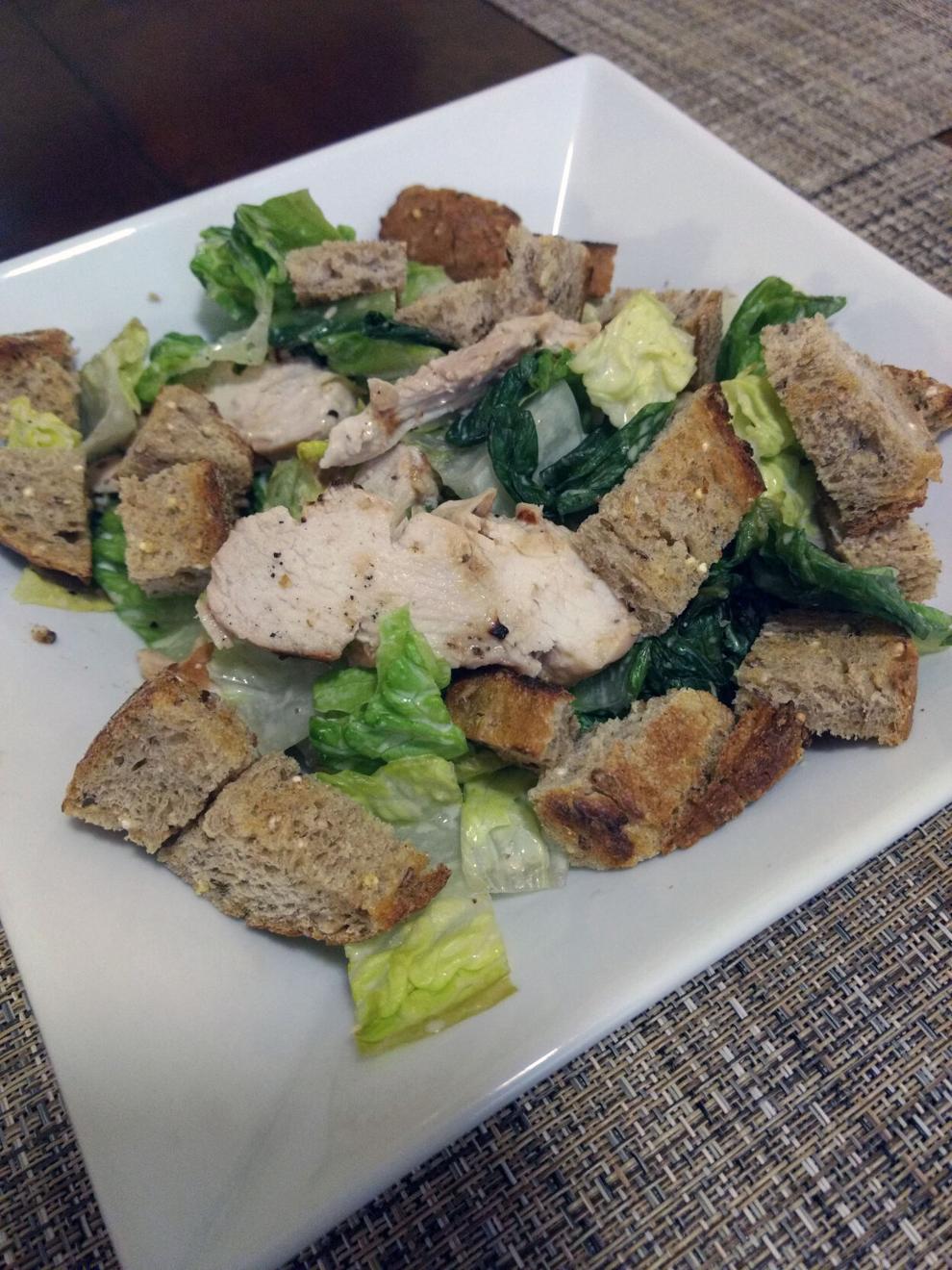 This entire dish is grilled — the chicken, the Romaine and the bread for the croutons. I enjoyed a version of this dish at a little Cuban restaurant in Aruba and it was my first time trying grilled Romaine. Now, I grill Romaine regularly to use in salads. Additionally, the chicken gets marinated overnight in Caesar dressing before grilling. 
Day Nine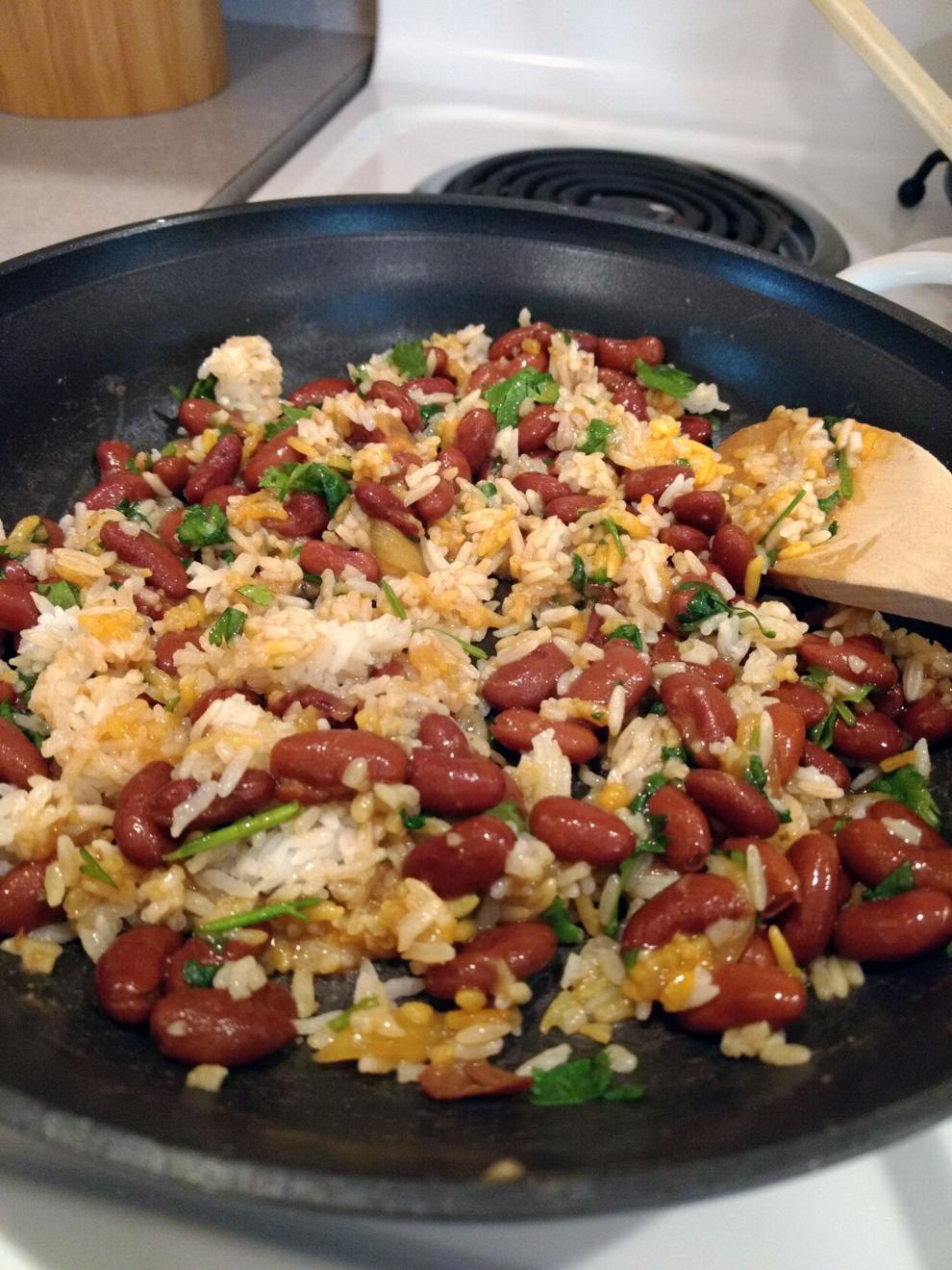 Remember the beans and rice from earlier in the week? Even after having portions for lunch the next day, there was leftover beans and rice. What to do? Make gallo pinto! Roger and I discovered gallo pinto in Costa Rica, where it's a typical breakfast dish that's served with scrambled eggs and sausage. I could eat it everyday. 
If I say so myself, and I do, my turkey burger sliders are everything burger should be — savory, juicy and perfectly sized! Toppings vary, but on this particular day, I paired the burgers with melted Brie and basil mayonnaise.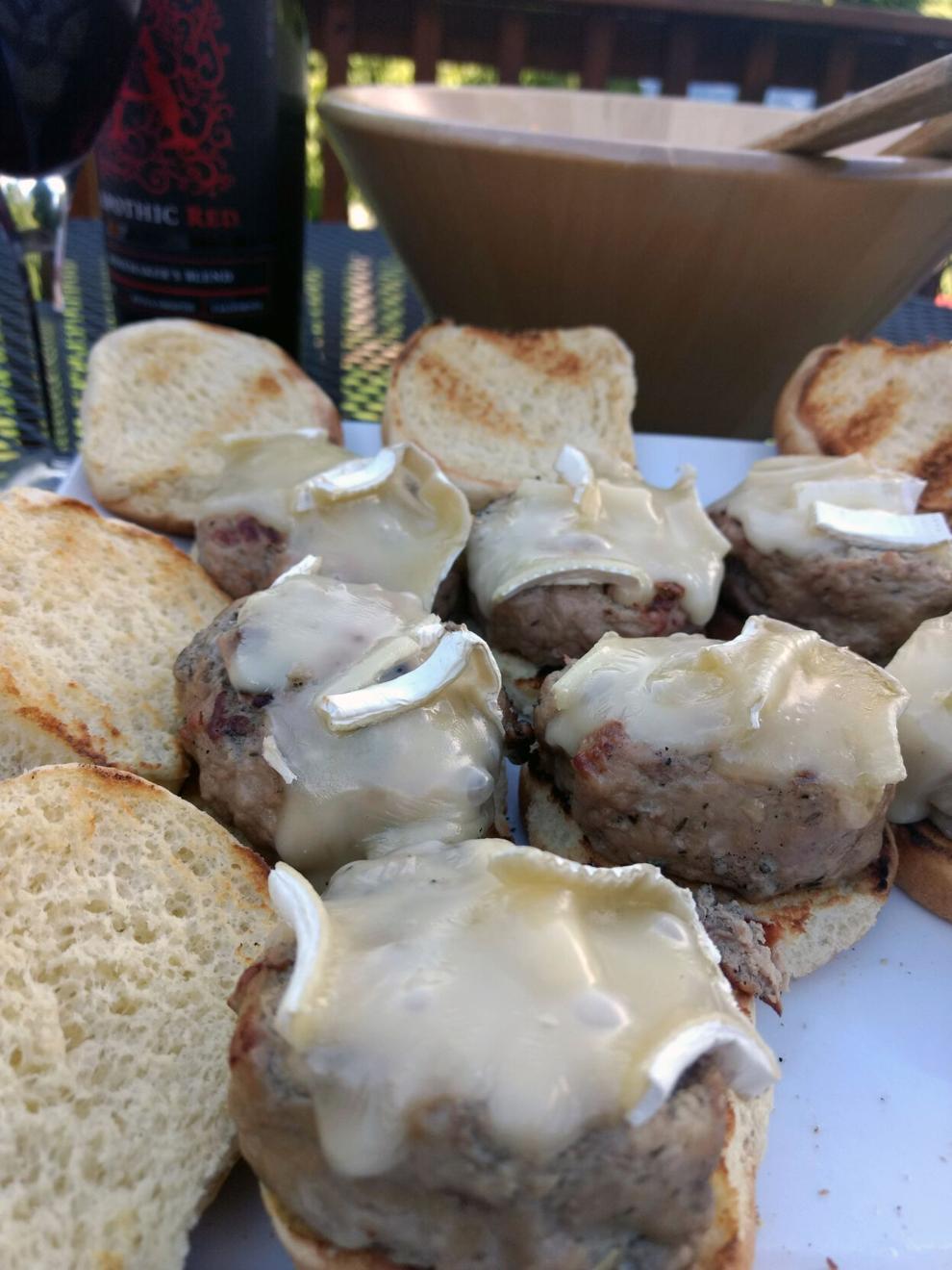 Savory Turkey Burger Sliders
1 lb 93 percent lean ground turkey
1 Tbsp. plain Greek yogurt
1 Tbsp. garlic olive oil*
1 Tbsp. Worcestershire sauce
½ tsp. Herbes de Provence
In a large bowl, combine the yogurt, garlic oil, Worcestershire sauce and dry seasonings. Add the ground turkey and mix well. Let rest in the refrigerator for an hour before forming into eight slider-sized patties. Grill over medium heat for approximately five minutes on each side. Lightly grill the buns and serve with your favorite toppings.  
Day Ten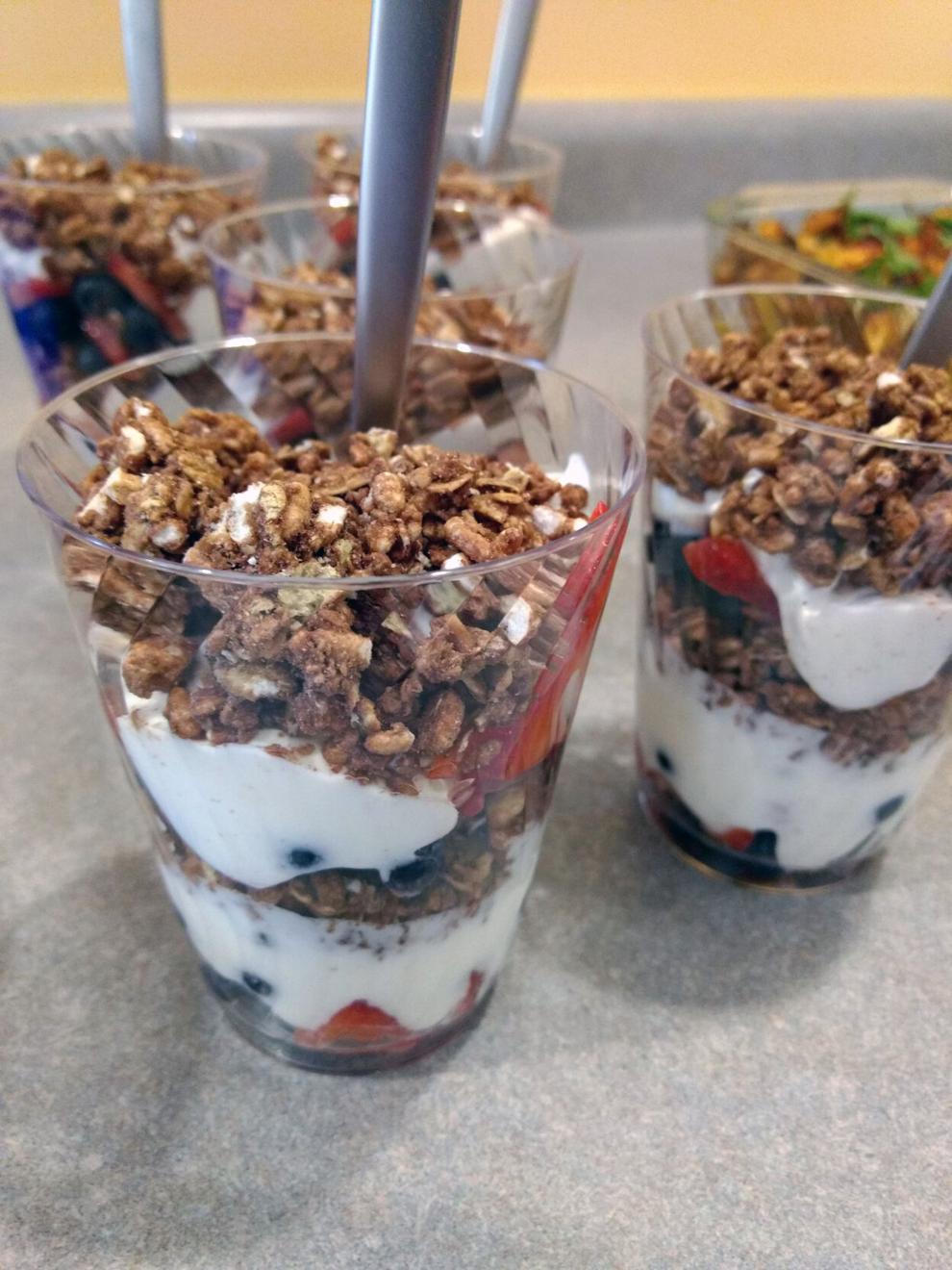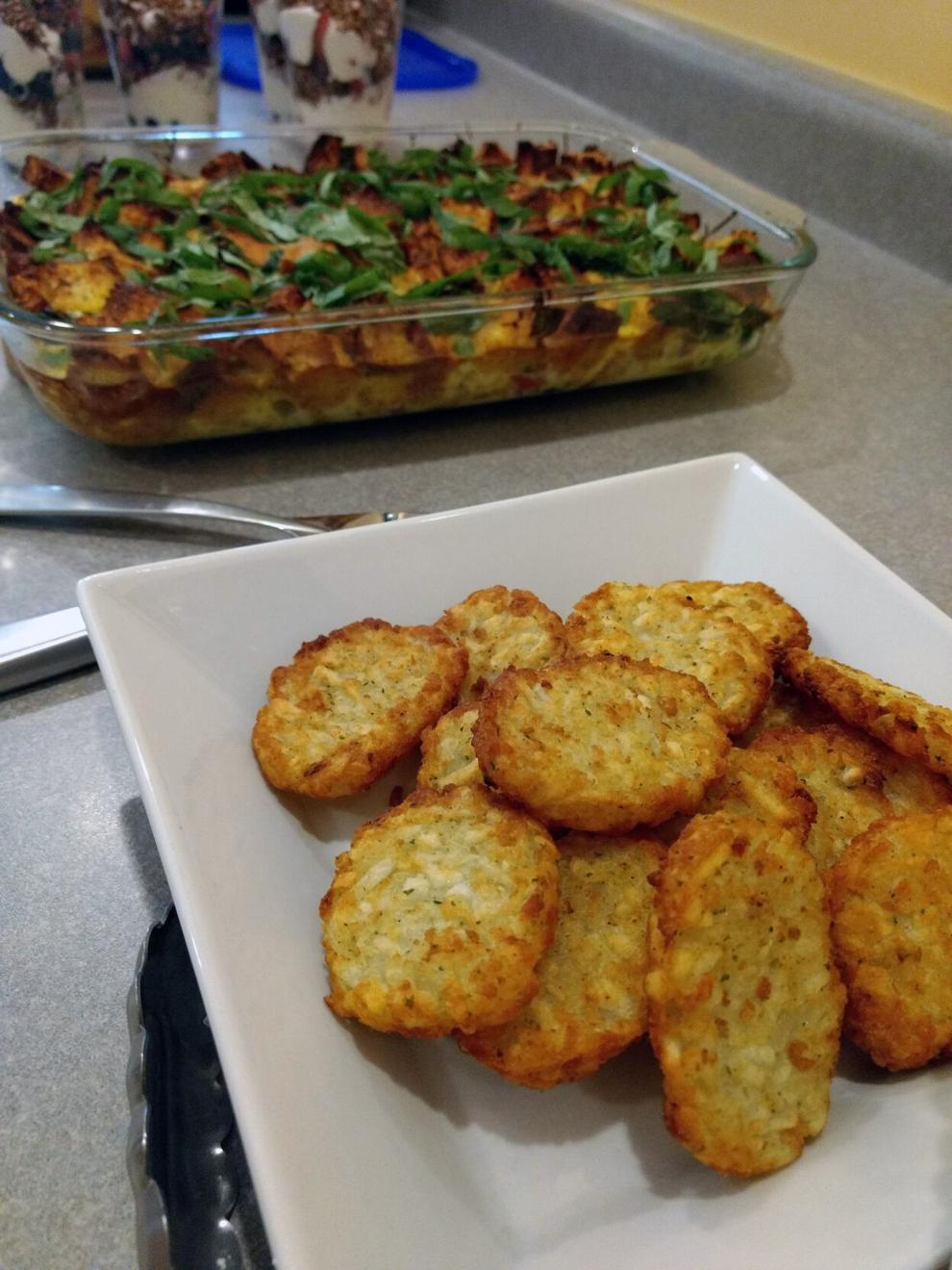 My step-father, Curt, prefers that I cook for him on Father's Day instead of going out. This year, we got together for brunch and I made an Italian Bread Pudding, which includes toasted cubes of an Italian-style bread mixed with pan-fried diced prosciutto, sautéed spinach, caramelized onions, cherry tomatoes and shredded Parmigiano-Reggiano. An egg custard mix gets poured over and the pudding is baked until golden brown and topped with fresh basil from my herb garden. On the side, we had air-fried potato cakes and berry and yogurt parfaits. There were also mimosas. Curt was happy!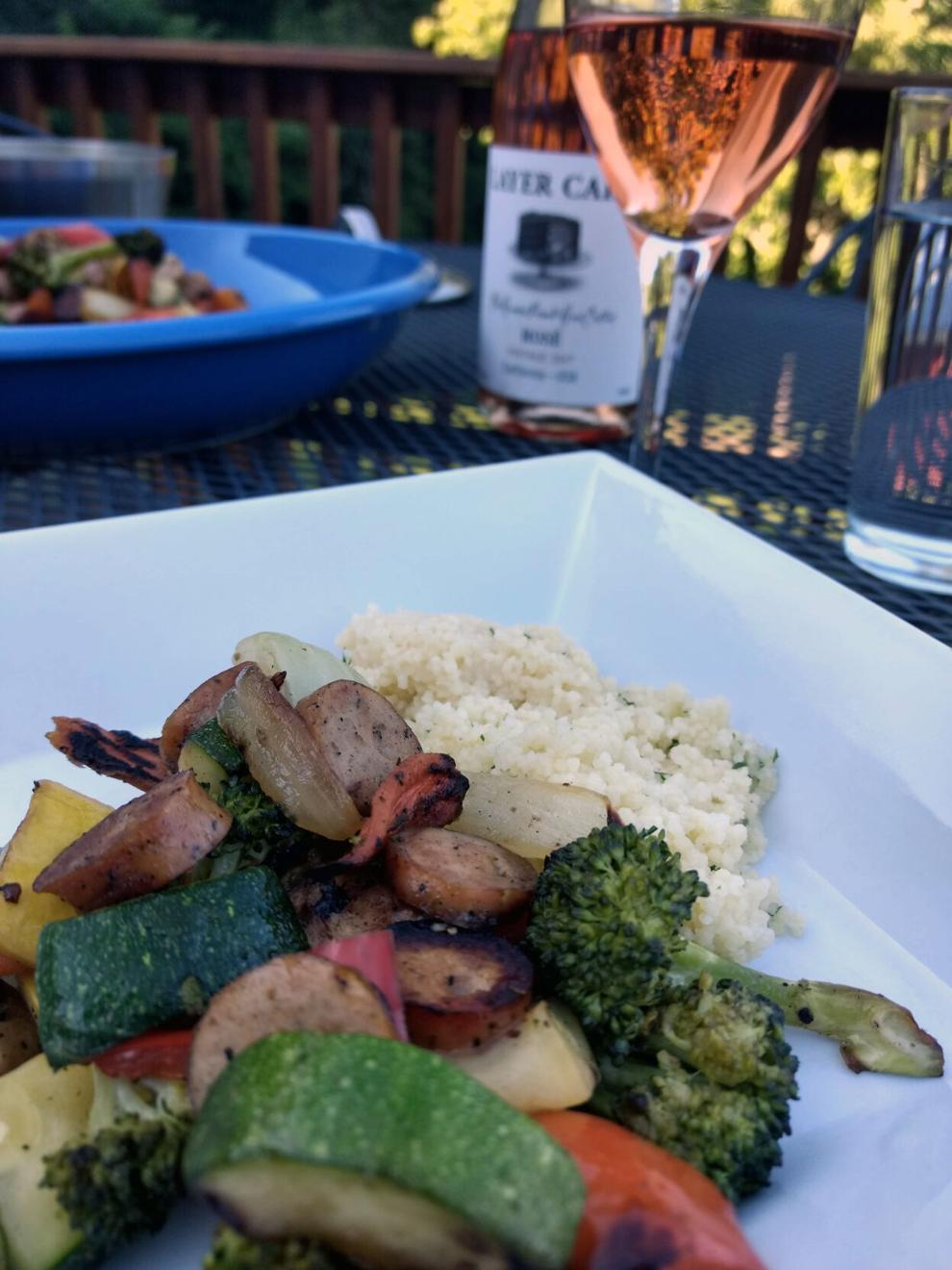 To end, one of my go-to summer meals that's perfect for using up whatever veggies you have around. I also vary the type of sausage — pictured here is Gilbert's Andouille Chicken Sausage. Everything gets tossed in garlic olive oil and seasoned with salt and pepper. Then, it all goes into my grill pan and onto the grill over medium-high heat until slightly charred. I like to serve it over couscous, but any grain would work. It tastes better when enjoyed al fresco with a nice glass of rosé! 
*All of the flavored olive oils mentioned above are available at Art of Oil (theartofoil.com).