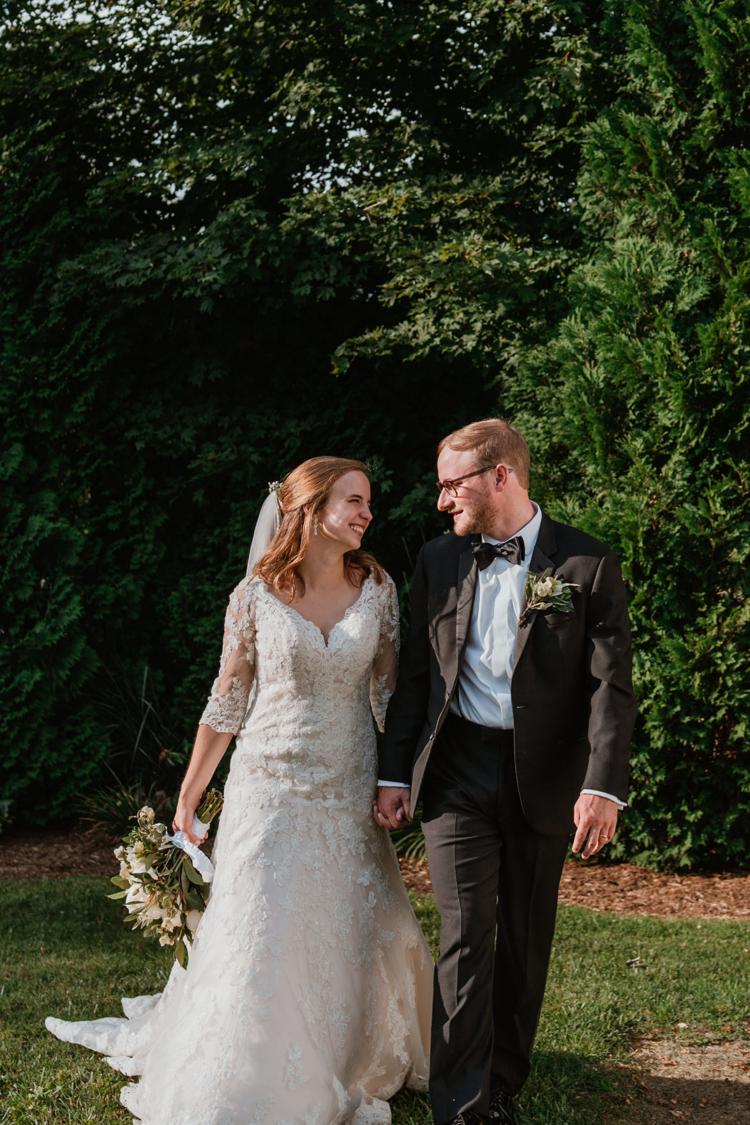 On the morning of June 29, 2019, Haley Banks walked with her sister from their childhood home to their family's church. Together they carried the memories of childhood and hopes for their futures as they made their way to the place in which Haley would marry her fiancee, David Ray Allen.
"All that really mattered to David Ray and me was that we got married and had all of the people we love and cherish there with us to celebrate."
And, so it was, from the very start that Haley Banks and David Ray Allen simply matched. Both raised in small towns, Haley in Blowing Rock and David Ray in Shelby, each made their way to UNC-Chapel Hill where they began their undergraduate journeys.
The daughter of an architect and a development planner at Appalachian, Haley majored in communications and minored in recreation administration and Spanish. The son of elementary and high school principals, David Ray majored in religious studies and minored in journalism.
Attending a college retreat with their churches, Haley Banks and David Ray were randomly assigned cars to carpool to the retreat. It turns out, they were in the same car. They became fast friends and began a correspondence of letters during the following summer. After the church's fall retreat of that same year, David Ray asked Haley out on their first date.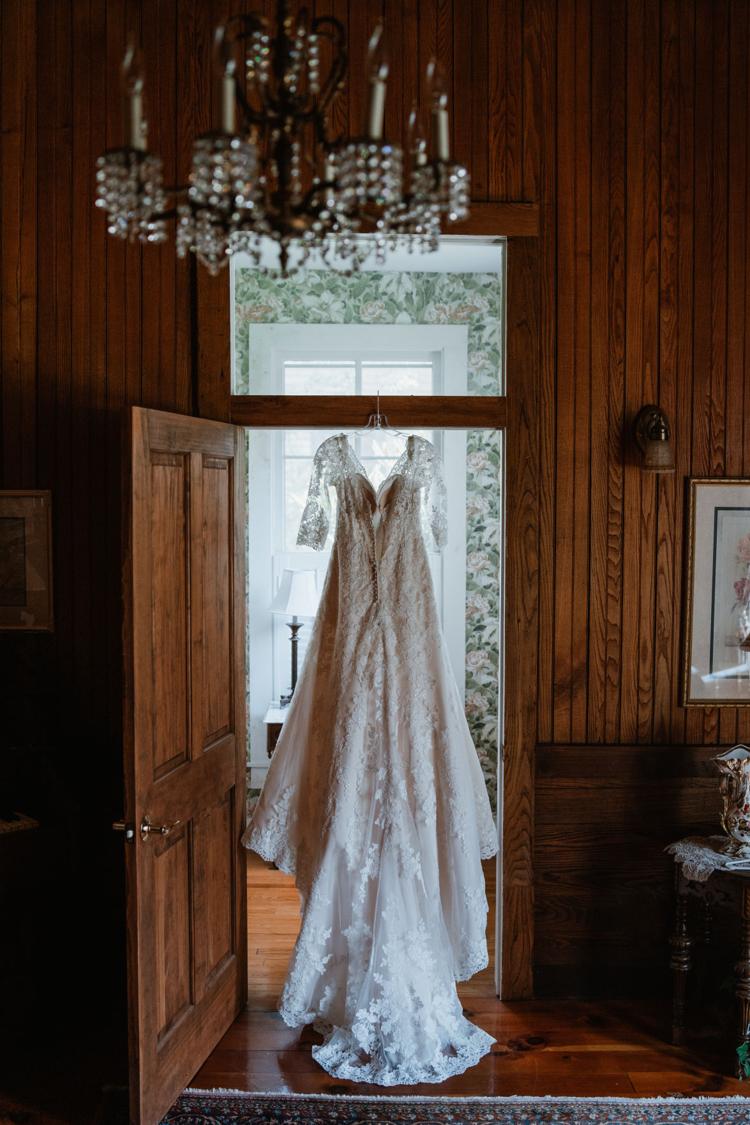 Haley shares, "It was the best date I'd ever been on. He took me to a trampoline park, then to get dinner at a local BBQ restaurant, and we ended the night looking at the stars and drinking hot chocolate in his backyard. We knew almost instantly that we wanted to be together forever." Their two-year courtship turned into an engagement when David Ray proposed by Price Lake in Blowing Rock.
As wedding plans were underway, Haley and David Ray spent a great deal of time discussing the songs, scripture and quotes that were most meaningful to them. "We wanted our ceremony to reflect our values and commitment to each other."
After a deliberate reading of various marital vows, Haley and David Ray customized their vows and made them fit precisely the promises they would make to one another on their wedding day.
Other aesthetic considerations were finalized once they decided with certainty they would marry in Haley's family's church.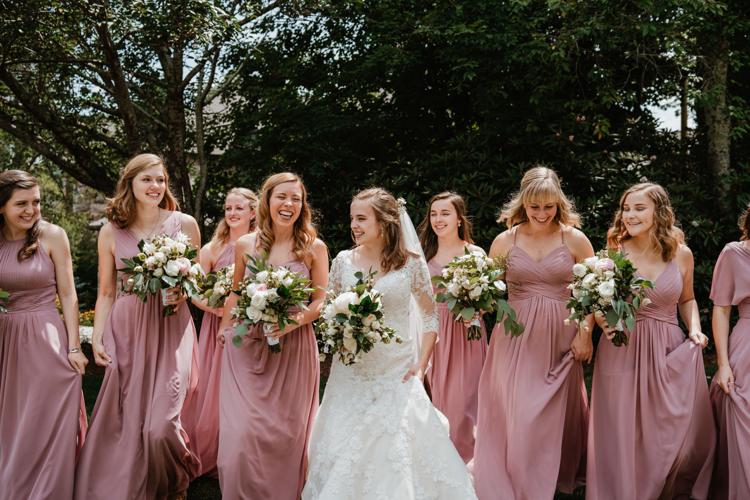 "Because the carpet in the church is bright red, we wanted to have colors that worked well with the red. My bridesmaids wore a mauve and David Ray's groomsmen wore black tuxes." The bouquets and boutonnieres also complemented these color choices. Haley's mother "had the amazing idea to have trees placed at the front with white flowers and ivy overflowing their planters. They made the space feel more natural and rustic, which we loved," Haley explains.
Searching online and visiting several dress stores, Haley knew she wanted her dress to incorporate lace. "When I found this dress, I was so excited. I just fell in love and didn't want to take it off! To complement my dress, I wore a pair of lace heels," Haley describes.
The couple chose Meadowbrook Inn for their rehearsal dinner, and their reception was held at the Blowing Rock Country Club.
"We really wanted the guests to be able to enjoy nature and the beauty of the mountains. The Country Club offers gorgeous mountain views, a wonderful porch, and wide, floor-to-ceiling windows, allowing guests to feel as though they are outside, while staying indoors in case of inclement weather."
The food at the reception was also custom to Haley and David Ray's tastes. "We served a number of dishes station-style. Our favorite, and David Ray's most proud contribution, was a mashed potato bar. Guests were able to choose between mashed or sweet potatoes and a plethora of toppings." Turkey, Caesar salad, and a fruit and cheese display were also part of the celebration. "Our cake was chocolate (our favorite) with cream cheese icing. It was more on the rustic side, with blush icing flowers circling down the side of the white frosting," Haley says.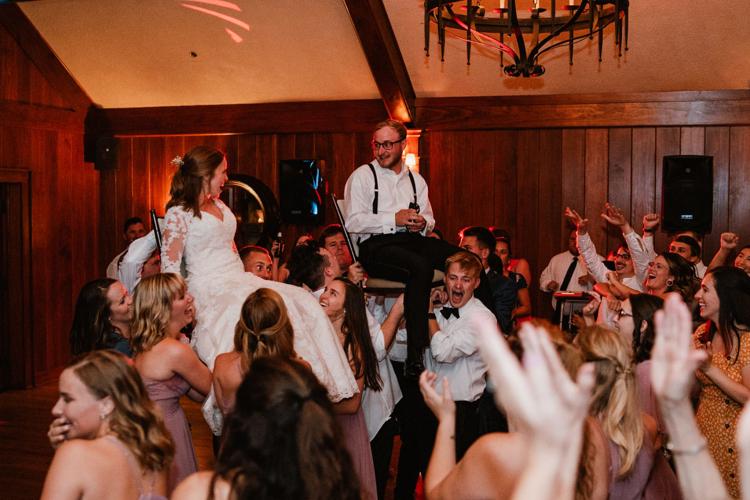 Music at the reception was also carefully selected with the couple dancing to the Avett Brothers' "Offering" for their first dance. Music during the ceremony included instrumental versions of the couple's favorite songs and hymns played on the piano. "However, the reception's music took on a very different vibe as we wanted people to really have fun and enjoy themselves! Our DJ was amazing and kept the hits rolling!"
Looking back on their special day, Haley explains, "Our wedding day was better than I ever dreamed it would be (and I had very high expectations!)." Of all the moments the couple shared, Haley is definite about her favorites: "Our vows, to be in that moment making the promises we will keep for the rest of our lives, the way it felt to be next to David Ray, to be able to call him my husband, dancing at the reception, and the way my dad hugged me before we walked down the aisle."
The couple honeymooned in Charleston before returning to Durham, where they currently reside and work: Haley as an events support specialist with the Office of University Events at UNC-Chapel Hill and David Ray in pursuit of a master's in divinity at Duke Divinity School.