Certain industries have seen an abundance of male faces and leadership — gas and oil being one of them. The propane industry has shifted over the years, however, and Glenda Christian is an example of that change. 
Christian is chief operating officer at Blue Ridge Energy Propane and Fuels and has been working in the propane industry since 1986, when she graduated from Appalachian State University. Christian said negative attitudes toward women in the propane industry have changed since the late '90s. 
"Over the past 25 years, you can see more and more women involved in the industry," Christian said. 
In 2012, the National Propane Gas Association founded the Women in Propane Council, to provide positive opportunities for all members, according to its website. Christian said she has had the benefit of mentors like Blue Ridge CEO Doug Johnson who support women in business and break down barriers that might create difficulties.
Family is top priority, Christian said, and when she was younger, her father taught her the balance of work and family when he brought her along to his parts store.
"It helped me learn at a very young age that you can work hard and you can achieve a lot and still be there for your family," Christian said.
Christian said that to be successful, it is important to stay committed to a job.
"You have to recognize that you'll probably have setbacks and disappointments at times in your career," Christian said.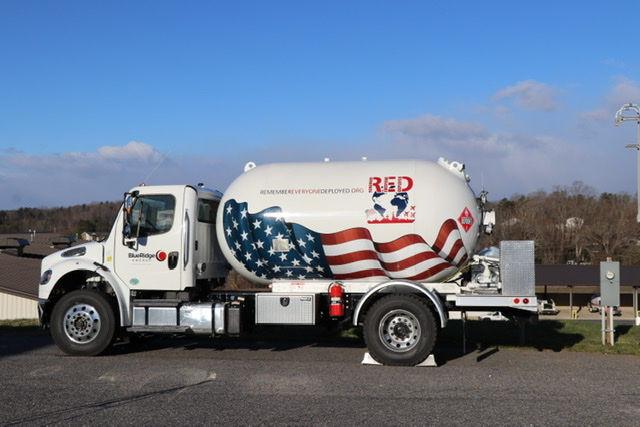 When Blue Ridge Energy bought Beall Oil in 1998, Christian lost her leadership role in the company, for a few years. Christian said she found herself at a crossroads: She could either develop a bad attitude about her setback or keep persevering forward. She chose the latter, and was promoted up quickly at Blue Ridge Energy, becoming a senior executive over 15 years ago.
"Had I not gone that route at that crossroads, I definitely would not be where I am today," Christian said. 
Blue Ridge Energy Propane and Fuels is a wholly-owned subsidiary of the parent electric cooperative, Blue Ridge Energy. Since its conception in 1998, it has expanded territories and operates showrooms in each Blue Ridge Energy district office and in Morganton, N.C.
Blue Ridge Energy supports local organizations, such as local breast cancer groups through BRE's Pink Truck program. The program donates a penny for every gallon delivered by its pink trucks and has raised over $85,000. BRE is also honoring deployed service men and women through its Remember Everyone Deployed (RED) trucks. Christian said she holds this program close to her heart, as her son served in the Marine Corps. 
"I'm proud that at Blue Ridge Energy, it's about more than delivering a gallon of fuel," Christian said. "It's about making life better."