When Dorene Jankowski and her husband, Pete, bought their farm in the Zionville community of Watauga County in 1998, they were not thinking about commercial production. They were in search of flavor — fresh, homegrown flavors.
Having met while stationed in New York City with the U.S. Coast Guard, the pair married at the end of their enlistments and settled in Florida for a short time while taking care of her grandparents' property of exotic fruit trees from around the world. They eventually left to find a cooler climate and put down some roots. They had always maintained a garden and, for Dorene, horses and farming had been a part of her life as a child and came naturally.
"Produce from the store just didn't have the flavors were looking for," Dorene says. "We bought the farm just for our own food and country living. Giving to friends and just enjoying the process."
Dorene worked in the kitchens of Grandfather Country Club until medical concerns forced her to leave the workforce. Rheumatoid arthritis was taking a toll on her body while she tried various methods of treatment, homeopathic and medical. For more than a year, she used a cane to get around the farm, still working on the gardens, tending to the chickens, a couple of pet goats, and the rescue dogs who have claimed her as a pack leader.
"I just had to keep moving," she says. "Keep pulling weeds. Keep finding new ways of doing things."
After a few unsuccessful trials, Dorene has now found a treatment that allows her to move without a cane and blossom alongside her pepper plants.
She said R.A. turned out to be a blessing. In that time out of the workforce, Dorene found a new passion in crafting her recipes for sauces and canning. Rather than return to the restaurant kitchen environment, Dorene and Pete embarked on a journey to find their own commercial kitchen for production. Fire from the Mountain was born in 2005.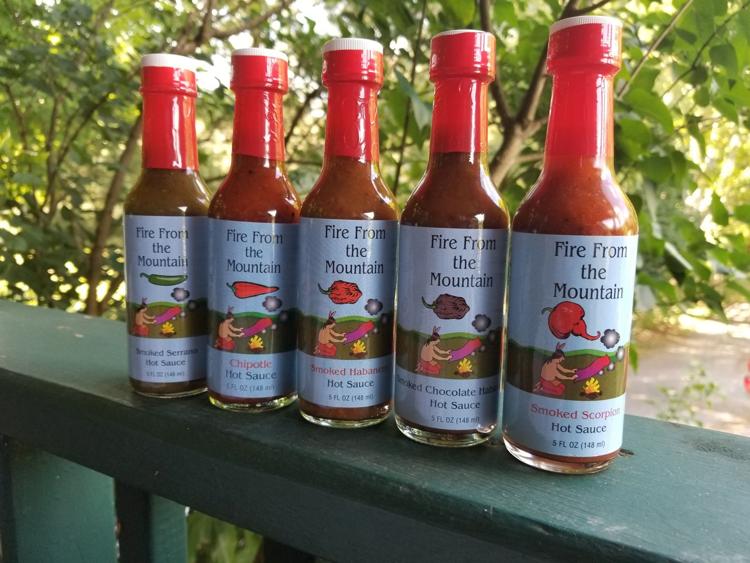 Why hot sauce?
"It was all for him," she laughs, gesturing to Pete. "Actually, we both like spicy. But we wanted something that tastes good and isn't just hot and vinegar, and we couldn't find anything on the market with the flavors we wanted."
The five acres that was a hay field in 1998 is now fully cultivated, with far more than peppers. Each Saturday in season, Fire from the Mountain can be found at the Watauga Farmer's Market with all types of vegetables and their signature sauces and salsa.
The farm is Dorene's passion. Beyond what is grown for sale or production, she appreciates knowing where her food comes from, every ingredient, and considers herbs and healing plants a hobby.
"I am always learning," Dorene says of life on the farm. Together, she and Pete have taken organic growers courses in Asheville, worked with the N.C. Cooperative Extension office locally, and continue to learn from experience one season to the next.
"We had to learn how to grow peppers here," she said. "A three-month growing season was challenging. The house is full of plants beginning in January through to early spring, when we can move them to the greenhouses."
From the greenhouse, the plants are distributed among the garden beds, raised beds, covered greenhouses and a covered row house. Dorene recommends rotation, soil testing, cover crops to feed the soil between plantings, and everyone's favorite, weeding, for plant health.
"Just get yourself a radio and find a rhythm," she says. "Weeding is the most important chore. The plants need air and nutrients, and it cuts back on disease."
Dorene is responsible for all the recipes for Fire from the Mountain products.
"I played and played until I thought it tasted good," she says. "The challenge was (to) take that process to batch size while maintaining flavors. The experimentation is fun, but for commercial production, your ingredients better match the label when inspected."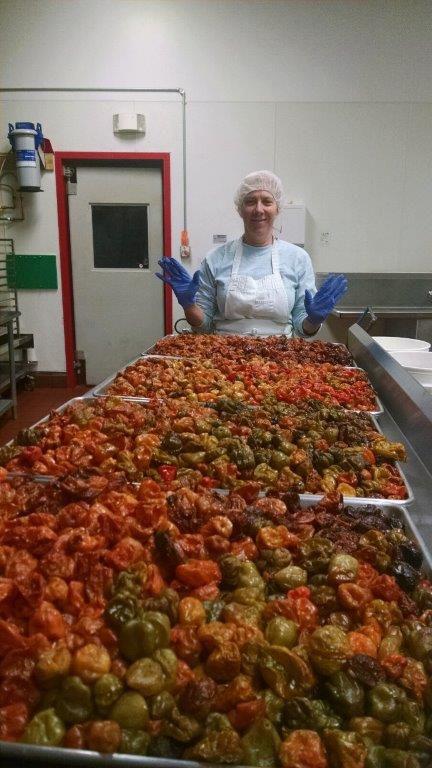 She and Pete load up the car and head to a shared commercial kitchen in Asheville a few times a year to create the salsa and sauces sold around the area in stores and at the farmers market. They are inspected annually during the process for food safety.
"Everything you need better be in the vehicle," she laughs as she described the process. Not all ingredients are grown in Zionville. While they do grow tomatoes, the crop can be a little unpredictable in the mountains. But all sourcing and organic practices are important to the Jankowskis and are carefully selected.
The farm is not certified organic, but they do follow organic practices. Each plant is nurtured by Dorene and Pete only, including weeding and hand-watering; they do not have any employees or interns. It is a labor of love.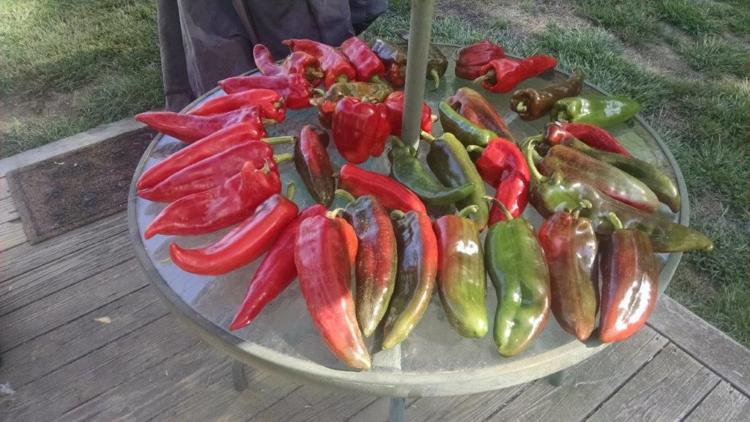 What is Dorene's favorite crop on the farm? Lettuce. Well that, and hatch peppers for roasting. Those are the two vegetables on the farm she and Pete eat the most. Dorene continues to learn and expand the offerings, though. New to this year's planting are a black raspberry. The size and shape of a raspberry and the color of a blackberry, we can hope to see these making an appearance at the farmers market soon.
For more information on Fire from the Mountain, including where to buy, visit www.firefromthemountain.com.