Women of the Junaluska community in Boone recently gathered around a table and shared memories of gardening with their parents as they created hanging lettuce gardens — a precursor to a heritage garden that is to be built in the community.
Pegge Laine, former director of the Turchin Center for Visual Arts Community Outreach Program, had been working with women in the Junaluska community through art experiences for almost five years. After learning more about the Junaluska community, Pegge was later awarded grant funding to spearhead four projects to solidify the Junaluska community's contribution to Western North Carolina and honor its rich heritage.
One of the initiatives of the grant is the creation of a heritage garden to preserve the long-standing practice of food production in Junaluska. The heritage garden, when completed, will work to bring the community together while also addressing issues of food insecurity.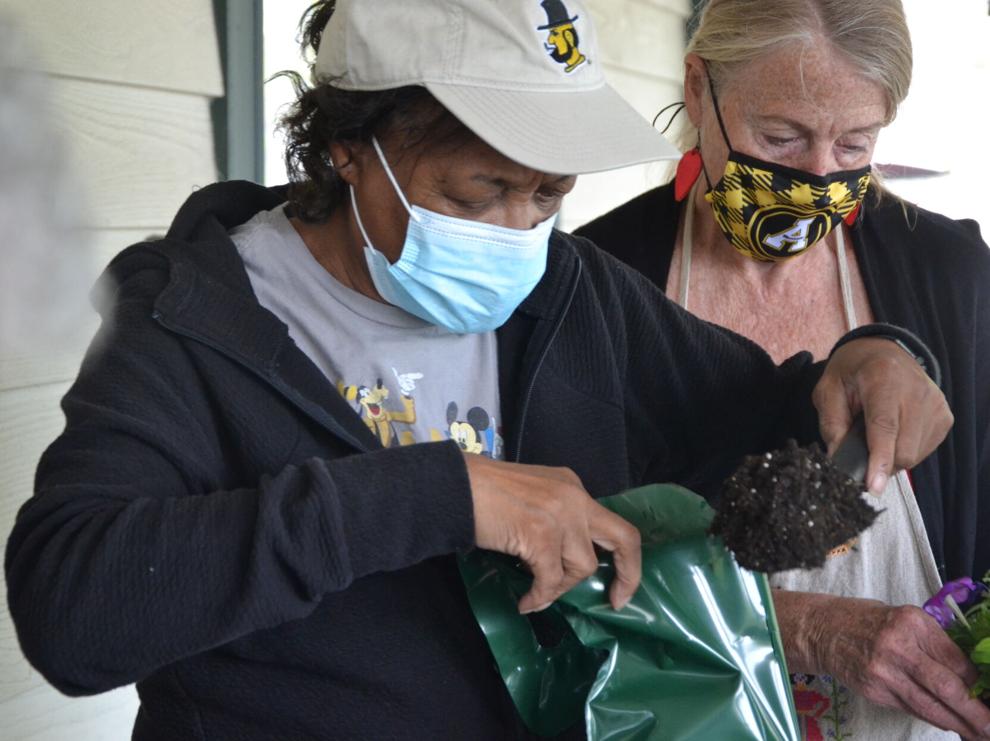 To promote the heritage garden, local residents Peggy Horton, Roberta Jackson and Betty Grimes recently worked together to create and distribute the aforementioned hanging lettuce gardens. These mini-gardens are "something to keep the enthusiasm and excitement up" for the heritage garden, says Pegge Laine. They are also a way to promote the idea of sustainability and community. And, as Roberta asserts, "We need to see things growing like they used to." 
Pegge Laine describes the idea of the heritage garden much like the creation of art. 
"The heritage garden is another blank canvas which offers an opportunity for the creative spirits of Junaluska to flourish," Pegge Laine says. "In working together on this project, the community is reconnecting with their childhoods in sharing stories of the importance of gardening in their families. Gardening was woven into the fabric of their community and was a major contributor to survival during segregation. It is also a strong thread in their spiritual life as well as their love for one another." 
The History of Junaluska
During the mid-19th century, both enslaved and freed Black Americans resided in and around the Boone area. As the town grew, so did this community. Through both the struggles of the Civil War and the victory of emancipation, this small group of African American families clung tightly to each other and the area of Boone they had come to claim as their own. 
"The Hill" or "The Mountain" as it was first known was eventually established as Junaluska — one of the earliest Black communities in Western North Carolina, and perhaps the only one that persisted into the 21st century. This is according to the book "Junaluska: Oral Histories of a Black Appalachian Community," put together with the help of Susan Keefe and the Junaluska Heritage Association.
Life during the early 20th century was difficult for those living in the Appalachian region, in particular for those living in Junaluska. Junaluska residents describe their neighborhood as the result of white people segregating them to the hillside above Boone toward Howard's Knob on the "steep land nobody wanted," according to "Oral Histories." 
"Free Black folk in Junaluska were farmers originally," according to the book. "They owned land but, for the most part, not farms. Rather, they had small plots for house gardens. They farmed and sharecropped fields on the side of Howard's Knob, which at the turn of the century was largely clear cut."
However, the quality of life many recall was not of poverty or want. It was of community and love. "Junaluska left me with basically a warm feeling and in extremely happy spirits. We had love in family and community. We had adequate housing, clothing, food and all that any child would want. We did not know we were poor as the world defined it. We felt rich because we were made to feel special," explained Emma Horton in "Oral Histories."
Having grown up in Junaluska, Roberta echoed similar sentiments, saying it has always been the people in Junaluska who made the area special.
"We didn't have a lot, but we didn't need it. We had each other. We didn't go out of town, didn't have a car. But we didn't need it. We played with each other, and enjoyed each other," Roberta says.
Church, school, farming and gardening made up the daily life of the community. Often, Junaluskans would enjoy entertainment at church. "Sunday was devoted to church. On special holidays, we had musical and dramatic performances, contests and programs; we recited poetry and showed other creative talents. It made it interesting and exciting for all," Emma recalled. 
Families took great pride in gardening and canning. Many of their children and grandchildren remember working alongside their parents and grandparents. "They didn't have us sitting there watching them work. They wanted us to help," describes Peggy Horton, who grew up helping her parents garden in Vilas. She now resides in Junaluska.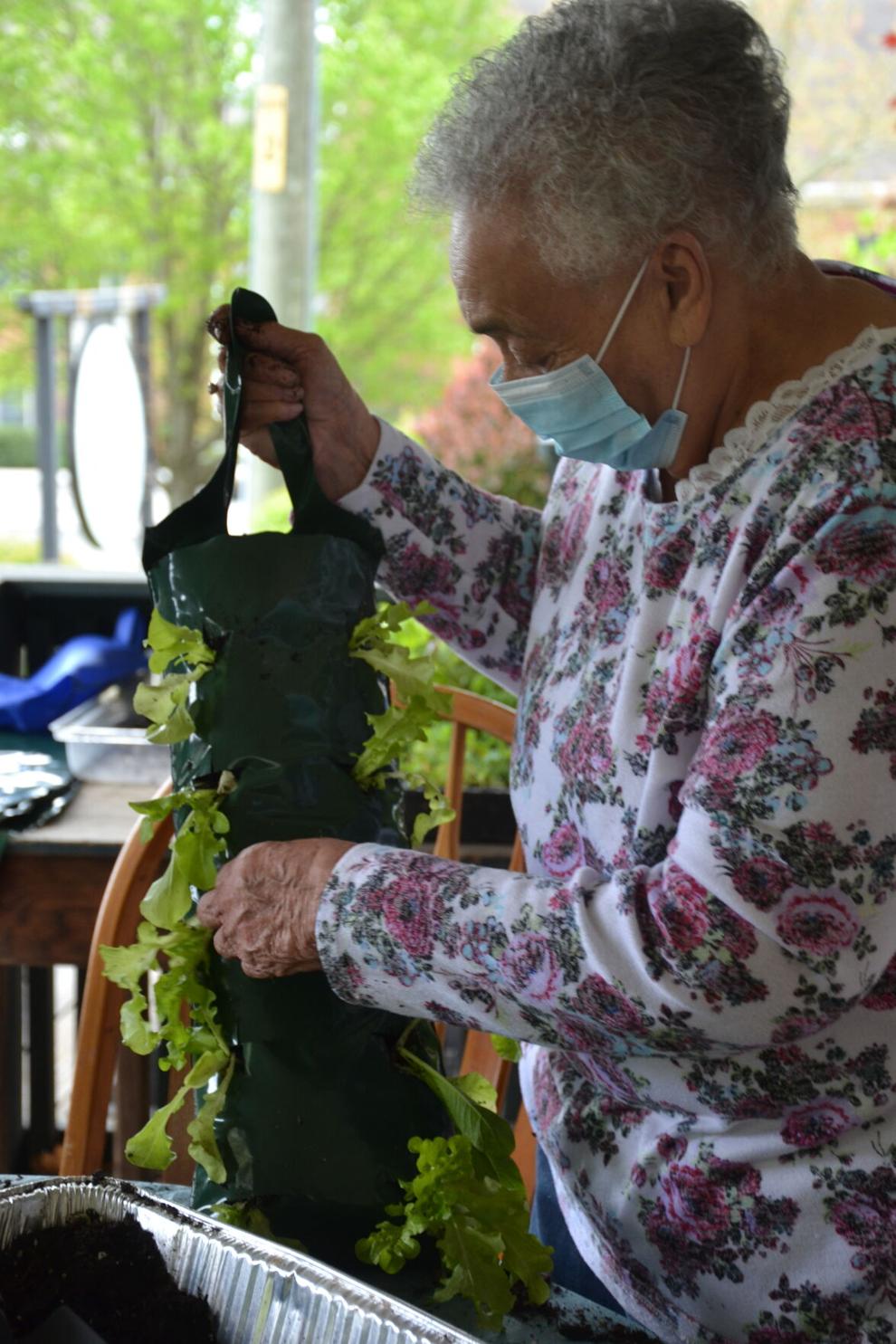 Peggy Horton says she now gardens flowers, but isn't able to produce vegetables due to lack of a garden space. She's glad the Junaluska community will have a garden so her neighbors can all work and grow plants together.
Roberta says her family grew items like beans and corn in their garden, often canning food for the winter months. 
"Now (gardening) is more (for) pleasure, back when I was little, it was a necessity. We needed the food. I had five brothers and sisters, we needed to eat. It gave us vegetables and things all year round," she says. 
Junaluska also operated with an open door policy. Neighbors helped neighbors. Children moved in and out each other's houses with confidence and a sense of belonging. "People are so nice to each other. If you don't have it and they got it, then you've got it. That's the way it's always been," Betty describes. 
Betty says her mother had rhubarb, potatoes, green beans and peas in their garden. She also recalled her mother having killed (kilt) lettuce; Roberta chimed in that nobody could make the dish quite like Betty's mother. 
Preservation Work 
Though many Junaluska residents relocated throughout the 20th century in search of job opportunities, others remained in Junaluska and continue to thrive in its wealth of heritage and community. Recently, efforts have been made to document and preserve as much of that heritage as is possible while also continuing to nurture and sustain its contemporary life.  
Preservation projects— in addition to the heritage garden — include a proposed quilt square trail, a children's book and a mapping project that will work to identify the deceased in the 40-50 unmarked graves in the Clarissa Hill Cemetery.
The proposed quilt trail will show how the schools, churches and businesses once thrived within the community. The trail would consist of freestanding paintings on wood, metal or quilt squares along a route that shows its history.                                                   
The children's book will be based on "Junaluska: Oral Histories of a Black Appalachian Community."
"They talk so much about their childhood in the book," Pegge Laine says. "That's why I would want to do it for children, so children would know about the loss of African Americans in Boone."
Pegge Laine adds that the Junaluska community is ever changing with new folks moving in all the time. 
"The heritage garden offers an opportunity to preserve the historical significance of gardening, an opportunity to create relationships with their neighbors and an opportunity to provide fresh vegetables for their tables. It is my hope that the garden becomes a gathering space that embraces the past as the community grows," explains Pegge Laine.
The Junaluska community is looking for "garden buddies" to assist with the garden. Pegge Laine said the vision is to grow food so community members can eat together, listen to each others stories and create new memories. If interested in being a garden buddy, contact Pegge Laine at delaneylaine@bellsouth.net with "Junaluska Garden" in the subject line.
The community of Junaluska's legacy and permanence can be attributed to its members' passion and resilience. Through their efforts and those of their parents and grandparents, this place in the world will remain a haven of both heritage and hope.