With agriculture roots going back three generations for both Olivia Haigler and Gretchen Blackburn, agriculture education means more to them than just playing in the dirt.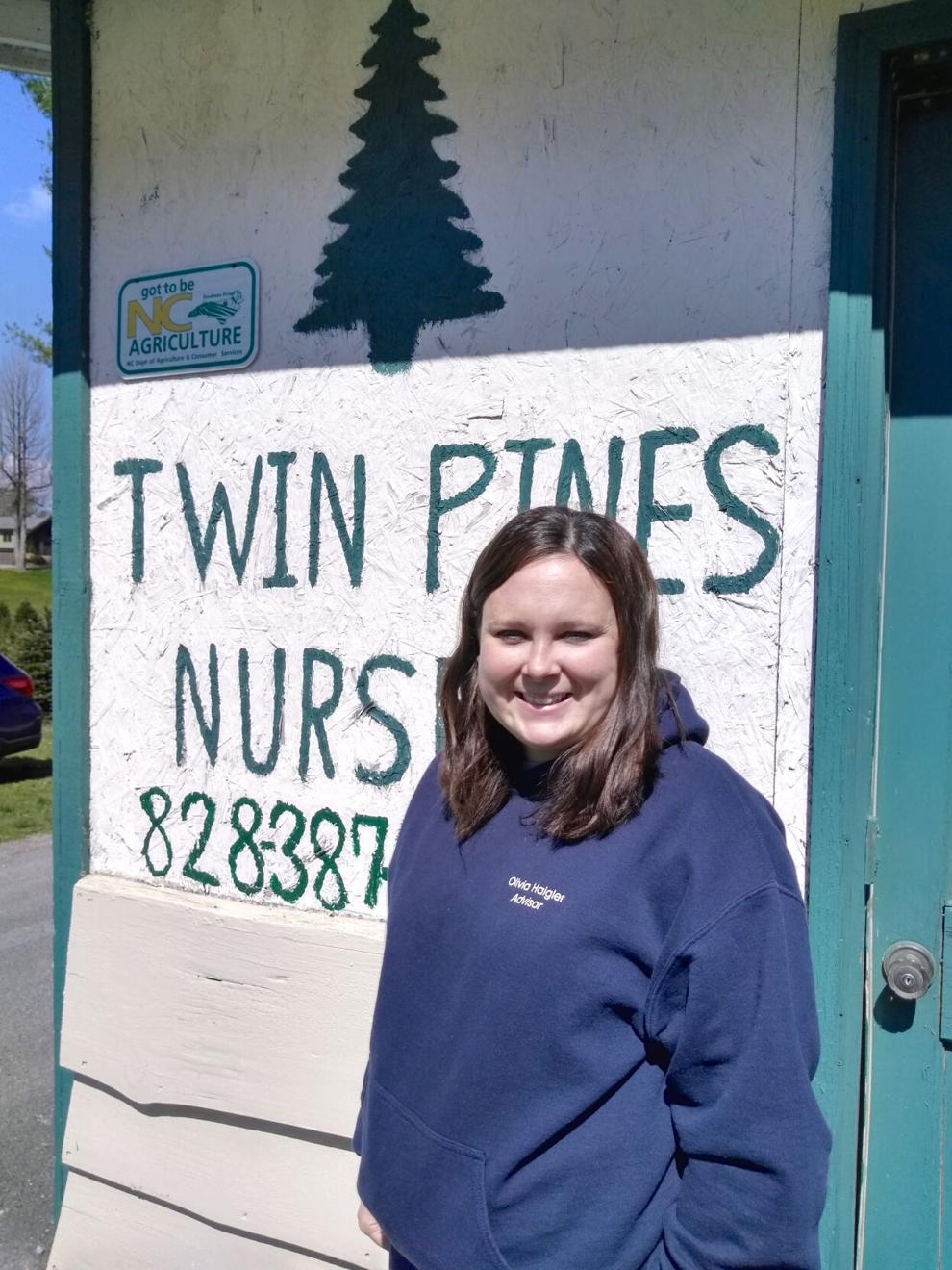 As agriculture teachers and National FFA (Future Farmers of America) advisors, Olivia (Watauga High School) and Gretchen (Avery County High School) both have agriculture in their DNA. Olivia is involved in her family's nursery and tree farm, while Gretchen works with plants and florist demands.
The five acres of Twin Pines Nursery and Tree Farm along U.S. 221 was the foundation for Olivia's connection with agriculture. She grew up learning about and caring for trees and plants. She is knowledgeable about the various soil fungi that destroy the Fraser firs as well as the development of a fir hybrid, which is immune to the disease phytophthora root fungus.  She says that this fungus is specific to the Fraser fir and cannot be treated.  Olivia was also involved in the planting of about 2,000 seedlings this year.
Given her family background at the Christmas tree farm, Olivia advises people to keep their cut tree in plain water. There are many theories about which concoction will keep the tree lasting longer, but just plain water is still the best, she says.
Gretchen has photos of herself at 3 years old with her grandfather astride a tractor. When her father took classes in agriculture at Caldwell Community College and Technical Institute, she often attended with him.  Gretchen became a part of the family agriculture business at an early age, assisting in the Sugar Mountain Nursery and eventually owning her grandmother's flower shop in Newland. Along the way, she also became a certified florist and was involved in the creation and delivery of arrangements for 13 years.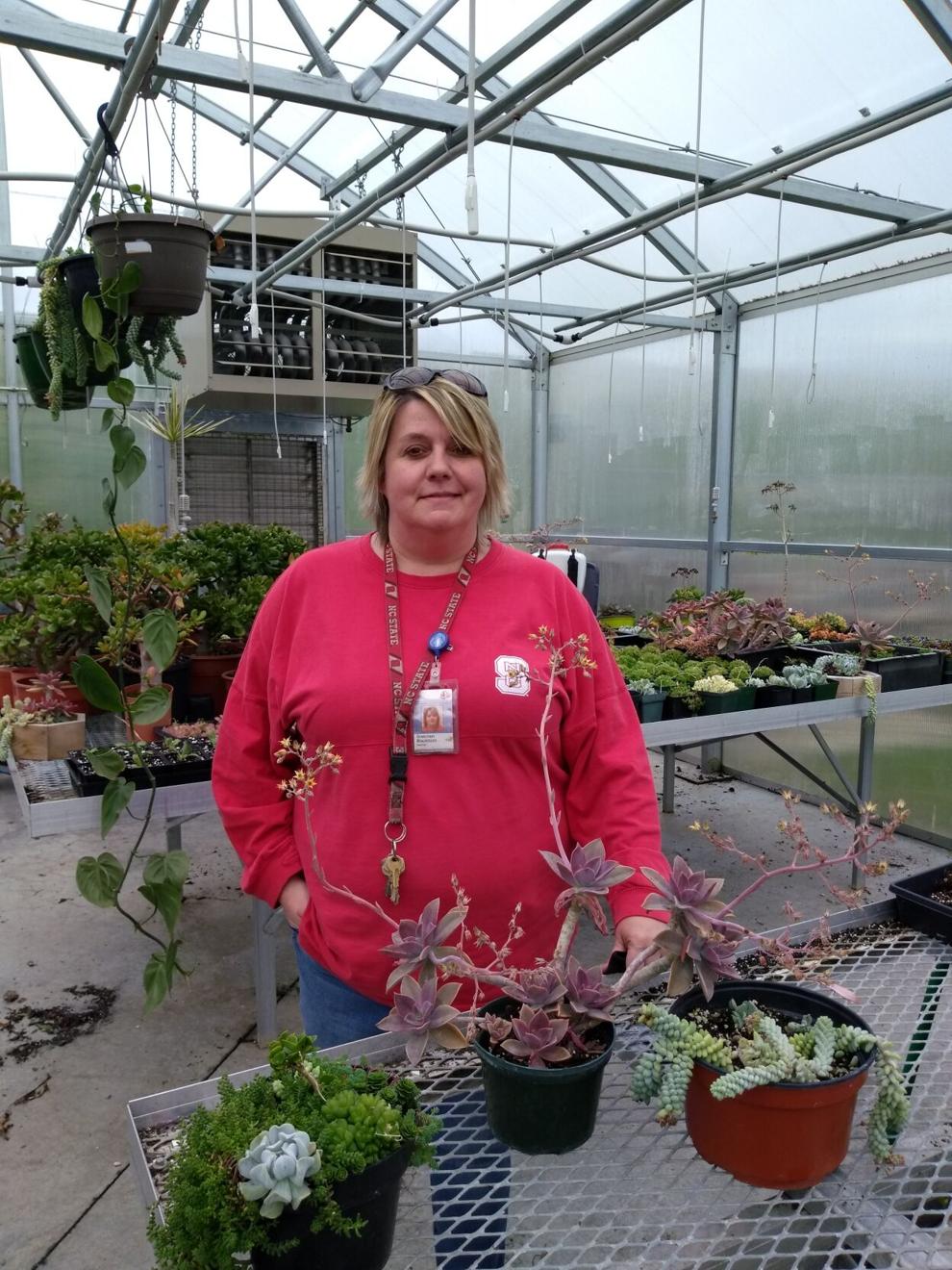 Some horticulture advice Gretchen offers is to have a long waiting period before planting any flowers or crops in the spring. Although Mother's Day is a benchmark, she cautions people to wait until the nights also get significantly warmer.  She has seen snowfall as late as June 1.  It's better to wait and be safe than to have to replant, she says.
Continuing the Ag Tradition
Both Olivia and Gretchen attended Avery County High School under the tutelage of Gwen Clark, and they each also went on to earn an agriculture degree from NC State. While Olivia's degree is a Bachelor of Agriculture Education, Gretchen's degree is in Landscape Horticulture, and she later obtained her Masters in Agriculture Education at NC A&T. At that point, Gretchen joined the Avery County Schools system.
Although Gretchen and Olivia agree that the best four-year Ag program is at NC State, the two-year program at Wilkes Community College comes highly recommended by both teachers. Students from both of the high school programs have gone on to these institutions to further their education.
While some of the classes each of them teach covers similar material, each program has been tailored to meet the career needs of their respective communities. A focus in agriculture education provides a career opportunity in both Watauga and Avery counties. 
Both programs begin with basic courses in horticulture, covering the life cycle of plants.  Typical classes in the Watauga program then focus on agricultural science applications and a forest/soil component.  The Avery program offers courses in landscape construction and turf grass with the insight of fellow Ag teacher Dwayne Krege.  
Each program considers the particular career needs of the area: plants, ornamental shrubbery, forestry and trees as well as resort beautification and a plethora of golf course needs. The agriculture program at Avery County High School even has built a putting green, showing off an experiment with different grasses. It also displays a fire pit that is surrounded by a variety of stone that showcases different landscaping techniques.
Leading FFA
Each faculty position is a 12-month commitment, as opposed to a 10-month contract for other teaching staff.  Being the advisor for the FFA program at each school comes with the territory of teaching Ag. 
Today female leadership is not rare to FFA, but there was a time when only males were allowed in the organization. Gretchen reported that it wasn't until 1969 that females were admitted.  
The correct title now is the National FFA, which came into use in 1988 and boasts over 760,000 student members. Nationwide, male participation leads female membership by a 70 percent to 30 percent margin, but the statistics in the local programs shift from year to year.  Female leadership has risen in FFA, and it is reflected in the increase in women obtaining degrees in agriculture.
Each school FFA chapter has officers:  president, vice-president, secretary, treasurer, reporter and a sentinel. Olivia says that the goal is to function as a team throughout the year.  At Watauga High School, every student in her class is a member of FFA, and they pay dues to the state and national organizations.  Typically about 30 percent of those members are very actively involved.
The organization engages students on three levels: leadership, personal growth and career success. Students are encouraged to enter FFA competitions at both the state and national levels. Advisors train their students to participate in any of over 40 choices such as plants, hunter education, forestry, nursery development, agriculture mechanics or tractor safety.
When the programs are able to meet in person, there is an obstacle course for tractors and farm equipment competition. Numerous awards and scholarships are earned; in 2018, almost $1 million in scholarships were handed out locally, many that included a full ride to college.
Both school programs offer hands-on plant and nursery work in their own greenhouses. Each program contributed to their support through an annual spring flower sales, but these past two years have been challenging.  At Watauga High School, the plants were only sold to the faculty and staff in 2020, while the Avery County High School program was able to sell their plants through Three Nails Hardware in Newland. Each program plans for a larger distribution this year, but the particular challenges of construction at Avery High remain an issue.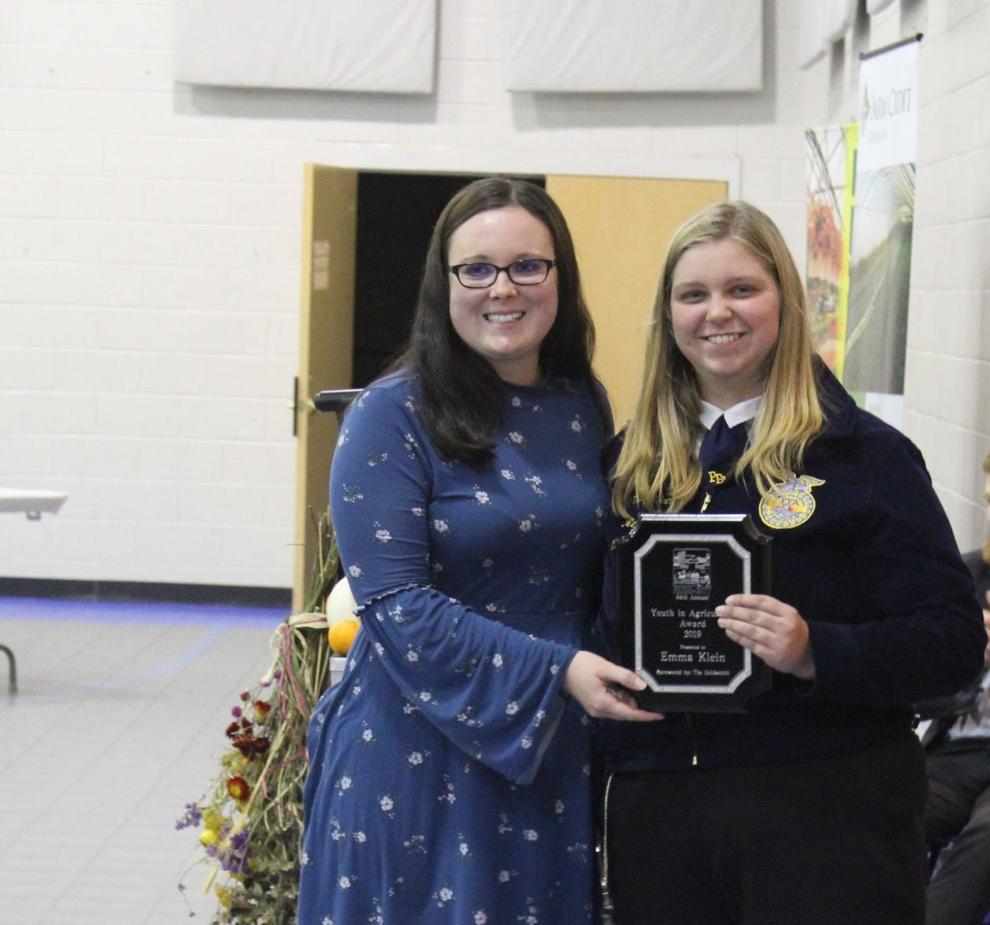 The FFA program at Watauga High School was in jeopardy of being cancelled when Olivia took over six years ago. There were less than 20 students involved at that time, and membership has since grown to more than 90 members. 
She says, "I feel very blessed with the students and the support of the community to accomplish these goals." 
Gretchen said the FFA program at Avery County High School is now able to offer more options for career choices within the field of study. Approximately 136 members and parents recently attended a banquet for the program, and there are currently 11 applicants for FFA officers. 
Gretchen says her goal "is to see the students live the FFA motto: Learning to do, doing to learn, earning to live, living to serve."