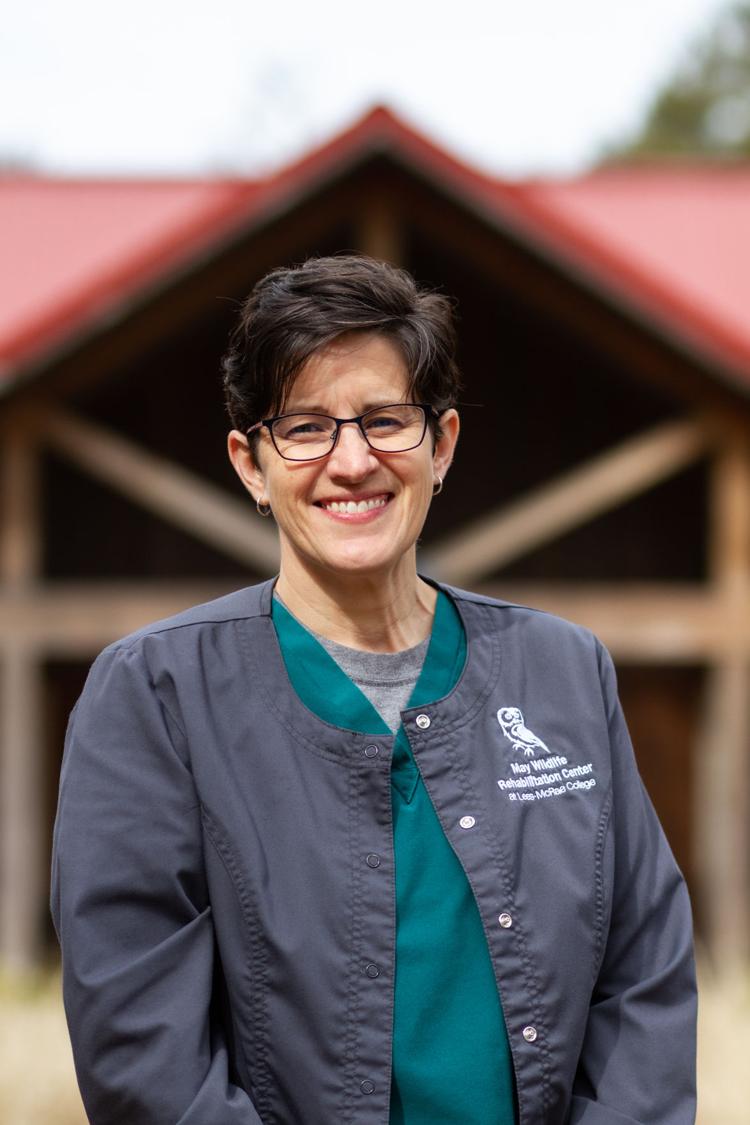 A measure of excitement moved through the May Wildlife Rehabilitation Center at Lees-McRae College on the day the staff discovered that a bald eagle would be sent to receive their services. The necessary space was provided and the equipment made ready. Just before the majestic bird's arrival, a baby mouse was carried to the facility, also in need of care.
Dr. Amber McNamara fondly remembers that particular day at her clinic. Preparing for the regal presence of the eagle could have easily overshadowed the mouse, an animal many might disregard. However, Amber describes with pride that both animals received the same measure of meticulous care on that day. Both received a physical exam, pain medication and a comfortable and suitable habitat. Both were treated with respect as Amber's staff practiced their philosophy for best care.
Amber's love for animals began in her childhood. She was born and raised in Mt. Vernon in southwestern Indiana. She describes, "My family (my mom and dad, two older brothers, several dogs and I) lived in the country, and I spent lots of time outside — playing with friends, exploring in the woods, playing basketball in the driveway. My family was always supportive of whatever I wanted to do, encouraging me to just 'go for it.'"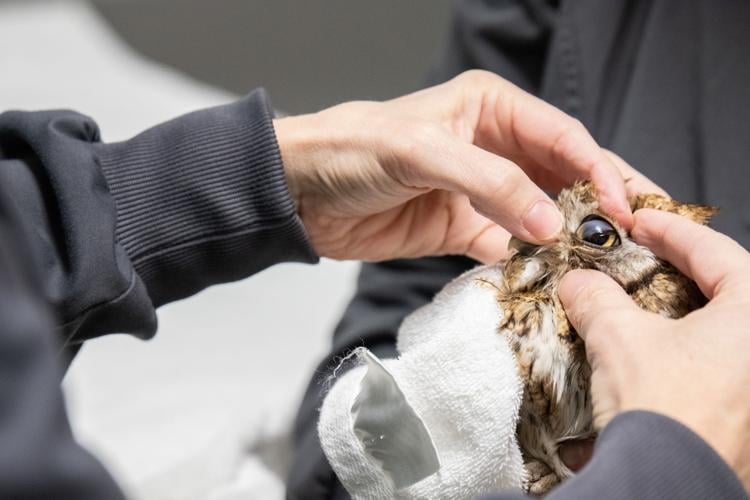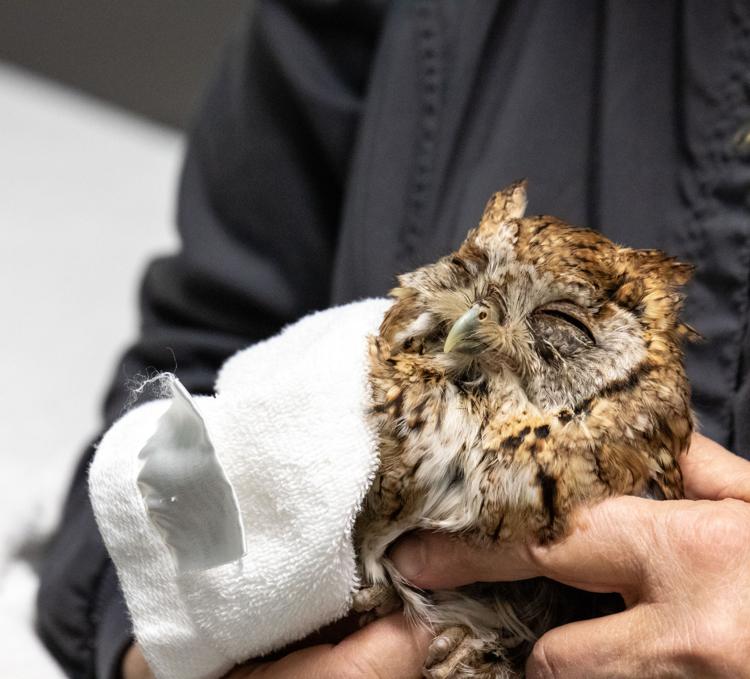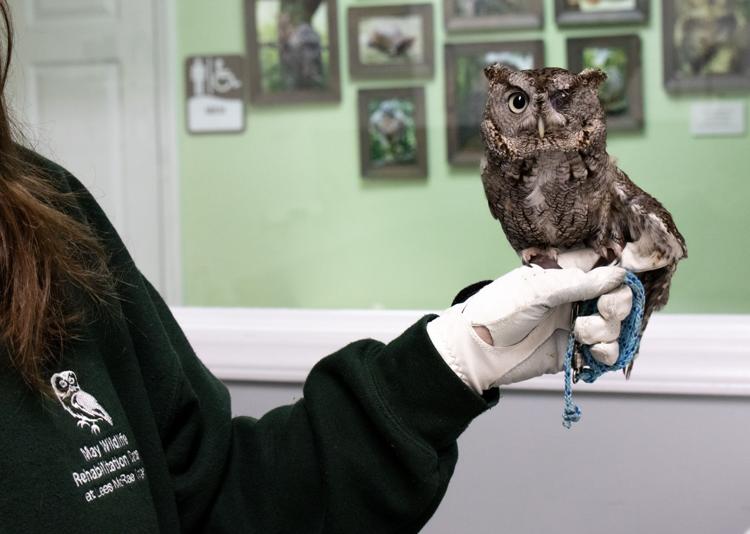 Amber's passion for animals only deepened as she matured, and they quite naturally shaped Amber's choices as she began her post-secondary education. She received her undergraduate degree from DePauw Univerisity in Greencastle, Indiana. A biological studies major with a minor in mathematics, Amber explains, "DePauw was a great fit for me; I had access to a top-notch liberal arts education, small class sizes, and an opportunity to play volleyball for four years." Following graduation, Amber worked as a veterinary assistant and later began veterinary school at Purdue University in West Lafayette, Indiana. In 2003, Amber graduated with a Doctor of Veterinary Medicine and is currently working to complete a master's degree with a One Health focus through the University of Florida.
During her time in veterinary school, Amber completed a five-week rehabilitation internship at a wildlife clinic in Florida. After she graduated, she returned to this facility to complete a year-long internship in wildlife medicine. This time proved paramount in Amber's life. As she describes, "While there I had an amazing mentor who taught me so much about wildlife, about being the voice for those who often don't have one, and about myself."
Working as a more traditional veterinarian for several years and later as an acupuncturist, in 2013 Amber learned of the position available at the May Center for both teaching and working with wildlife. As she describes, "this was a perfect fit as this position allowed me to work in a facility to treat animals that are sick or injured, with the goal of releasing them back to the wild while also providing the wonderful opportunity to teach Lees-McRae students both in the classroom and clinic — helping them to understand how they can be the best caregivers and advocates for both wildlife and their habitats."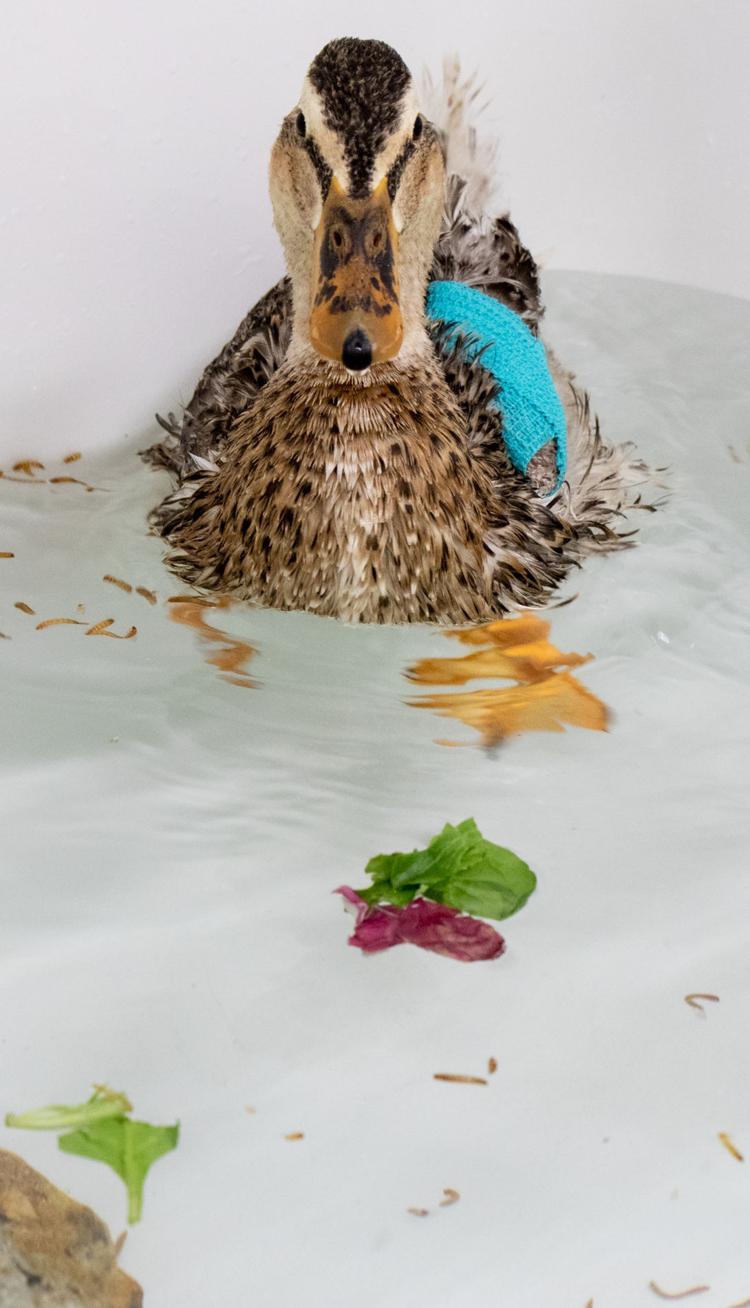 Accepting this unique position has also allowed Amber the latitude to work in a unique and deeply satisfying capacity. Amber explains, "The May Wildlife Rehabilitation Center is not only affiliated with the college, but allows students a chance to gain hands-on experience that is a component of their degree. They participate in all aspects of wildlife medicine, including physical exams, medication administration, diet preparation, surgery assistance, speaking with and educating the public and more."
Nina Fischesser, the center's director, said the college and center are lucky to have Amber.
"Amber came in with solid experience in wildlife medicine, so it was a perfect fit in the ways of providing needed veterinary care for the many species types of animals that we work with," Nina says. "The bonus is that she is a fantastic teacher as well! Students rave about her classes and the way she teaches in the classroom and in the center. I have said from the beginning how happy I am that she is with us, and after seven years I still feel as strongly about that as I did at the start of her employment with Lees-McRae College."
Incredibly busy, the center served 1,528 patients in 2019 and provides care 365 days per year. This accessibility allows "students to have opportunities to follow cases from start to finish, and, hopefully in being able to take part in the animals' return to the world."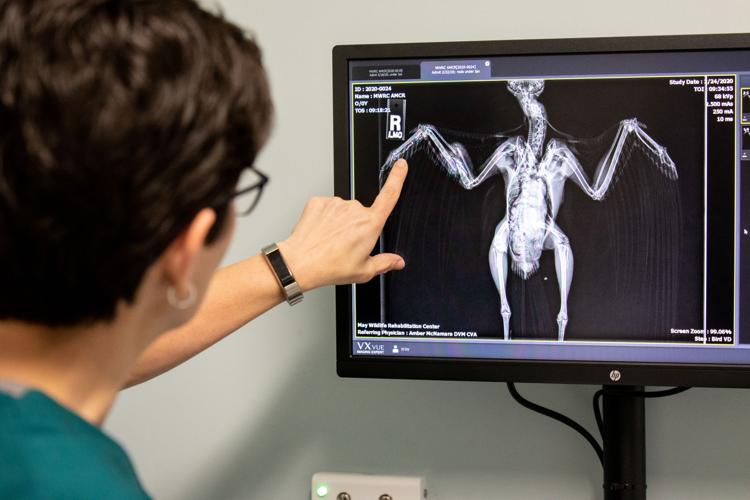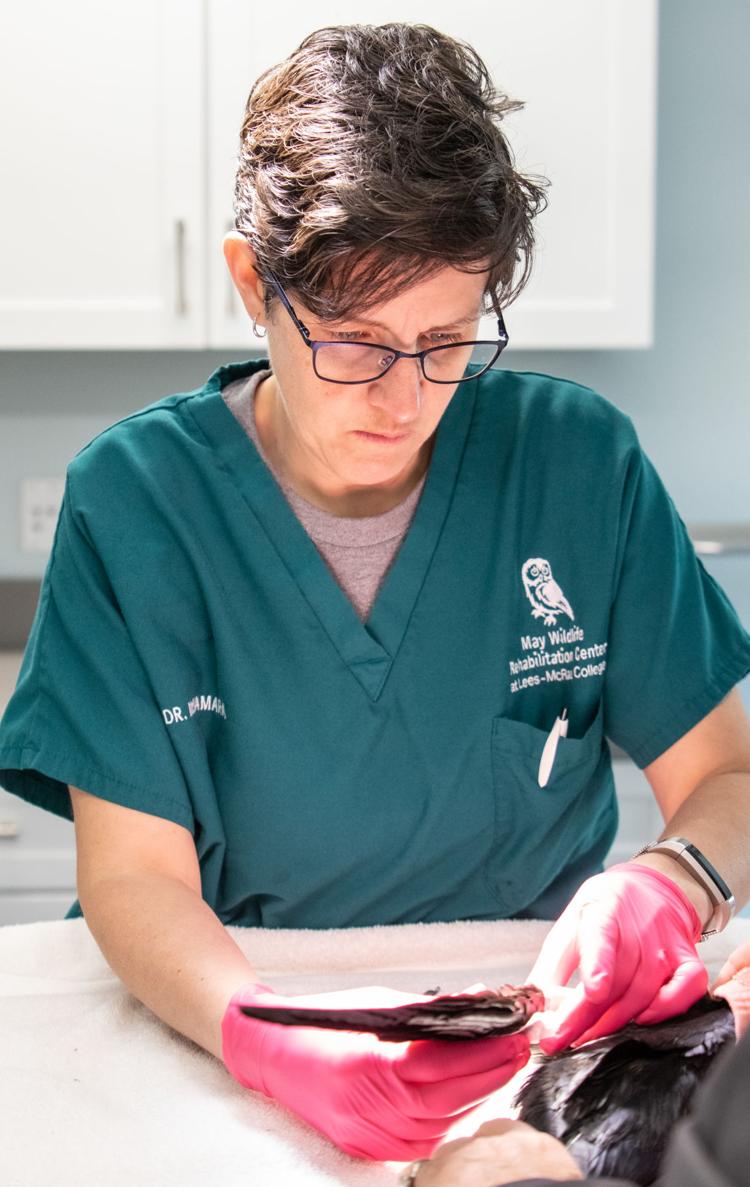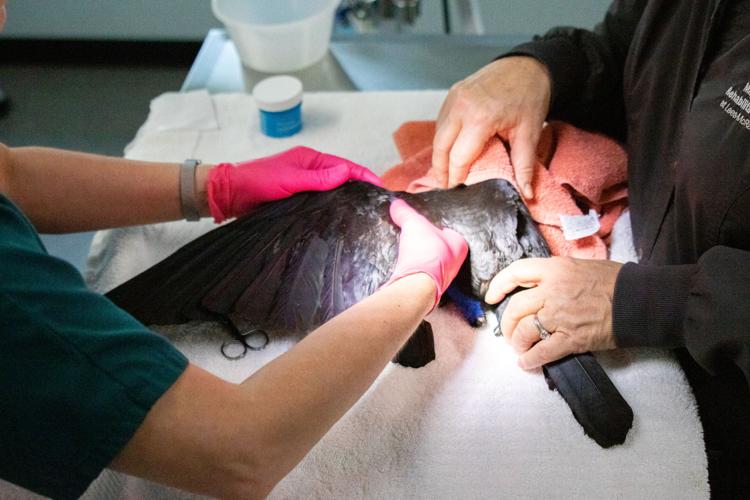 Dr. McNamara's students feel privileged to work with her.
"She has taught me so much about the world of veterinary medicine and is truly my role model," student Jaden Acklin says. "She radiates positivity and is so knowledgeable and caring. Her ability to show such compassion for wildlife is extremely admirable. I am honored to have been taught by such an extraordinary woman."
With her core values at the forefront, Amber wants her students to understand that they are "an integral part of the process and contribute greatly to the success of the program." As she describes, "I teach the students that even though our patients are wild, that doesn't mean we should cut corners in regard to professionalism, judicious medication use and respectful treatment of our patients, no matter their species."
Linda Hanawalt, a colleague of Amber's, admires Amber's work and ethics.
"Her compassion for all creatures is amazing. Her approach to each of God's creatures is so inspiring to witness, from calmly approaching very frightened wild animals to caring for them to her expertise as a surgeon to sharing her knowledge with her students," Linda says. "She has really found her niche at Lees-McRae College. I am privileged to work alongside her — I learn from her every day."
Known for her incredibly keen instincts in her work with her students and patients, Amber's colleagues also appreciate her willingness to think and treat outside the box. Due to their hugely diverse population in both size and species, ingenuity becomes a mainstay in the operation of the clinic. "I feel that the more 'tools' we have to treat various injuries, the more likely we are to find one (or more) that works for a particular patient's needs. I have found success with acupuncture, LASER treatments, Western and Eastern herbs and physical therapy, especially when coupled with traditional treatments like pain medication and antibiotics." Amber shares that turtles, quite surprisingly, respond very well to acupuncture.
Allison Andrews, a colleague from Lees-McRae, shares these insights: "As more doctors have embraced herbal and alternative treatments for human diseases, veterinary medicine has been more resistant. Dr. Amber McNamara has been on the forefront of alternative treatments for animals for nearly two decades. She is among the fewer than 10 percent of vets nationwide trained in acupuncture."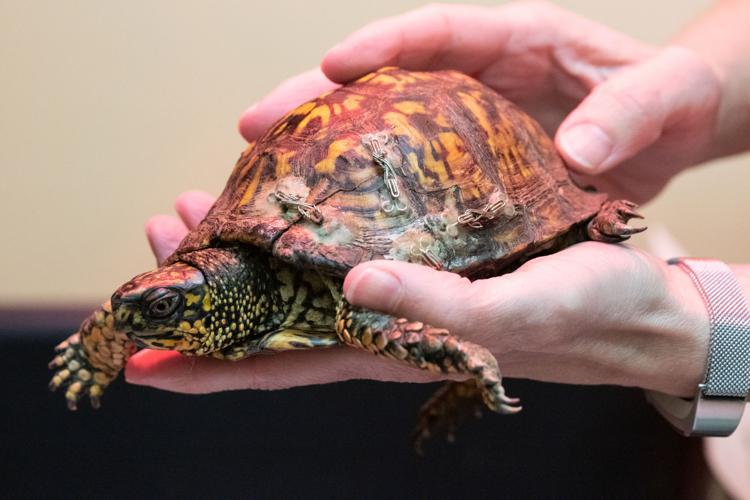 Amber's vision for the Rehabilitation Center includes more exposure for the program that allows "community members to recognize that the clinic is here to help if they find an injured wild animal." Further, Amber would love to see the education component have its own location "where visitors can learn more about wildlife, see educational talks and view live camera feeds, while still giving rehabilitating animals the privacy they need to heal."
Amber's hobbies and interests complement the tender care with which she handles both students and patients. Writers Barbara Kingsolver and Jodi Piccoult make their way to the top of Amber's reading list.
"I love being outside. I enjoy traveling to new places with my partner, Robyn. Often, the potential to see a wild creature living their best life in the wild — Scrub Jay, Atlantic puffin, Moose, Tundra Swan — guides our destination choices," she says.
The support of her family and exceptional teachers, coaches and mentors have filled her gratitude list beyond measure. "It is a true blessing to know that family and friend are there for you, no matter what."
Ever aware of her goal to "give her patients a wild life," Amber's world burgeons with lessons that teach students to become better caretakers and stewards for the planet, and beautiful days that "start with good coffee and good company and end with the memory of good times."