I did not make a conscious decision to start collecting restaurants — it happened organically over time and good eats.
Upon reflection, the first few restaurants I collected date to my college years in Boston — the Chau Chow (closed 2017), my favorite spot in Boston's Chinatown where I habitually dined on garlic sautéed pea pod stems; the Elephant Walk, a French Vietnamese bistro that served fragrant, complex curries and the most decadent desserts; and, the Union Club, a members-only dining club where I worked for four years and first tasted bay scallops and soft shell crab.
Now, 20 years later, I have added a number of other restaurants to my collection.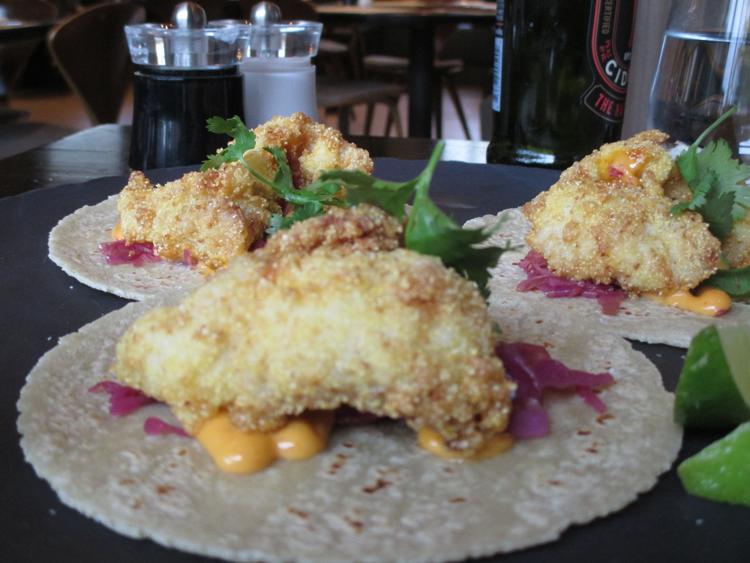 Some I have only visited once — like the two Michelin-starred restaurants at which I have dined, Gramercy Tavern in Manhattan, New York and Solbar in Calistoga, California – others I revisit at every opportunity — like Linda's Dutch Pancakes in Aruba, Restaurant Fishalicious in Curaçao, and closer to home, Cúrate in Asheville and Cabo Fish Taco in Charlotte.
How do restaurants make the cut? My criteria is simple:
1. I must remember the name of the restaurant;
2. I must remember where it is located;
3. I must remember what I ate.
Some are fancy(ish) — like the above mentioned Michelin-starred restaurants — some are quirky — like El Avion in Costa Rica which is built into and around an historic C-123 cargo plane — some are old favorites — like my favorite NYC deli, Barney Greengrass, with its house-cured pastrami, fresh bialys and my favorite, the mouthwatering Nova Scotia Salmon Scrambled with Eggs and Onions — and, some are tied to a memorable story — like Cathy's in St. Kitts, an on-the beach restaurant where Roger and I savored grilled Caribbean lobster while on our honeymoon, and because their credit machine was down, had to return the next day with cash to pay for our meal.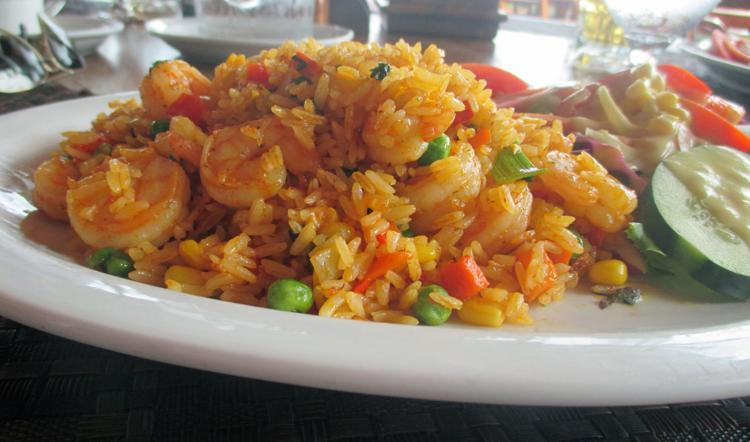 I carefully preserve these food memories digitally, with photos or social media posts, or, for places where I am a frequent visitor, like NYC and New Orleans, I record my collected restaurants on handy spreadsheets that can be sorted by neighborhood and/or type of cuisine.
And, I am happy to share! Many of these dining establishments have been immortalized in the pages of this magazine, and I often offer suggestions to friends, family and colleagues based on where they will be visiting.
For example, a work buddy recently attended a conference in Savannah, Georgia. My recommendations — Churchill's Pub, the Olde Pink House and, for dessert, Lulu's Chocolate Bar.
And, because I have a reputation as a "foodie," I am even sometimes sought out for ideas.
"Hey, Heather," someone will say, "Where should I eat in Boulder, Colorado? Carrboro, North Carolina? Charleston, South Carolina? Orlando, Florida?"
In Boulder, I recommend Lucille's, where I enjoyed one of the best biscuits I have ever eaten and, apologies to New Orleans, the best beignets. Gourmet Kingdom, an authentic Chinese restaurant, is my Carrboro go-to — try the Kung Pao Lotus Root. Husk, from James Beard award-winning chef Sean Brock, in Charleston, serves an ever-changing menu of locally sourced, farm-to-table perfection. Orlando… sorry, I have nothing. I have not been to Orlando since childhood, when my palate had not yet developed into the flavor-appreciating, ingredient-discerning, food memory-making one that it is today.
And, my collection keeps growing.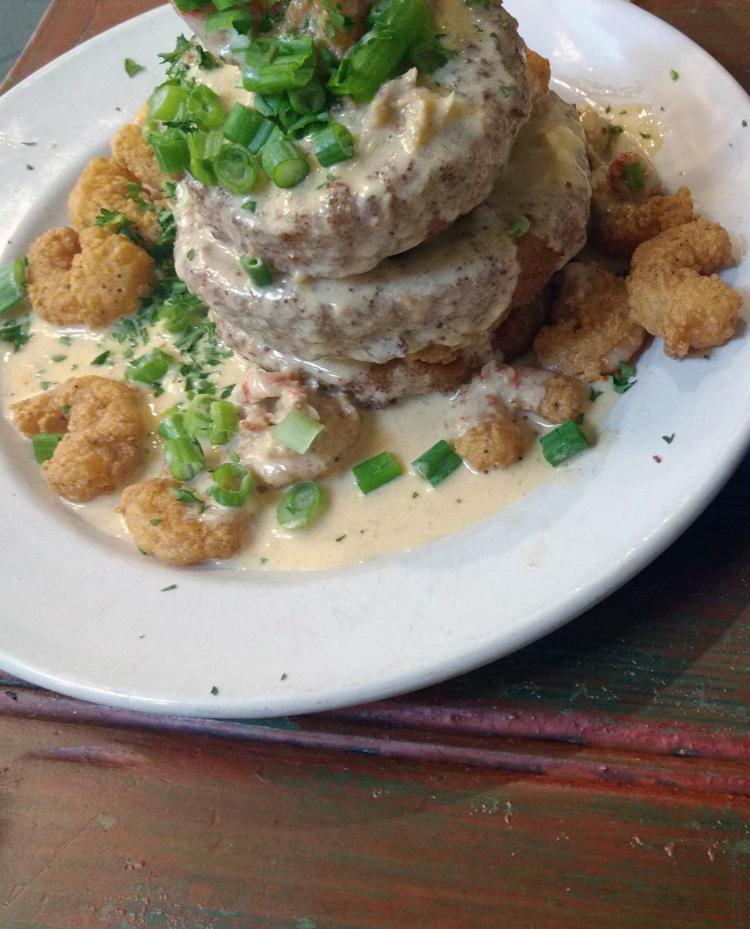 On my last two trips, to New Orleans and NYC respectively, I collected a few new restaurants.
In New Orleans:
• Willa Jean, which is rated one of the top breakfasts in the city. Their trendy and delicious avocado toast and ridiculously large homemade biscuits deliver (Roger and I shared one with homemade sausage and pimento cheese)!
• Joey K's is a Magazine Street local favorite, serving up Creole and Cajun classics. The red beans and rice with sausage is spot on, but I would return for the eggplant napoleon — crispy eggplant slices layered with the most perfect fried shrimp and smothered with a crawfish cream sauce.
• Mopho was a happy accident. Roger and I had read about it in advance of our trip but thought it was out of our way… until we were searching for a lunch spot near City Park and realized it was close by. The menu features Vietnamese-inspired Southern dishes and/or Southern-inspired Vietnamese dishes and in true New Orleans spirit, adult bubble teas.
In NYC:
• Buttermilk Channel, in Brooklyn's Carroll Gardens neighborhood, is a local favorite for weekend brunch. They are known for their Pecan Pie French Toast and Fried Pork Chop and Cheddar Waffles. We tried the former — it is as decadent as you would expect — but not the latter — opting instead for the light and fluffy House-cured Lox, Green Onion and Cream Cheese Scramble; however a gentleman seated near us ordered it… twice, so it must be pretty good.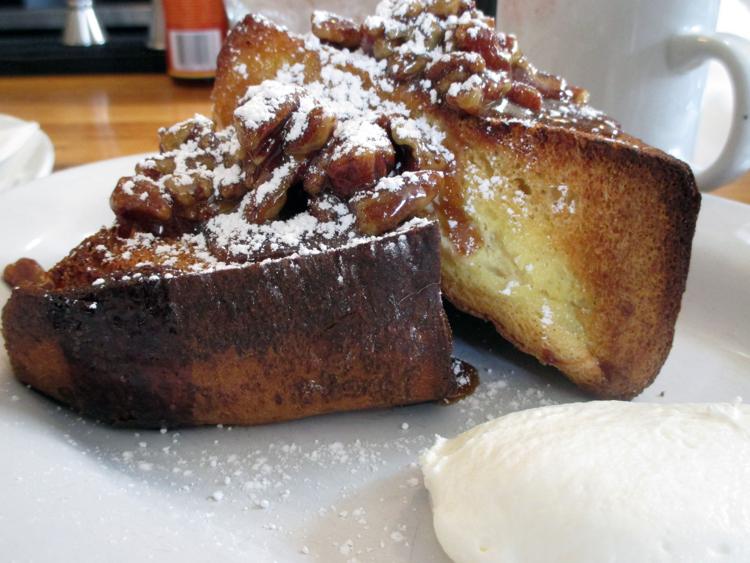 • Shuka is a Mediterranean establishment on the restaurant-heavy MacDougal Street in Greenwich Village. Roger and I shared a classic Mediterranean platter with falafel, tahini, pita, spiced yogurt and pickled vegetables as well as a lamb merguez sausage and kale salad platter. But, the highlight — the spiced, crispy fried chickpeas, which Roger is determined to duplicate at home!
Hungry? Me, too! Ready to start your own restaurant collection? My suggestions will get you started. I also recommend lots of research, a little trial and error, and talking with locals — this is the best way to find off-the-beaten-path hidden gems.
And the best part…yes, the noshing is fun, but the best part is that this collection requires zero dusting!