A Simple, Tasty Holiday Treat 
Baking is a holiday tradition in many families. Gingerbread cookies may be the first baked goods that come to mind when people envision the holiday season, but celebrants need not limit themselves when preparing special treats for their families.
Macaroons are one beloved baked good that busy holiday hosts may believe are too time-consuming to prepare. However, the following recipe for "Coconut Macaroons with Dried Cherries" from Laurey Masterton's "The Fresh Honey Cookbook" (Storey) is easy to whip up and makes for a tasty holiday treat.
Coconut Macaroons with Dried Cherries
Makes 25 to 30 small cookies
1 cup unsweetened flaked coconut
1 cup sweetened flaked coconut
8 egg whites
Salt
1/4 cup dried cherries
2 tablespoons butter
1 tablespoon honey
Preheat the oven to 350 F. Combine the unsweetened and sweetened coconut on a baking sheet. Lightly toast in the oven for 5 to 10 minutes. Keep close watch so the mixture does not burn, though you do want a nice toasted golden brown color. Remove from the oven and set aside to cool.
Reduce the oven temperature to 325 F. (If using a convection oven, leave at 350 F.) Whip the egg whites with a pinch of salt in a medium bowl until the whites stiffen into firm peaks. Fold the toasted coconut into the egg white mixture. Line a baking sheet with parchment paper. Drop tablespoon-size rounds, perhaps using a small ice cream scoop, of the coconut mixture onto the baking sheet. Press one or two dried cherries into the top of each macaroon.
Melt the butter and honey together in a microwave on high for 20 seconds. Drizzle the mixture over the top of each macaroon. Sprinkle with a tiny pinch of salt. Bake the macaroons for 20 to 25 minutes, until lightly browned (watch carefully to avoid burning), or for 8 to 10 minutes if using a convection oven. The macaroons should be dry to the touch. You may need to bake them longer if it is a humid day. If you live in a dry area, these will keep well for a week.
Chef's note: If you want to be really fancy, melt some chocolate and dip each one halfway into it.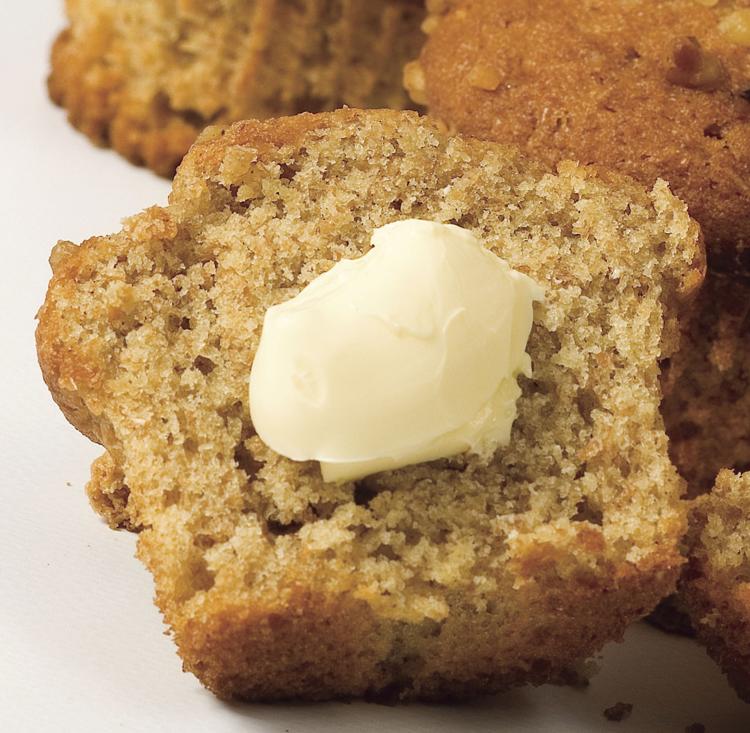 Easy Christmas Morning Breakfast
Christmas morning is an exciting and joyous time for families. Having a fast and easy breakfast at the ready on Christmas morning allows families to jump right into the festivities rather than spending too much time in the kitchen.
This recipe for "Spiced Yogurt Muffins," courtesy of the National Dairy Council, Dannon and McCormick, can be made in advance and then enjoyed while peeking into Christmas stockings or watching holiday parades on television. This big-batch recipe is ideal for feeding a houseful of overnight holiday guests. Or it can be prepared in advance and doled out as needed throughout the week. The muffins also can be made as a treat for holiday office luncheons. Cut the recipe in half for smaller yields.
Spiced Yogurt Muffins
Yield: 50 servings
6 1/2 cups Dannon plain fat-free Greek yogurt
4 cups water, room temperature
1 box (5 lbs) Gold Medal Muffin Mix, Whole Grain Variety
3 tablespoons McCormick pumpkin pie spice
2 tablespoons McCormick
Chipotle cinnamon
Combine yogurt and water in mixing bowl. Whisk until blended. Set aside.
Add spices to dry muffin mix in a large bowl. Add yogurt and water mixture to the muffin mixture. Mix until just blended. Don't overmix.
Using a scoop, portion into greased or lined muffin pans. Bake at 350 F for 24 minutes, or 17 to 20 minutes in a convection oven, until the tops are golden brown.